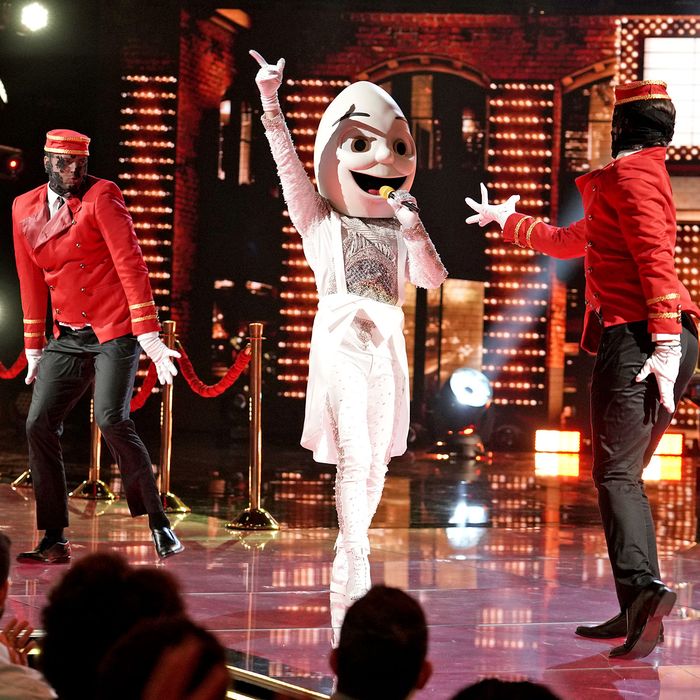 Photo: Michael Becker/FOX
As network TV's most extra reality competition, The Masked Singer hides a group of famous (or "famous") people within costumes and has a panel of judges try to guess at their identities. But really, the competition is mere window dressing for the costumes, which are elaborate, weird, and oddly specific this coming season, given that one person is competing as "Egg."
All of The Masked Singer's costumes are created by in-house designer Marina Toybina, who has won four Emmys, one of which was for designing the viral shark costumes at Katy Perry's Super Bowl performance. Going into the show's second season, Toybina told Vulture that the main goal was to "elevate the overall construction of the costumes, as well as the characters" in an entertaining way. This means, in addition to costumes riffing on creatures like pandas and eagles, there are some real off-the-wall selections, including the famous Egg, as well as an ice-cream cone, some sexy insects, and a mysterious being known as the Thingamajig.
Toybina broke down the backstories to each in detail with Vulture, but before we get to that, a little background. While the costumes are pretty complex, Toybina says the production only has about three-to-four months to design them. The team spends about a month creating artwork, in this case sending 25 to 27 sketches to Fox, which they narrow down to 16 to 18 selections brought back to the singers. This season, there are 16 contestants, up from last year's 12, and they each get a say in which characters they like — even proposing changes to fit their own personalities and backstories. Then, it's a month and a half of construction. "That becomes the most challenging creative part for me," Toybina said. "It's great once it's on paper and everything looks magical, but then, how do you make these pieces become life-sized and also wearable art?"
Egg
This, as Toybina puts it, is "one of the most interesting ones." "The idea first started where the talent just wanted to be an egg," she said, "and of course, I don't know what that means." So she decided to come up with several different ways to represent an egg within one costume: there's the actual mask, which resembles a boiled egg; the detailing on the breastplate, which is meant to resemble a Fabergé egg; a coat that is cracked like an eggshell; and finally, a fried egg that the Egg is wearing as a hat, which came out of Toybina's desire to make something that was somewhere between the runway and Lady Gaga, "diva-esque and extravagant."
Tree
As with Egg, this extremely happy tree is one of the season's most surprising concepts. "It was hands-on experiments and following our gut instincts," Toybina said. "What can we do that's different? What can we do that hasn't been done before? What can fabric do?"
Ice Cream
For the second season, Toybina wanted to be more ambitious with the costumes, which meant adding elements like the melting ice cream that appears on top of this singer's body. The melted ice cream and chocolate are made out of the same material as the head, which was sculpted out of foam and then waxed onto the shoulder. "Those are the key details that really pushed us over the edge with season two," she said.
Leopard
In a little bit of a Cate Blanchett moment, we have the Leopard, who's wearing a big, costume-drama-ready collar. "Most people would expect [a leopard costume] to be very animalistic and have print all over," Toybina said. "I wanted to create something that was Victorian and was vintage and did have this big presence onstage." To do that, she wanted to create both a striking costume and give the mask bright-green eyes that would "demand a stage presence immediately."
Fox
Similar instincts took hold in the making of the Fox costume, which comes with a steampunk-like vibe. "We try to be as experimental as possible," Toybina said. "What hasn't been done? What would we like to see that's very different for this character?"
Panda
For the Panda, Toybina wanted to embrace a playful vibe and also create a look that would appeal to kids watching the show. The jewelry is inspired by gumball machines, while the clothing is meant to have a Japanese-inspired fashion feeling. "It's a Chinese animal, but it's very Harajuku-ish as far as clothing," Toybina said.
Butterfly
With this one, we go from goofy to skintight. "I decided to hand-bead and hand-stone the entire costume," Toybina said. "As much as there's a little bit of that sex appeal and darkness to the costume, onstage it really becomes the beauty of what a butterfly represents."
Black Widow
In a design that recalls the costumes of Spider-Man: Turn Off the Dark, Toybina wanted to experiment with "texture and movement." "Instead of just creating a dark character with red accents, I wanted this to be something that's sleek and powerful onstage," she said. The character comes with a crown-like head, as well as a collection of spider legs. The head is also meant to be less elaborate to ensure the whole outfit is not too hard to move in. "Being able to carry that many parts of the costume," Toybina said, "you want to be very smart about the size and the weight of the mask."
Flamingo
The Flamingo costume extends above the performer, so they actually see out of a peephole in the bird's neck. Toybina thought it would be fun to play with height on this design, given what a flamingo actually looks like, and given how it'll also confuse people trying to guess a singer's identity. "You're looking at somebody you know that's possible six inches taller," she said. "It becomes even more of a guessing game."
Eagle
Here, we've got a bunch of Americana references drawn from a 1970s rock-and-roll vibe, specifically Bruce Springsteen and Jimi Hendrix. "I toned it down in my coloring so it's not like a psychedelic bird," Toybina said, "but at the same time, it has a little bit of that hippie, free-spirit kind of expression."
Skeleton
"I'm very much inspired by Tim Burton," Toybina said. "I wanted to create something that wasn't a scary skeleton, or something that people right away would turn their heads because it represents death or darkness." Instead, we have a very upbeat skeleton, with a top hat and gold accents made out of foam for ease of movement.
Flower
In this costume, as well as the Ladybug below, Toybina wanted to experiment with new approaches to mask design, to "play around with an idea of a face rather than just a character." The mask sits inside a "theatrical environment," as Toybina puts it, made up of petals. In making these masks, she also has to take acoustics into consideration, testing out the costumes with a vocal coach during fittings to make sure the singer could still hear everyone clearly.
Ladybug
This was one of the season's most labor-intensive costumes, and it was also the last one Fox debuted, bringing out the Ladybug on Emmys night. "I wanted to represent more volume around the entire body," Toybina said, which meant building out lots of detailing on the bug's body, but keeping the face area relatively simple. "For safety purposes alone, we definitely went down on the actual mask so that it was as tight to the face as possible," Toybina said, "so the rest of the costume was distributed based on mass and volume."
Rottweiler
To mix things up even more, Toybina wanted to put the focus most clearly on the mask here, rather than the rest of the relatively simple costume. "The talent that went into this costume wanted to be able to move and dance around onstage," Toybina said. "The street-inspired route was the perfect way to go, so that there is mobility and accessibility to the costume, but then the mask itself carries the character."
Penguin
"Because the penguin is black and white, it's very typical to put it in a suit," Toybina said, so instead she went in a different direction, taking inspiration from "the idea of the samurai" and also giving the penguin a "triple-tail coat kind of effect." She was particularly pleased with the idea of chroming the mask in silver, similar to last season's Lion mask, which was done in gold. "The entire aura of the Penguin came alive when we did something different and created the industrial elements to it," Toybina said.
Thingamajig
This costume, which is not meant to represent asparagus, came out of "needing nothing but pure creativity." Toybina wanted to create an eccentric, unique character with an elaborate mask, like the Monster last season, which meant balancing the design with a more simple costume.