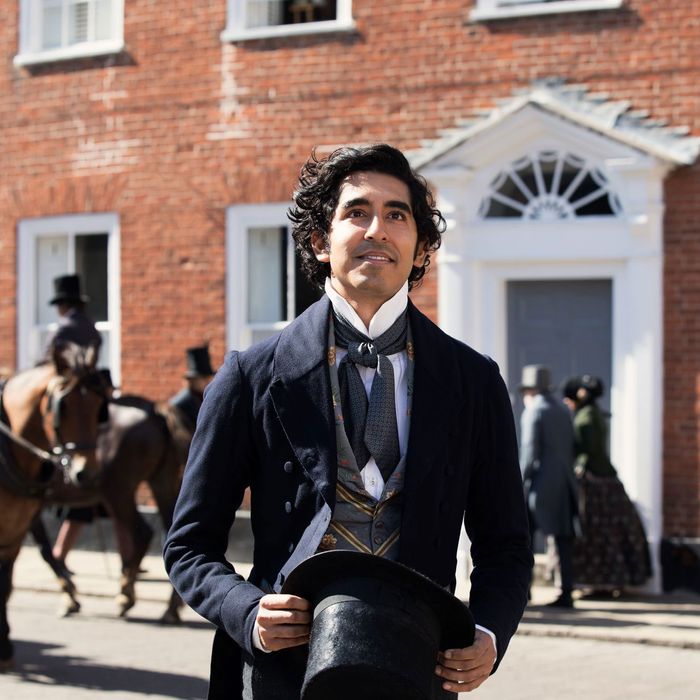 Alexa, play "My Man" by Barbra Streisand.
Photo: Courtesy of TIFF
"I idolize and worship you," David Copperfield (Dev Patel) says to a woman — who, in the interest of full disclosure, is decidedly not me — in Armando Iannucci's Personal History of David Copperfield. It's a twee adaptation of Charles Dickens's book, but Dev Patel is really selling this movie: It's comedy! Drama! History! Literature! Whimsy! Copperfield goes boom and bust, finds and loses love, misses his mother, hates his stepfather, and teaches Hugh Laurie how to fly a kite — there's a lot going on. But that line about idolizing and worshipping something was immediately inscribed into my notebook, because it deeply resonated: Dev Patel's hair, I idolize and worship you. Dev Patel's hair, it's been a long time since Lion and you've been missed!
The Personal History of David Copperfield relies on a lot of whimsy in its retelling of Dickens's text: Copperfield narrates his early life, sometimes stepping in and out of scenes to stand in the background and watch. The sets are Technicolor and fantastical: A capsized boat becomes the quaintest little house, an evil extended family is permanently dressed like Death herself, scraps of doodles are pasted together to wallpaper entire rooms. The movie follows Copperfield's birth through his widowed mother's remarriage through everything that happens after: a decade working in a factory and living with a family of kind-hearted grifters; living with his zany aunt Tilda Swinton and her companion Hugh Laurie, who's convinced himself that the thoughts of the beheaded King Charles I have traveled into his own mind; reconnecting with his childhood housekeeper; attending finishing school; and getting — and losing — a job as a proctor. Copperfield takes on new names amid a revolving door of friends and connections and has a nutty habit of observing those personalities around him. (Patel does more impressions than an SNL season premiere in this movie, and most of them are pretty good.)
In the end, Copperfield is a quirky comedy that earns a few genuine guffaws, but it lacks Iannucci's usual acerbic edge. No matter! Quickly the plot falls away and Copperfield becomes the Dev Patel Hair Show, the finest supporting performance this side of Sandra Oh's Killing Eve curls: The Lion hair is back to her full glory, and she is booked and busy! Through boom and bust, thick and thin, Gwendoline Christie or Tilda Swinton, Copperfield is really the Hair's movie. Call her agent, get her top billing! She's the star.
How long does it take for the Hair to appear? Approximately .01 seconds: The Hair makes her entrance in the movie's third frame. And, oh, is she magnificent: It has been many a day — perhaps since I first sat in an AMC in Manhattan and saw a little movie called A Star Is Born for the first time — since I've lusted over a man's locks in this way. Chris Pine where? Jackson Maine who? Adam Driver when? Dev Patel has arrived in David Copperfield to reclaim his throne as Thee Mane of Hollywood, and who am I to deny him that title, which he has so justly earned?
Sometimes the hair blows in the wind when Dev Patel storms off dramatically, stepping into the next home — and stage — of his life. Sometimes the hair is as dirty as the soles of Margaret Qualley's feet in Once Upon a Time in Hollywood! Sometimes — the best times, some might say — one dramatic curl dangles right in front of Dev Patel's perfectly shaped face. It hangs there, loose and free, begging you to push it out of his face and say something incredibly romantic like, "Dev Patel, Dickens me down challenge" … but who's to say what that curl wants to hear? Sometimes two curls hang out right over his forehead, basically obstructing whatever jokes are coming out of his mouth. Reader: It is, in a word, porn-oh-graphic.
Sometimes Dev Patel pulls his hair back — he's getting down to business, or declaring a new name for himself — and I am so happy to report that the hair stays. No mousse, no gel, just Dev: The heart wants what it wants, but this hair obeys orders. A lot happens in David Copperfield, not all of it especially good, but Armando Iannucci has put Dev Patel's hair up on that screen. Alexa, play "My Man," by Barbra Streisand.