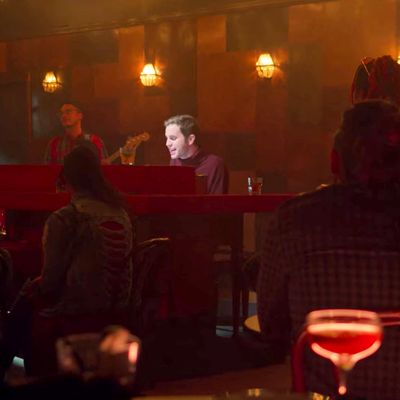 Just please remember to tip.
Photo: Netflix
Spoilers below for The Politician.
Ryan Murphy's Netflix series The Politician careens through a lot of story in its first season, including the world's most contentious student body election, a B plot involving Munchausen by proxy, and a high-school production of the kill-a-president musical Assassins, but the show's biggest surprise comes in its last episode. Having run through pretty much everything that could happen in an elite California high school, The Politician jumps across the country to New York, where Platt's character Payton Hobart is now a burned-out NYU student who spends his time performing at a piano bar and hallucinating visions of River (David Corenswet), the bisexual ghost with cute dimples who haunts him. But Payton isn't playing at any old piano bar. Specifically, he sings a cover of "Vienna" at a place soon revealed to be Marie's Crisis.
First of all, excuse me? Marie's Crisis is a bar where you sing show tunes, and "Vienna" is not a show tune, not even if you bend the rules. It wasn't included in the Billy Joel musical Movin' Out (and no, Smash season two does not count). Payton performs with what appears to be a well drink with lime on the piano (okay, that is on brand), but The Politician's version of Marie's is large enough to fit a whole backing band, which is patently false: On your average night, Marie's barely has room for anyone who isn't a gay musical-theater geek, a tourist, or an overly drunk, overenthusiastic straight girl. Most pressingly, why does no one sing along? (Did Payton insist on doing this as a solo?) And where is Payton's tip jar? That's just bad piano bar form.
If The Politician's tribute to Marie's is lightly fact-confused, at least it's also on trend. Earlier this year, the characters on Younger paid their own visit to Marie's Crisis to sing along to "9 to 5" (not a song written for a musical, but at least a song in a musical), a scene the show filmed in a prettified version of the actual bar. Next year, the CW will premiere the first episode of its Riverdale-goes-to-New York fantasia Katy Keene, which, as seen in the pilot screened at the Tribeca TV Festival, features a location known as "Molly's Dilemma," where a drag queen character performs Carly Rae Jepsen's "Cut to the Feeling." That's not a song in a musical and Marie's is not a drag bar, but from a universe with a loose grasp of the temperature, this is a relatively accurate reference.
Marie's is getting a lot of attention at the moment, considering that it's a little West Village bar best known as a place to scream-belt Little Shop of Horrors. Given this level of attention, I called up one of Marie's pianists, Franca Vercelloni, to ask why she thinks TV suddenly cares so much about the theater bar. "I try to run it like it is a party where everybody's invited," she told me. "We try to find common ground between whoever might be there in this very diverse crowd of people, who range from professional actors to school teachers to doctors to lawyers. There are not a lot of places in New York where you can feel that way." It's a place where you can run into anyone from (fictional) publishing executives to theater professionals to the actual Ben Platt, who has stopped by a couple times, though not on Vercelloni's shift. (She heard he was nice and just "did his thing.")
Referencing the bar is also shorthand for a certain version of New York steeped in gay, 20th-century West Village history — a history increasingly threatened by the overdevelopment of Manhattan, which means it's a way for these shows to adopt a little authenticity. In my personal opinion, there's a bit of melancholy to the reference, too: Here are writers and actors caught up in the ever-expanding gold rush of streaming-era television, looking back on a little New York bar that's part of the increasingly prettified and threatened world of New York theater. If Baudrillard were a fan of Ahrens and Flaherty deep cuts, he'd have a field day with the difference between Marie's and the Marie's simulacra seen on TV.
Vercelloni was generally pleased with the attention, but she offered one rule for anybody who's inspired to visit thanks to a show like The Politician: You've got to respect the history of the space. "It's a church to me, you know, and I think that the people who come in have to understand that," she said.
So, what did she make of the authenticity of the TV versions of the bar? Younger got things most right since they actually shot the show there (even if they did make things pretty), while Katy Keene was more off base, considering the Carly Rae Jepsen and the drag. As for Payton's performance of "Vienna" in The Politician? "We've, we've learned to broaden our definition [of what we play]," Vercelloni said, admitting she'll occasionally play something by Cher. "Billy Joel? That's a double-digit tip." So, don't even mention Payton's lack of tip jar: "That's how we make a living!"