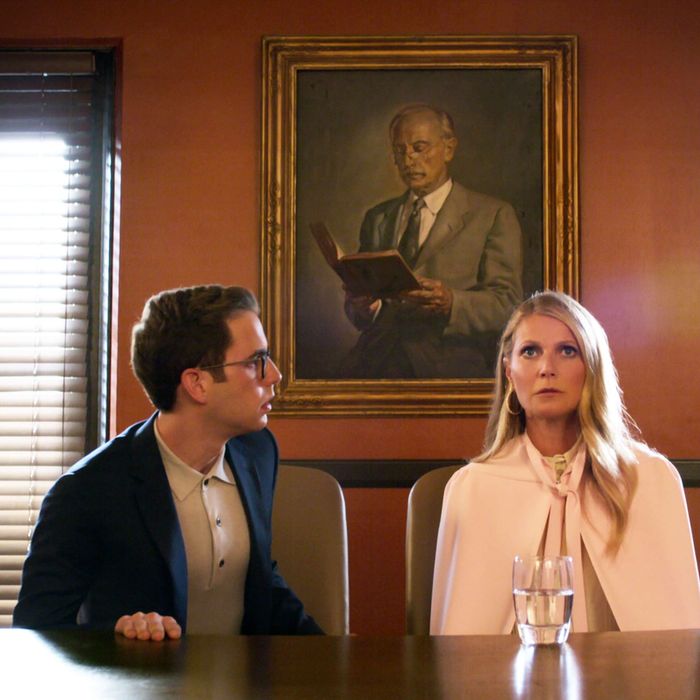 This episode begins with a brief history lesson on George McGovern and Thomas Eagleton (told in faux-newsreel), a cautionary tale being shared with Payton so that he understands the risks with the Infinity situation. The questions that arise are, to name a few: Does she have cancer, or is she faking it? Should they try to find out? What should they do if she is? What should they do if it comes out? The team is divided, with James urging plausible deniability, and that's just not going to happen, because Payton seems to have made room for all that capital-A Ambition by tossing his stores of impulse control right over the side of a Disney cruise ship. A lot happens in this episode, but the mystery that's being spun out—what, if anything, is wrong with Infinity?—takes up most of the oxygen, and it's just not right! Bob Balaban did not put on his finest smoking jacket to play second fiddle!
The Politician's wildly stylish second episode—directed by Brad Falchuk and written by Falchuk, Ryan Murphy, and Ian Brennan—takes the occasional Wes Anderson vibe of the premiere and turns the dial all the way up. I thought that the perfectly centered wooden crate bearing the words "CRATE 1" being opened to reveal beautiful rare books while a male voice lovingly covers a classic British rock song was too much, and then the hands carrying the crate were revealed to be Balaban's. He's there to set up the story that, impossibly, feels like the episode's B-plot: Georgina is in love with one of the family's horse trainers, Brigitte (played by tennis legend Martina Navratilova, natch), is no longer willing to pretend to love her husband (that's Balaban), and would like a divorce. The second the words are out of her mouth, he takes off at a run (a very scampery run, it must be said), and uses the very valuable, and titular, commode to dive straight out the window. This, we learn, happens to Georgina a lot.
I'm not sure why the first episode, which shares a lot in common with the second, managed to carry so much emotional weight when this one often feels so hollow. Are we meant to share Georgina's concern about Payton's ruthlessness? Are we meant to worry that he's losing his humanity? Because — and this may sound contradictory — that was already happening, and I'm also not sure how to be worried that Payton lacks humanity when the episode makes time for him to cry with the memory-ghost of his lost love. (It's a beautiful scene but not exactly serving the "Payton is too devious. Is he even a person?" thesis.) In fact, the better argument would seem to be that the world sees Payton that way, assuming he's onboard with forking over cash to people who have no issue with making sure he knows it's the only thing he's good for.
And what, beyond that Disney cruise, does that have to do with Infinity's situation? Having decided to stick with Infinity for the time being, Payton and his running mate host a "smash the patriarchy" event, charging $250 a pop for the chance to swing a maul at Rolls Royce (don't worry, someone poured gas in the tank). While giving an interview about the event, Infinity seems unwell, and mentions that she just had a treatment, and after she picks up the tool to take her swing, she faints.
She also mentions that her nana hasn't told her what kind of cancer she has, because it's better not to know. And by the time Jessica Lange comes storming into the emergency room, ripping the tubes out of her granddaughter's arms and demanding that the staff stop with their meddling medical care, a picture begins to form. It's very upsetting, so — well done, Ms. Lange, you have terrified us again. It will take another act or so before any of the characters seem to start to question anything there, though I would guess many of you have a pretty damned good idea what's happening. Murphy, Falchuk, and Brennan didn't seem to think that was likely.
Admittedly, Payton's head does get turned from the distressing scene in the ER by the timely reappearance of Andrew, who just likes to get high and is there to remind him that, in his humble opinion, Infinity is totally faking it. He has been in love with her for years, he says, and watches her closely. When he took his suspicions to the special-ed teacher, he got two weeks of detention for his trouble — but he's still convinced.
"Stop asking questions," James (Theo Germaine) bellows when Payton brings his team this new information, urging Payton to stop listening to Andrew, who likes to get high. Germaine is terrific in their scenes in this episode, almost whistling like a freaking Instant Pot, the mounting frustration painfully evident and the sense of impending doom plain on their face. And, of course, Payton heads right on over to Infinity's for dinner.
At this point, I would like to remind you that Payton's dad jumped out a window and is in a coma.
This is why the Infinity scenes weigh down this episode, which is admittedly pretty bonkers but not boring. Based on the way the story is being told, there's no way Infinity has cancer. If she does, it would probably come as a great surprise to Nana, or at least to the nefarious-looking med tech who takes care of Infinity exclusively. At least in this scene — before Infinity's bizarre over-the-shirt maneuvers — we return to one of the more interesting ideas in this jumble of an episode, in which Dusty (that's Nana) becomes the first person to attempt to extort something from a member of the Hobart contingent. But then the scenes turns to the Infinity mystery again, and if you are a person who is genuinely intrigued and unable to fathom what's going on, then I sincerely apologize, but it seems as though the writers think this is subtle, and it is not.
The next money-focused element of Payton's story in this episode comes in the next scene, as the faux Winklevii (played by Trevor and Trey Eason, rather than Armie Hammer and Armie Hammer) and their father's lawyers inform Georgina and Payton that they're about to be cut off from the family fortune. Tonally, it's one of the stranger scenes in the episode, with Paltrow playing things mostly earnestly and everyone else doing something else. It doesn't look like recognizable human behavior, and that would be fine if there were something behind it. But it's just hollow. And it's also just another stopgap between Infinity-centric scenes. (Many of these, I should note, are just about Zoey Deutch, who is not the problem here — though she does tend to go a bit wide some of the time.)
Let's make it quick: The gist is that someone has finally suggested that perhaps Infinity is sick because someone is making her sick. Watch The Act; it is very good. McAfee cooks up a scheme in a hurry, organizing a blood drive that welcomes people not normally allowed to give blood, so they can get their hands on a sample. Suuure. James is pissed to have been excluded, Astrid and Skye are pissed that they didn't think of it first, and Infinity should be pissed that someone is stealing her blood, although she doesn't know yet. By episode's end, we learn that Infinity is cancer free, so presumably the next episode will focus almost exclusively on whether Infinity knows she's cancer free. Maybe by episode six, we'll know the whole story. Just in time for the last two episodes.
It's not great for the show, nor for Payton. Even when he wins, he loses. Harvard shows up with an acceptance letter; the price is a new language department. He declines. He gets the twins out of the will by convincing them that he's going to get them out of the will, knowing there's a chance they'll try to kill Bob Balaban who, by the way, is no longer in a coma and loves Payton now. (That scene, showing Payton "directing" the coma, is pure Rushmore.) But even that love comes at a price: It costs Georgina her lover and costs Payton the idea that his father might ever show love or support, just for the hell of it.
It's a mess. But there is, buried in there, an interesting idea. How can you value something intangible — love, personal achievement, friendship — if it comes to you only because of money or power? What, if anything, will ever truly belong to this kid?
Talking Points
• More on Thomas Eagleton.
• "Did you listen to the Menendez Brothers tapes like I asked you?"
• Costume of the episode: Pink. Cape. Suit. Also worth noting that Payton's mustard-yellow sweater matches the house far better than the rich-guy drag the twins were wearing.
• "Is this like the others? The Brazilian ceramist? The cliff diver? That horrible cartoonist?"
• "Of course, you're too rich."
In crisis? The number for the Suicide Prevention Hotline in the U.S. is 1-800-273-8255, or you can visit the National Suicide Prevention Lifeline.