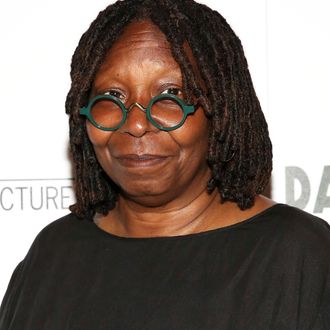 Photo: Monica Schipper/Getty Images
In the latest Stephen King adaptation news, Whoopi Goldberg has joined the CBS All Access limited-series adaptation of The Stand. The story is about a superflu that is wiping people out and a small group of survivors lead by the 108-year-old Mother Abigail. Goldberg will play the wise centenarian, who is receiving visions from God, and she will be joined in the cast by Jovan Adepo as Larry Underwood, Owen Teague as Harold Lauder, Brad William Henke as Tom Cullen, and Daniel Sunjata as the soldier Cobb. Here's the author speaking with Goldberg on The View when she broke the news about her role.
All those new names join previously announced cast members James Marsden, Amber Heard, Odessa Young, and Henry Zaga. It was announced yesterday that David E. Kelley has optioned King's brand-new book The Institute, and by the time you get done reading this it's possible yet another King adaptation will be born.
Update: Contrary to previous reports that Marilyn Manson would take on the role of the evil Randall Flagg in The Stand, it was confirmed today that Alexander Skarsgård will actually be playing the character.