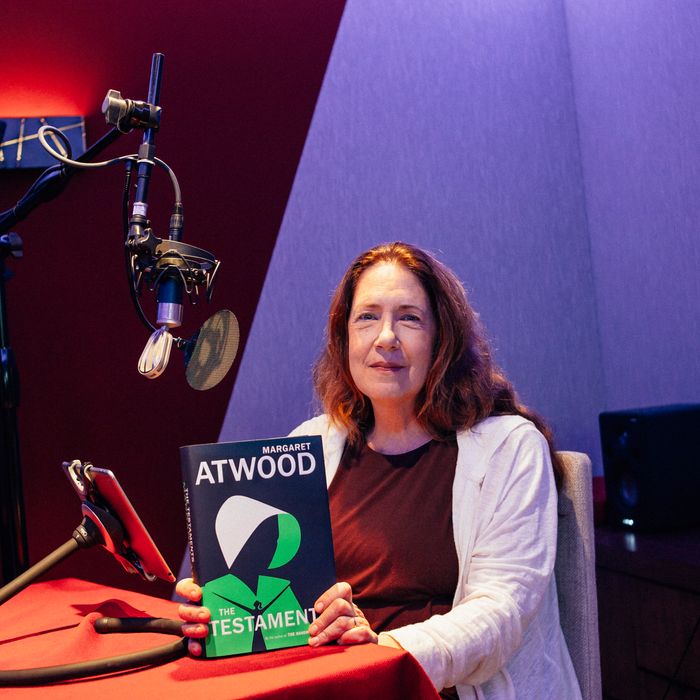 Ann Dowd voices Aunt Lydia in Margaret Atwood's latest book,
The Testaments
.
Photo: Penguin Random House Audio
Maybe you've already gotten your hands on a copy of Margaret Atwood's The Testaments because you ordered from Amazon, which reportedly errantly delivered hundreds of copies of the book — out September 10 — too early. But if not, or if actively reading isn't your thing, you might consider the audiobook version of the Handmaid's Tale sequel. (The book has already been shortlisted for the Man Booker Prize.) It features a cast of familiar voices, including Atwood herself, that seems poised to keep your attention. And also, maybe, terrify you … if past performance — looking at you here, Ann Dowd — is any indication.
Dowd will be reprising her role as Aunt Lydia, a central character and sometimes villain — though one you hate to love as much as you love to hate — from the original story. (Dowd won an Emmy in 2017 for her portrayal in the Hulu series.) She's joined by Bryce Dallas Howard and Mae Whitman, who will voice Witnesses 369A and 369B. The anonymous witnesses are used as a vehicle for telling the stories of several new female characters living in a world 15 years after the conclusion of Handmaid's Tale. (No more Offred!) Derek Jacobi and Tantoo Cardinal round out the voice cast. Jacobi voices Professor James Darcy Pieixoto, a name that might sound familiar if you've got a good memory for details or have recently read the epilogue of Handmaid's Tale. Also did I mention Ann Dowd? Ann! Dowd!
At least … I think that's Ann Dowd. Could always be Margo Martindale. You just never know.