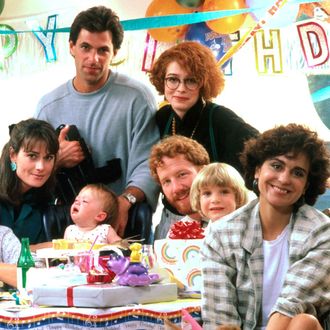 The original
Thirtysomething
.
Photo: ©MGM/Courtesy Everett Collectio/©MGM/courtesy Everett / Everett
Good news for all you 30-somethings out there starved for content that reflects your real lived experiences. The creators of the 1980s hit Thirtysomething are rebooting the series, and Deadline reports that multiple networks are interested in picking it back up. Marshall Herskovitz and Ed Zwick are writing the new treatment, with Zwick lined up to direct, and the new story is said to focus on the children of the original characters — who themselves are now 30-somethings. Sources tell Deadline that, "the intention is for original cast members to reprise their roles but no one is set yet and there have been no formal talks." Those original stars include Melanie Mayron, Timothy Busfield, Patricia Wettig, Peter Horton, Ken Olin, Mel Harris, and Polly Draper.
Hollywood loves a preexisting property, and Thirtysomething was also extremely decorated over the course of its four-season run, amassing more than a dozen Emmys and earning a few Golden Globes. Awards bait, nostalgia, and a hopefully preexisting audience — sounds like a truly Peak-TV content opportunity.