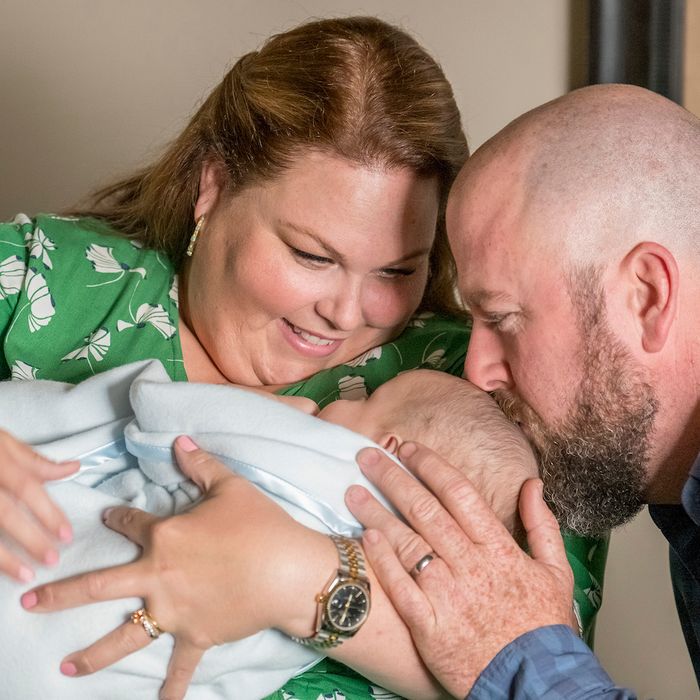 Chrissy Metz as Kate, Chris Sullivan as Toby.
Photo: Ron Batzdorff/NBC
Spoilers ahead for This Is Us season four.
This Is Us kicked off its fourth season with a giant leap into the far future, introducing us to Kate and Toby's adult son Jack Damon, a musician with a honey voice and an adorable white Pomeranian named Sam. Viewers watched Jack (played by musical theater actor Blake Stadnik) meet and fall in love with Lucy (Auden Thornton), a waitress aspiring to be a chef, before the episode revealed that he is actually Kate and Toby's baby boy, who was born prematurely at the end of the last season.
It was one of three new stories This Is Us introduced in "Strangers," all of which will interconnect with the Pearson saga and have "massive impact" on the family, creator Dan Fogelman said during a press call on Tuesday.
In the last minutes of the episode, Kate (Chrissy Metz) and Toby (Chris Sullivan) learn that three-month-old Jack was born with retinopathy and will only be able to see light and shapes. "We've known for a while now that Kate's son was going to be born prematurely and blindness retinopathy is a common thing that would come from that," Fogelman said.
So far, the show's furthest jump into the future followed the Big Three at middle age, dealing with their mother Rebecca's (Mandy Moore) deteriorating health. Baby Jack is about 12 years old in that timeline. The rest of that story will play out during the first half of the season, Fogelman said, making room for bigger leaps into the future for next season.
Jack's story shown in "Strangers" takes place about ten or more years after Rebecca's story ends, Fogelman said. At the end of the episode, he performs "Memorized," an original song co-written by This Is Us Emmy-nominated composer Siddharta Khosla and Mandy Moore's husband Taylor Goldsmith, the lead singer of the rock band Dawes. "Certainly music has always been a big part of this family's story generationally and obviously it continues on down the line," Fogelman said.
Although the writers and producers plan to return to that distant timeline multiple times over the course of the series, it won't happen soon, Fogelman said. "It's a difficult period to go into all the time 'cause we're pretty deep into the future and it presents production challenges," Fogelman said. But producers "fell so in love" with Stadnik that sometimes "parts get even bigger than what you were planning on making them," he added.
The show's casting department found Stadnik during a search for "a leading man who was without sight and could be funny and charming but also accessible and sweet," Fogelman said. "I was worried about it." To his surprise, they found several viable choices who could also sing, but once producers met Stadnik, "he was clearly the guy," even though he had never acted on camera.
"We wanted to find an actor who could be a leading man and very handsome and very funny and look great with his bare ass on national television, but also be able to go stand in the Greek in front of a live audience and actually perform and sing a song," Fogelman said. "Blake's first day of shooting was literally lying completely naked in a bed, and then having a six-hour makeout scene [with Thornton], and then going onto the stage at the Greek in front of thousands of people during an intermission of a concert to perform a song." The performance, during a Chicago concert, "was quite a trial by fire for him and he just blew us away in every way," Fogelman added.