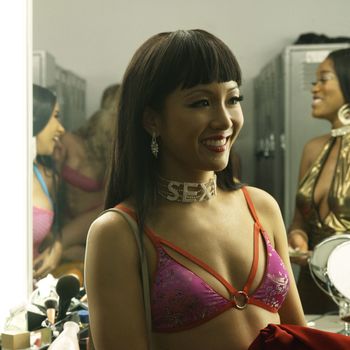 Constance Wu
Photo: STXfilms
The comedy podcast universe is ever expanding, not unlike the universe universe. We're here to make it a bit smaller, a bit more manageable. There are a lot of great shows, and each one has a lot of great episodes, so we want to highlight the exceptional, the noteworthy. Each week, our crack team of podcast enthusiasts and specialists and especially enthusiastic people will pick their favorites. We hope to have your ears permanently plugged with the best in aural comedy.
They Call Us Bruce — They Call Us Constance Wu
Not counting a guest spot on the 100th episode of Spontaneanation back in 2017 and a now-vanished THR chat in 2015, there has never been a definitive Constance Wu podcast interview — until now. Wu finally tells all on They Call Us Bruce, Jeff Yang (CNN) and Phil Yu's (Angry Asian Man) weekly primer on all things Asian-American. To the surprise of absolutely no one, the Hustlers star makes for a charming guest, even pointing out every time she says something that could be a clickbait headline. Of course, she eventually opens up about the infamous Fresh Off the Boat tweets, bringing nuance to the story that clears the air a lot quicker than 280 characters could. An added bonus: Jeff Yang's son is Hudson Yang, who plays her son Eddie on the show and has remained in his stage mom's corner throughout the controversy. The show closes out by playing "The Good, the Bad, and the WTF" about breaking stereotypes. It's a must-listen conversation for anyone interested in Asian-American representation in Hollywood or any representation at all. The three push the discourse far beyond the superficial "look, Asian men have abs" ledes and explain why Asian-Americans have such a strong first instinct to be skeptical of any sort of representation. —Mark Kramer
Listen: Spotify | Apple | Website
Las Culturistas — Thick Joy With Ilana Glazer
About a week ago when Matt Rogers and Bowen Yang posted a picture alongside Ilana Glazer in the Forever Dog Studio, teasing an upcoming episode, you'd have to have been a fool to expect such an episode to be anything but incredible. Now that the episode has finally landed in our queues, it is of course a slam dunk, which is basketball for very good. To start things off, they get topical, finally unpacking all that is Taylor Swift's album, Lover (FWIW, I don't think the actual Lover holds a candle to the Matt Rogers version), sharing fall fashion predictions, and most importantly, discussing the Dunstassaince that's currently underway. What a blessing to hear Glazer confirm that, having met Kirsten Dunst, she seems just as great as we all hope her to be. To get fully caught up on the Dunstassaince, the George Civeris episode is required listening. Later, Glazer answers all their questions about what it was like working with RuPaul, Fran Drescher, and Susie Essman, and how it feels now that Broad City has ended. As someone with a soft spot for people saying nice things about their friends, hearing Ilana speak so highly of Abbi, as well as the Las Culturistas themselves each sharing their feelings about the other one, this conversation left me gutted. But gutted in the good way, not in the Kirsten Dunst in On Becoming a God in Central Florida and an alligator way —Leigh Cesiro 
Listen: Spotify | Apple | Website
The Need to Fail — Scott Aukerman
For life in the universe, everything started with a bang. In the case of podcasting, some may say the same thing. Instead of galaxies forming, however, this new bang proved to be a driving force that shaped the podcasting landscape as we know it. The Comedy Bang Bang if you will. This week, CBB host and co-founder of Earwolf, Scott Aukerman, joins Don Fanelli on The Need to Fail. With the two covering everything from Aukerman's time in acting school to his early days on HBO's Mr. Show, even the biggest Aukermaniacs will learn something new about the comedian here. For me, this conversation really kicks into gear when they dive into the history of Earwolf. Aukerman is quick to say that without co-founder Jeff Ullrich, the network may not have survived. Although the quality, in terms of shows may have always been there, Aukerman points out that advertisers were slow to jump onboard. He even recalls being laughed out of the room by a major corporation who took a meeting with them, despite not knowing what a podcast was. With the current state of podcasting being a major topic of discussion recently, Aukerman's historical recap of Earwolf's formation proves to be an interesting listen. —Tom Rainey
Listen: Spotify | Apple | Website
Night Call — The Midsommar Monster Spectacular With John Levenstein
Summer vacation is over and Tess Lynch, Molly Lambert, and Emily Yoshida are back, and on a brand new network (HowStuffWorks). And what better way to celebrate Endsommar than with a deep dive into Midsommar? The triumphant return to Night Call's musty basement is for the summer horror romp that was practically made for these three to discuss. Yoshida has already interviewed creator Ari Aster for this very website, but together they gaze even further into the film's blue-eyed, blonde-haired subtext and themes. A night caller from Sweden even sends in details about the real-life Midsommar festival's connection to grisly deaths. After a palate-cleanser call that inspires schemes to (a) get bit by a cat-fox to become a were-cat-fox and (b) open an Airbnb for bats (an "Airbatnbat," obviously), comedy heavyweight John Levenstein joins to promote his summer Netflix mockumentary, Frankenstein's Monster's Monster, Frankenstein. Many laughs are had at the expense of I, Claudius and other old Hollywood inspiration for the special. New home or not, Night Call is back squarely in its cozy groove. —Mark Kramer
Listen: Spotify | Apple | Website
Ghosted! — Psychic Medium Elena Servidio-Schwinn
Comedian Roz Drezfalez offers horror and humor in equal measure with Ghosted!, a podcast dedicated to exploring "things that go 'bump' in the night." Each week, Drezfalez invites a guest to share their personal ghost story while she thoroughly interviews them. This week, psychic medium Elena Servidio-Schwinn shakes things up by turning the spotlight on Drezfalez and her most intimate interactions. Servidio-Schwinn also discusses her various skills, which range from in-person cleansings to social media readings. The funniest part of her profession, however, comes when she encounters another medium who attempts to enter her brain. In response, Servidio-Schwinn says she looked the other medium dead in the eye and said, "Don't even think you're better than me." While Servidio-Schwinn takes this very seriously, the notion of fighting psychics elicits an expected laugh from Drezfalez. Another thing Servidio-Schwinn takes seriously is the Conjuring franchise. If you think that stuff is a joke, you're wrong, but again, if you feel the need to laugh you're not alone. As Drezfalez says, "Light some sage and pop your popcorn" for a spooky and sassy listen that touches on the funnier side of the unknown. —Becca James
Listen: Spotify | Apple | Website
Other Podcasts We're Listening To:
Doughboys — Popeyes 2 With Andrew Ti
Listen: Spotify | Apple | Website
Pop Culture Happy Hour — The Movies of 1999
Listen: Spotify | Apple | Website
You're Making It Worse — Guy Branum
Listen: Spotify | Apple | Website
Got a comedy podcast recommendation? Drop us a line at comedypodcasts@vulture.com.