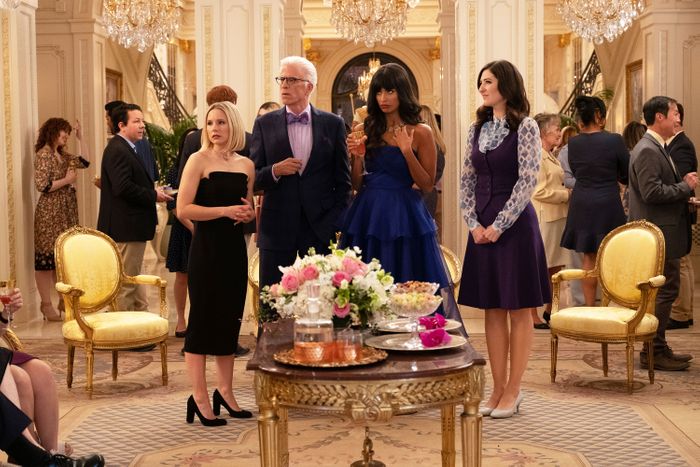 The Good Place.
Photo: Colleen Hayes/NBC
The comedy-podcast universe is ever expanding, not unlike the universe universe. We're here to make it a bit smaller, a bit more manageable. There are a lot of great shows, and each one has a lot of great episodes, so we want to highlight the exceptional, the noteworthy. Each week, our crack team of podcast enthusiasts and specialists and especially enthusiastic people will pick their favorites. We hope to have your ears permanently plugged with the best in aural comedy.
The Good Place: The Podcast — Bonus Episode: Our Hot Girl (Not a Girl) Summer (w/ D'Arcy Carden, Kirby Howell-Baptiste & Andrew Law)
Over the last three seasons, The Good Place: The Podcast has brought viewers closer to their favorite shirtheads than any other sitcom on television. In advance of tonight's bittersweet final season premiere, Marc Evan Jackson catches listeners up on an eventful summer with fellow cast members D'Arcy Carden, Kirby Howelll-Baptiste, and writer Andrew Law. Fans interested in a behind-the-scenes look at a separate behind-the-scenes look will be thrilled to hear what happened the night before this summer's The Good Place Comic Con panel. Longtime friends "Dorsal" Carden and "Kubby" Howell-Baptiste recap the party in Kristen Bell's hotel room with a giddiness that proves how much this cast truly loves being around each other in real life. The celebration slides into a eulogy as Marc Evan Jackson recalls the thoughtful gift creator Mike Schur gave him to say "Thanks, dingus" for his contributions to the show and the podcast over the years. Andrew Law continues the stroll down sentimental lane, recapping the writers' room's end-of-year trip to Vegas — specifically, the whole room crying over steamed buns at Momofuku. The tears will continue to roll as the show comes to a close, but this forking successful companion podcast will likely leave a lasting impact on TV shows to come. —Mark Kramer
Listen: Spotify | Apple | Website
Wait Wait … Don't Tell Me! - w/ Zach Galifianakis, Bobcat Goldthwait, Roxanne Roberts, and Alonzo Bodden 
Okay, so I'll be the first to admit that I'm quite late to the game when it comes to Wait Wait … Don't Tell Me! For perspective, they're about to reach the impressive 1,000-episode mark. Week to week, host Peter Sagal welcomes a panel of guests from the world of entertainment to participate in a quiz-like game show that revolves around the biggest current-event news stories of the day. To me, WWDTM is the perfect combination of classic 1970s Hollywood Squares meets low-stakes bar trivia with your best pals. This week, Sagal welcomes all-star panelists Bobcat Goldthwait, Roxanne Roberts, and Alonzo Bodden, along with special guest Zach Galifianakis via phone. As we navigate through each segment, I can't help but feel nostalgic. It's funny to feel nostalgia for a show I've never listened to, but I think that alone speaks to the quality of the content being created. Let's just say they have at least one new fan that will be returning. If game shows really aren't your thing, at least tune in for some great Between Two Ferns stories from Galifianakis. —Tom Rainey
Listen: Spotify | Apple | Website
Iconography With Ayo Edebiri and Olivia Craighead - Olivia's Pick: Bruce Springsteen
On this week's Iconography, Ayo and Olivia take a break from exploring the favorite icons of their guests to explore a stanning of their own. Namely, Olivia's love of Bruce Springsteen via his iconic album Born in the U.S.A. At least, that was the plan until 20 minutes in when Ayo shouts "Oh no!" Turns out that she listened to Born to Run instead. But like any true Bruce stan, Olivia is so well-versed on the first Born that she's able to change course on a dime. I mean that metaphor in two ways, as much of the convo revolves around the Google search term "Bruce Springsteen young" and the horny levels that the Boss still manages to hit as a 70-year-old. But Bruce wasn't always a saint; in fact, you might even say he found that It's Hard to Be a Saint in the City. Especially on tour, as they discuss whether the scandalous demise of his first marriage (infidelity with a bandmate) is evened out by his second marriage (three well-adjusted adult children and nearly 40 years together with said bandmate). Their answer? Yes! Duh! What's hornier than lifelong commitment to a soulmate? —Pablo Goldstein
Listen: Spotify | Apple | Website
Hills I'd Die On — Being Old Is Awesome: Mike Royce
Hosted by writer and comedian Taylor Cox (Single Parents), Hills I'd Die On is a space for guests to discuss their unpopular opinions. They are, of course, expected to take their views so seriously that they would be "willing to die on a hill over them." Previously death-worthy takes include the assertions that black licorice is for losers and vegetarians are bad people. Cox is committed to finding individuals with comically controversial opinions, and this week is no exception. Writer and producer Mike Royce (One Day at a Time, Everybody Loves Raymond) stops by to argue that "being old is awesome." Promoted as a "generational face-off to debate the currency of youth and the many superpowers that await us all with age," Royce begins his argument by explaining that being old is always relative to your own age, indicating that while he's the old one on the podcast, he is the young one elsewhere. Regardless, he equates more years on Earth with a few specific positives, including being better at sex and not having to try anymore. The latter might sound depressing, but Royce's genuinely jovial delivery makes it clear he's found a sense of joy and comfort in this realization. Is he able, though, to convince his younger opponent? Tune in to find out. —Becca James
High & Mighty — Musical Theater
No. 1 fuckboy Jon Gabrus sits down with his most fitting guests to date, the creators and stars of a musical about fuckboys, Ken McGraw and Doug Widick, to talk musical theater. While musicals might seem pretty far afield for High & Mighty, which often sticks to topics like weed and/or appetizers, all three fuckboys have a genuine enthusiasm for the Great White Way. Ken and Doug have encyclopedic technical knowledge and Gabrus has the Long Island enthusiasm for Broadway, the worldwide musical mecca that's only one LIRR ride away. Their foray into musical appreciation might be good material for Gabrus's podcast Action Boyz, which increasingly features enough improvised songs about jacking off in the voice of Louis Armstrong to rival Off Book. Plus, listeners will pick up insider knowledge of Tony Awards rehearsals, some serious discussion of the recent shift in the UCB student body to performers who actually went to school for acting and singing, and Doug's story of appearing on The Rosie O'Donnell Show to compete in Harry Potter trivia. You can still catch McGraw and Widick's two-man show, Toxic Masculinity: The Musical, at UCB New York, or check out Toxic Masculinity: The Musical: the website. —Kathryn Doyle
Listen: Spotify | Apple | Website
Other Podcasts We're Listening To:
2 Jews & 2 Black Dudes Review the Movies — Lean on Me
Listen: Spotify | Apple | Website
The Male Gaze — Full Throttle, No Breaks! w/ Desi Jedekin
Listen: Spotify | Apple | Website
How Neal Feel — Involuntary Racial Incursion
Listen: Spotify | Apple | Website
Doughboys Double — Xi'an Famous Foods w/ Mike Hanford & Paul Rust (LIVE)
Listen: Website
Got a comedy podcast recommendation? Drop us a line at comedypodcasts@vulture.com.