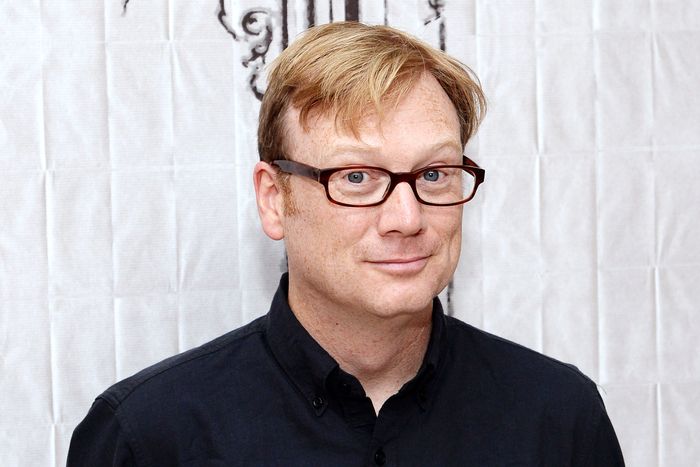 Andy Daly.
Photo: Andrew Toth/FilmMagic
The comedy podcast universe is ever expanding, not unlike the universe universe. We're here to make it a bit smaller, a bit more manageable. There are a lot of great shows, and each one has a lot of great episodes, so we want to highlight the exceptional, the noteworthy. Each week, our crack team of podcast enthusiasts and specialists and especially enthusiastic people will pick their favorites. We hope to have your ears permanently plugged with the best in aural comedy.
The Great American Cabinet of Curiosities — Poke in the Mush With Emily Heller
Leave it to Andy Daly to create a show that revolves around a German aristocrat who mimics 16th-century explorers by collecting odds and ends from around the world. Much like the circus rolling into town without warning, Daly's latest podcast venture is a high-flying spectacle of weirdness too good to pass up. The Great American Cabinet of Curiosities is basically what happens when members of an early-1900s adventurer's league partake in a grammar school's show-and-tell. This week, in front of a live audience, William George Frederick Schmitt-Hoffman the 28th (Daly) and his valet (Sean Conroy) welcome Emily Heller. As specialized collectors, Daly, Conroy, and Heller present their relics of note from Daly's cabinet of curiosities to the audience. For an idea that should really only work visually, the true fun of this show lies in hearing our panel describe these antiquities in great detail. For example, Daly's eagerness to show off a "self-portrait" of the Dutch countryside is about as good as it gets. Without giving away too much, do yourself a favor and open up the cabinet of curiosities. Within, you'll be sure to find some laughs thanks to the comedic driving force that is Andy Daly. —Tom Rainey
Listen: Website
Maybe Don't — The Episode With No Jokes
In just eight episodes, Maybe Don't has already established itself as the comedy podcast with the lowest self-esteem. Chef Kevin (Bartelt) of Hollywood Handbook and Yusong "Did Nothing Wrong" Liu of Doughboys have spun off their podcast producer credits into an Earwolf project of their own. Self-described as "a variety show with an opening segment and a closing segment," Maybe Don't squarely hits the Venn diagram of Doughboys' self-deprecation and the self-reverential comedy of Hollywood Handbook. Bartelt and Liu continue to lower audience expectations to subzero levels in this week's appropriately titled "The Episode With No Jokes," earning more honest laughs from vulnerable overshares and (gasp!) Yusong's opinions. Genuine advice for time management, quitting things, and social media cleansing is pleasantly set to Liu's impromptu piano score. "I truly take it as a sign of great flattery when someone says, 'I put you on in the background as I do other stuff.' That's all I ever wanted," Liu repeats in the introduction. Maybe Don't is proudly turning into a comfy, low-commitment listen that has always existed in podcasting, but was never intentionally created — until now. —Mark Kramer
Listen: Spotify | Apple | Website
WTF — Edi Patterson
The Danny McBride–Jody Hill–David Gordon Green triumvirate have produced three excellent shows (Eastbound & Down, Vice Principals, The Righteous Gemstones) thanks in part to a holster stuffed with secret-weapon character actors. After a scene-stealing role in Vice Principals as Neal Gamby's obsessive admirer-colleague, Texan actress and writer Edi Patterson should rightfully become a name that everybody knows thanks to her role in that trio's latest southern-fried epic of idiots bursting with unearned confidence. As she tells Marc Maron, Patterson was a dorky teen who first learned how to act by watching her hip older lesbian cousin. Turns out the secret to being cool is simply to pretend to be cool. Nobody will be none the wiser! After a decade of bit parts and live performances as a Groundlings performer, Patterson started to get her due as a guest writer on SNL and a starring role on the sitcom Partners. That latter show, a forgotten 10/90 sitcom starring Kelsey Grammer and Martin Lawrence, severely altered her career trajectory when it prevented her from accepting a full-time staff position at SNL. But that near disaster for her career turned out to be a godsend when Partners was canceled, leaving her free to do Vice Principals. Thanks to The Righteous Gemstones, which she also writes on, renewed for season two, and a recently completed film script she wrote with McBride, Patterson may soon be known by more than just fans of cult comedies. —Pablo Goldstein
Listen: Spotify | Apple | Website
Filling the Void — Magic & More With David Wain
This "feel-good" podcast is the brainchild of Lesley Arfin (who created the series Love on Netflix), who wanted to discover what kinds of cool, interesting, and bizarre hobbies are enjoyed by super-busy people when they're not busy being … busy. Ms. Arfin is so busy at the moment that she's taking a hiatus from Filling the Void and so, filling that void, is the quick, funny, and slightly salty Kerri Kenney (The State, Reno 911), guest hosting for a few installments. This week her guest is writer, director, comedian, and Kenney's former platonic roommate David Wain, who not only seems incredibly busy, but has also developed a contingent of hobbies to fill all the various seconds in between working work. And then he gets around to perfecting them. Among a few: He taught himself magic, but not just a few card tricks — he developed an act good enough to become a member of famed Magic Castle in Hollywood. He never figured out how to do a Rubik's Cube as a kid, but as an adult? He can now solve the puzzle in 30 seconds flat. He plays squash. He cooks. And he blows off steam by playing the drums; he even pushed the actual drummer off the stage in the band he'd hired to play for his own 50th birthday party. Kenny and Wain are clearly friends (going on over 30 years now), and to hear them cracking each other up and cackling together at half-referenced hijinks from their early days (like living off nothing but boxes of Golden Grahams cereal for days at a time) is to feel like we've been invited along for a fun ride that ends all too soon. —Marc Hershon
Listen: Spotify | Apple | Website
Get Rich Nick — Task Rabbit
Part critique, part field guide of the gig economy, Get Rich Nick sees Nick Turner and Nick Vatterott "clumsily try every get-rich-quick scheme under the sun in an attempt to … get rich beyond their mildest dreams." The duo takes you through the ins and outs of each endeavor, from old standbys like donating plasma to this week's foray into Task Rabbit, an app that allows users to ask "Taskers" to complete menial tasks in exchange for money. Easy laughs come early when Turner shares the skill descriptions he uses to hook clients. "I've planned all of my own weddings" is what he wrote in the event-planning category of the app, for example. Hidden in the humor, however, is a helpful tip for prospective Taskers: People want someone they can have fun with, so don't be a dud. Later, we join Turner and Vatterott as they move a mattress that has literal layers of stains from top sheet to fitted sheet to mattress protector to mattress. "It was like an archaeological dig of this guy's life in this apartment," says Vatterott. The silver lining to an otherwise soiled adventure is that Task Rabbit is one of the gigs that pay ("You can easily make a $1,000 a week"), and the duo is generous with their advice on getting tipped and staying busy on the app. Tune in and cash out. —Becca James
Listen: Spotify | Apple | Website
Other Podcasts We're Listening To:
Dr. Gameshow — Forever 11 With Eliza Hurwitz
Listen: Spotify | Apple | Website
Hound Tall — Orgasms, Genital Stroking, and Sex Addiction With Brian Huskey, Joe Derosa, and Sabrina Jalees
Listen: Spotify | Apple | Website
What's Eating You? — Fun Times With Fareeha Khan
Listen: Spotify | Apple | Website
Under the Scales — Scott Aukerman
Listen: Apple | Website
Assisting — Mr. Forrester Would Like His Horse to Be in a Movie
Listen: Apple
Secret Keepers Club — Missin' You Like Candy
Listen: Spotify | Apple | Website
Got a comedy podcast recommendation? Drop us a line at comedypodcasts@vulture.com.