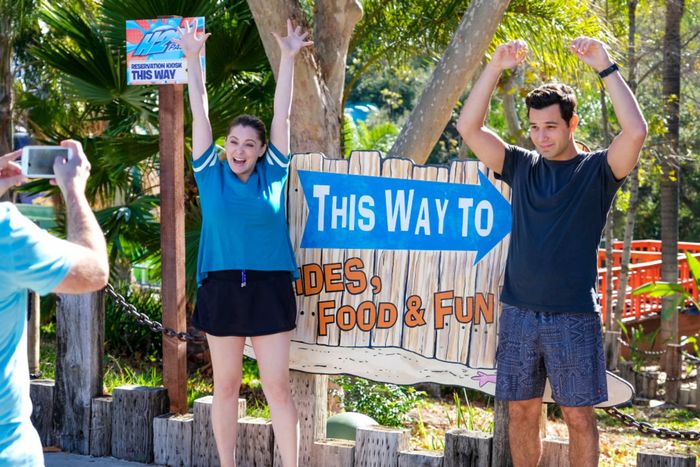 Rachel Bloom on
Crazy Ex-Girlfriend.
Photo: The CW
The comedy podcast universe is ever expanding, not unlike the universe universe. We're here to make it a bit smaller, a bit more manageable. There are a lot of great shows, and each one has a lot of great episodes, so we want to highlight the exceptional, the noteworthy. Each week, our crack team of podcast enthusiasts and specialists and especially enthusiastic people will pick their favorites. We hope to have your ears permanently plugged with the best in aural comedy.
Podcast: The Ride - Raging Waters With Rachel Bloom
"I love Googling pictures of Space Mountain with the lights on." In what is clearly the week's biggest news about the Emmy winner and new mom-to-be, Rachel Bloom (Crazy Ex-Girlfriend) is a major amusement park nerd. Of course, the actor-writer-musical comedian (and did I mention Emmy winner?) is truly at home with Podcast: The Ride hosts Jason Sheridan, Scott Gairdner, and Mike Carlson. Finally, someone just as excited to peep the maintenance bay during a ride as they are. Before detailing her saga of filming at "the only theme park with rides guaranteed to wet your pants," this park-obsessed SoCal native has a lot of issues to air about, well, every other park. Bloom dishes on the worst-written rides, contrived ride setups, and unfinished narratives (looking at you, Tower of Terror). By the time the crew reaches Raging Waters, it'll make total sense why it was Rebecca Bunch's Paris. Bloom tells of exactly how she ended up riding in 50-degree stagnant water postseason — and why it still seems too good to be true. Thankfully, it sounds like she's not even remotely done using her love for amusement parks in her work. (Can you say "niche concept album?") Listen with a change of clothes. —Anna Marr
Listen: Spotify | Apple | Website
Asian, Not Asian - I Don't Think So, Oppa! (Feat. Bowen Yang, SNL)
In the biggest and only newsworthy SNL buzz of late, Bowen Yang made a historic leap to featured player. This week's Asian, Not Asian — recorded a week before that news broke — bookmarks one of the final days Yang was not a household name. Unlike other podcast hosts that shall not be named, ANA hosts and rising comics Fumi Abe and Mic Nguyen give Bowen Yang ample space to talk all things Asian-American. Yang opens up about why he didn't want to meet Joel Kim Booster at first, being compared to siblings, and of course, JRPGs. A discussion about when each comic started doing jokes about Asian culture evolves into an attempt to figure out what "Asian voice" is in comedy. Nguyen wisely concludes that "when people say 'Don't do Asian jokes,' we're thinking of the Asian jokes white people say." Can't imagine which "Asian jokes white people say" they could be referring to. Japanese Salaryman Summer finally clocks out with a spirited round of "I Don't Think So, Oppa!," the extremely specific podcast crossover segment of the century. Congrats to Bowen Yang, and congrats to Asian, Not Asian for continuing to push the discussion about Asian-American representation to unexplored heights. —Mark Kramer
Listen: Spotify | Apple | Website
Take Me There - Touring the USA With Travis Helwig
The next best thing to taking a vacation is hearing about someone else's vacation — specifically how long they had to wait in the TSA line. If you agree with this sentiment then you'll enjoy new travel pod Take Me There from writer-husband and actress-wife Andrew and Alexandra Ford, who talk to their funny friends about trips they've taken. "Touring the USA With Travis Helwig" (Adam Ruins Everything, Lovett or Leave It, Pod Save America) focuses on business travel in particular, a high-status burden most of us never get to experience. As the head writer for Crooked Media, Helwig tours the country for live shows pretty continuously, and he's got plenty of tips and tricks for how to make air travel more enjoyable, or at least less unenjoyable. This goes way past "flying out of Burbank instead of LAX." We're talking showering at airports, living the #loungelife, Bird scooters, Goop guides, going CLEAR, and getting hit on at hotel bars by various southern business moguls. It's a fun window into the world of high-class business travel for a guy who has retinal-scan-level security access. Sure, a lot of the "tips" are only possible for those with lots of money and access, but somehow you don't resent hearing about them when they come from nice people. And don't worry, Take Me There has plenty of relatable content for the common man: The two biggest stars of this episode are room-service oatmeal and compression socks. —Kate Doyle
Listen: Spotify | Apple | Website
Scary Stories to Tell on the Pod - "Me Tie Doughty Walker" 
Piggybacking off of the Scary Stories to Tell in the Dark movie, Scary Stories to Tell on the Pod offers a "hilarious deep dive into the terrifying world of American folklore, ghost stories, hauntings, and urban legends, through the lens of the classic children's series." It's a timely idea given the movie, but also the season. It's also impressive in terms of its ability to take some of the lesser stories and provide a reading and context that elevates them. Case in point, this week's episode focuses on "Me Tie Doughty Walker," which is one of many in the series that hinges on the death of a dog, but instead of treading old and boring ground, SNL writer Anna Drezen and comedian Andrew Farmer dive in deeper to assess how scary the story is, which lends itself to the podcast particularly well because it requires a weird call-and-response song between the main characters that is inherently funny. Laughs aside, the hosts do check out the background of the story, which only leads to more laughs. Tune in if you're a spooky-story fan with a realist view on the genre's misgivings. —Becca James
Listen: Spotify | Apple | Website
The Ron Burgundy Podcast - Baseball With Clayton Kershaw
Halfway through his second season of podcasting, Ron Burgundy (Will Ferrell) has fully embraced the medium (after fumbling his way through the premiere season). He still has a tendency to treat it more or less like radio, but that's just so him. Producer/sidekick Carolina Barlow is back as well, with a more not-so-off-mic presence this time around. Things start off a bit grim as Burgundy reveals that, fresh from seeing his doctor, he has "contracted a cavity." It takes Carolina a while to talk him down from what he thinks is more or less a death sentence, and then it's right to the guest, Los Angeles Dodgers pitcher Clayton Kershaw. Then there's more confusion on Burgundy's part, as he is initially certain that he's the other Clayton Kershaw, "Croatian circus clown." It's always interesting to see how real-world guests (as opposed to some of the characters that drop in to visit) treat the world of Ron Burgundy's reality. While some react as if the host is some kind of demented lunatic, others — like Kershaw — jump right in with both feet and go with whatever comes out of his mouth. Burgundy gets into how superstitious Major League Baseball pitchers tend to be, and Kershaw provides a couple of his weirdisms, which include wearing the same underwear for the rest of the season after pitching a winning game. ("I wash them, of course," he says.) After their guest leaves the studio, Burgundy hints that he can try to hook Barlow up with the big-league hurler … an intimation that comes shortly after a lengthy segment talking to Kershaw about his wife and kids. Classic Burgundy! —Marc Hershon
Listen: Spotify | Apple | Website
Other Podcasts We're Listening To:
The Underculture With James Adomian - Chris Matthews & Andrew Yang (w/ Joel Kim Booster)
Listen: Spotify | Apple | Website
My Dead Parents - Steve Agee
Listen: Spotify | Apple | Website
The Last Laugh - Bill Burr
Listen: Spotify | Apple | Website
Got a comedy podcast recommendation? Drop us a line at comedypodcasts@vulture.com.