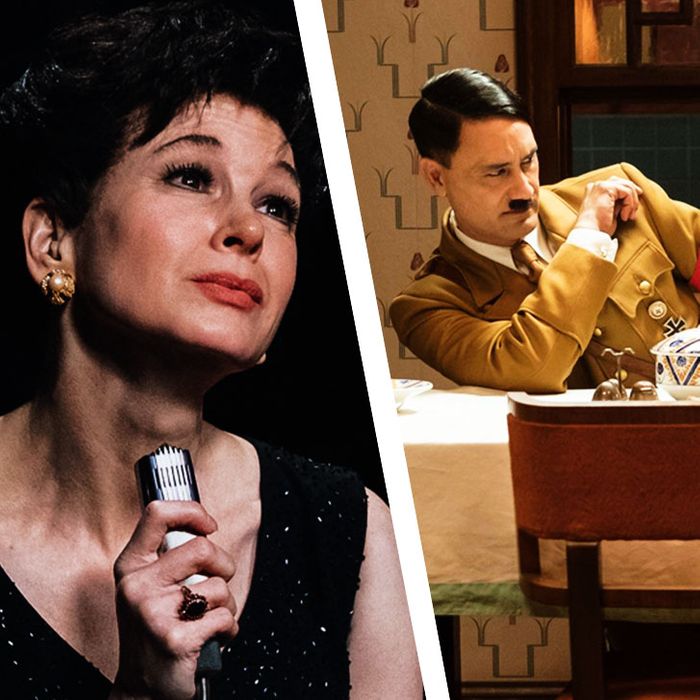 Photo: Vulture and Courtesy of TIFF
Last year we were blessed with Lady Gaga's "Shallow" wail and (ahem, some would say cursed by) the eventual Best Picture winner Green Book. What joys will this Toronto International Film Festival bring? Vulture is packing our bags and sending us north: We're headed to TIFF and, by extension, into the earliest days of awards season. Per usual, the festival has a lot of buzzy titles: Noah Baumbach's Marriage Story, Terrence Malick's A Hidden Life, Rian Johnson's Knives Out, and a pair of comebacks, from Renée Zellweger and Eddie Murphy. What should be on your TIFF radar? The peaches in Parasite, J.Lo's mink coat in Hustlers, the Ford v Ferrari co-leads, and Kevin Garnett and some Uncut Gems. Here's what Vulture will arrive at the festival looking out for:
Hustlers
What's the running price on the American Dream these days? A handful of strippers, a bunch of guys on Wall Street, and a few credit-card swipes, according to Hustlers. The movie is based on New York's saga of a get-rich-quick scheme run by some resourceful women who danced and drugged their way into rent checks and Louboutins. Lorene Scafaria directs a slick retelling: Jennifer Lopez and Constance Wu are the Kobe-and-Shaq team behind the plan, and share scenes with Lizzo, Cardi B, and one very surprising superstar cameo. J.Lo is already getting buzz for playing the mama-bear mastermind — Variety called it her "Erin Brockovich moment," but instead of battling a big, bad utility company, J.Lo & Co. mix ketamine and MDMA to con a couple dudes out of their bank accounts. —Hunter Harris
Ford v Ferrari
Call it Cars 4: In 1966, at the Le Mans World Championship, Ford Motor Company went up against the polished, sleek Ferrari. James Mangold's Ford v Ferrari dramatizes the race and the preparation, with Matt Damon starring as car designer Carroll Shelby and Christian Bale starring as the British driver Ken Miles. Lee Iacocca (Jon Bernthal) pitches a plan to have the two join forces to beat Enzo Ferrari (Remo Girone), and the real work begins: Can they really make a superfast Ford? The early reviews out of Telluride were big and glowing, with lots of praise for Damon and Bale as co-leads. —H.H.
Marriage Story
Marriage! Divorce! New York! Los Angeles! In Noah Baumbach's new family drama Marriage Story, Scarlett Johansson and Adam Driver play a stage actor and director going through a painful divorce. Nicole (Johansson) wants to move to L.A. for a TV role; Charlie wants to stay in New York City. Laura Dern, Alan Alda, and Ray Liotta play lawyers. The obvious influences all look like they're there: Kramer vs. Kramer, Shoot the Moon, Ingmar Bergman's Persona. To IndieWire, Baumbach said he intentionally layered in other genres too: "There's a hidden thriller, a procedural, a romantic comedy, a tragic love story. I felt like this was a subject that could handle all those things." A domestic disaster I can't wait to see. —H.H.
Hope Gap
Annette Bening and Bill Nighy — a moment most pleasing to me in my career! In Hope Gap, directed by writer-director William Nicholson, Bening and Nighy play a married couple named Grace and Edward, and their son has returned home for the couple's anniversary. The twist: Edward has long felt insecure and insufficient and plans to leave Grace. (Leaving Annette Bening is an act of misogyny, if you ask me, and I will respond in kind.) This is Bening's second movie at this year's TIFF — she appears as Dianne Feinstein in The Report, which premiered at Sundance earlier this year. —H.H.
The Personal History of David Copperfield
Is the glorious, acerbic In the Loop really ten years old? Armando Iannucci and co-writer Simon Blackwell reunite in this adaptation of one of Charles Dickens's most famous novels, David Copperfield. Dev Patel plays the titular role, a clever observer who moves between houses and families after he's shipped off when his widowed mother remarries. Cathartic Iannucci one-liners, costumes, Dev Patel's floppy hair — I said thank you! The Personal History of David Copperfield co-stars Tilda Swinton, Hugh Laurie, and Ben Whishaw. —H.H.
Uncut Gems
Should I call the Safdie brothers my white boys of the month? Maybe not. Will that stop me? Absolutely not! Their follow-up to the wild, gutter masterpiece Good Time — After Hours meets The Killing of a Chinese Bookie, bathed in neon — is Uncut Gems, starring Adam Sandler as a diamond-district jeweler. The description, per TIFF: "When he makes a series of high-stakes bets that could lead to the windfall of a lifetime, Howard (Sandler) must perform a precarious high-wire act, balancing business, family, and encroaching adversaries on all sides, in his relentless pursuit of the ultimate win." First-look images of Gems make it look as slick and colorful as Good Time, with an even broader cast that includes LaKeith Stanfield and Kevin Garnett. —H.H.
Endings, Beginnings
TIFF loves a Drake Doremus relationship drama! In this one, unlucky-in-love Daphne (Shailene Woodley) is trying to get her life back on track when she finds herself in the throes of a love triangle: between bad boy Carter Baizen Frank (Sebastian Stan), and his thoughtful, academic best friend Jack (Jamie Dornan), who should she choose? Doremus scripted this feature with the novelist Jardine Libaire; Matthew Gray Gubler, Lindsay Sloane, and Shamier Anderson also star. Will Endings, Beginnings be the first Doremus drama to recapture the magic of his debut, Like Crazy? —H.H.
Waves
Lucas Hedges and I are both dealing with a Little Women–size hole in our calendars in different ways: He is starring in Trey Edward Shults's movie Waves; I had Doritos for breakfast. The It Comes at Night and Krisha director returns with a music-heavy movie (once upon a time, the rumor was that the movie would be soundtracked entirely by Kanye songs) about family. Sterling K. Brown, Taylor Russell, and Kelvin Harrison Jr. star. Per Deadline, Waves "traces the epic emotional journey of a suburban African-American family — led by a well-intentioned but domineering father — as they navigate love, forgiveness and coming together in the aftermath of a loss." —H.H.
Dolemite Is My Name
An Eddie Murphy renaissance is upon us! In Dolemite Is My Name, he's playing the comedian and actor Rudy Ray Moore, who set out to make a blaxploitation movie, Dolemite, in 1975. Hustle & Flow director Craig Brewer directs Murphy's turn as one of his inspirations: Moore fashioned himself into the character Dolemite, a flamboyant pimp who breathes new life into his dormant career. Moore is ambitious and clever, and Murphy's portrayal is already the subject of awards-season murmurs. Will this be the biopic to land him an overdue Oscar? —H.H.
Harriet
Widows introduced Cynthia Erivo as a screen actor who was more than capable. This TIFF gives her a starring role: Here, she's Harriet Tubman, directed by Kasi Lemmons. Harriet follows not only Tubman's fight for her own freedom, but her efforts to free slaves with other abolitionists along the Underground Railroad. Harriet co-stars Janelle Monáe, Leslie Odom Jr., and our Favourite favorite Joe Alwyn. At the very least: It'll be better than Anthony Hopkins name-checking Harriet Tubman in that Transformers movie. —H.H.
Lucy in the Sky
First things first: Yes, this is the diaper astronaut movie, based in part on the infamous astronaut love triangle of 2007. In Lucy in the Sky (the movie that Reese Witherspoon dropped out of to make Big Little Lies season two — now she's just producing), Portman puts on Claire Foy's First Man hair and a Texas accent to play the desperate, obsessive astronaut Lucy Cola. She's married to Drew (Dan Stevens), having an affair with Mark (Jon Hamm), and going through a trippy existential crisis as she trains for her next mission. I feel comfortable declaring today, here and now, that we are one nation under Natalie Portman's space diaper! —H.H.
Joker
In the immortal words of DJ Khaled, "another one." Having learned its lesson from the misbegotten efforts to create a Marvel-style interconnected universe, Warner Bros. has instead decided to pivot its DC Comics movies toward stand-alone efforts, hoping to attract A-list talent put off by the decade-long contractual obligations of that other superhero universe. First up: Joaquin Phoenix stepping into the role once held by Jack Nicholson, Heath Ledger, and [gulp] Jared Leto. It's an origin story seemingly inspired by Martin Scorsese's The King of Comedy, which paints the future Clown Prince of Crime as a downtrodden would-be comedian pushed into supervillainy by an uncaring world. Talk out of Venice suggests the film is outrageous in every sense of the word, and we'll likely be debating the film's take on violence, masculinity, and violent masculinity all season long. —Nate Jones
The Goldfinch
Literary adaptations don't come much more gilded than this. Brooklyn's John Crowley directs the film version of the Pulitzer Prize–winning Donna Tartt novel, with a cast that includes Ansel Elgort, Nicole Kidman, Jeffrey Wright, and Stranger Things's Finn Wolfhard as a Ukrainian teen living in Las Vegas. With a sprawling plot that involves terrorism, grief, drug addiction, and international art heists, the book was considered even by its fans to be nigh-unadaptable. We can't wait to find out whether this is the next Life of Pi or Tulip Fever. —N.J.
Jojo Rabbit
If you're an indie-minded director coming off a big Marvel hit, how do you spend your newfound industry capital? For Thor: Ragnarok's Taika Waititi, the answer was simple: Direct yourself as Adolf Hitler, or at least, a version of the führer as the goofy imaginary friend of a young boy in 1940s Germany. Based on a book by Christine Leunens, the film follows a loyal member of the Hitler Youth who's shocked to discover his mother (Scarlett Johansson, not playing a tree) is harboring a Jewish girl in their attic. The Kiwi director has described the movie as a satire against war and nationalism, saying, "This film is going to piss off a lot of racists and that makes me very happy." Here's hoping! —N.J.
A Beautiful Day in the Neighborhood
You know how sometimes you just need a good, hard cry? This is that, in movie form. From director Marielle Heller comes this Mr. Rogers biopic, based on an encounter the late TV legend had with journalist Tom Junod in the '90s. Rogers is being played by Tom Hanks, who looks nothing like him, but you have to admit their energies are the same. Junod (who is called "Lloyd Vogel" here and is played by Matthew Rhys) has said that his time spent with Rogers changed his entire outlook on life, and for those of us who couldn't meet the guy in person, this film might suffice. —N.J.
Just Mercy
They may not make middlebrow legal thrillers like they used to, but Michael B. Jordan's production company is doing its part to make the world safe again for actors who want to play crusading attorneys making a brave stand against the system. The actor plays real-life activist Bryan Stevenson, who takes the case of an obviously innocent man (Jamie Foxx) who's landed on death row thanks to racial bias in policing. Short Term 12's Destin Daniel Cretton directs, and that film's star, Brie Larson, pops up in a supporting role. Jordan told Vulture last year he'd slimmed down "so much" to take the role of Stevenson — his sweaters are probably thanking him. —N.J.
The Two Popes
Netflix sees HBO's The New Pope, and raises it one more pope. The latest film from Brazilian director Fernando Meirelles (City of God) dramatizes the uncomfortable relationship created in the Vatican by the retirement of Pope Benedict XVI (Anthony Hopkins), as the conservative German spars with his ideological opposite, the future Pope Francis (Jonathan Pryce). The movie is almost entirely made up of a series of imagined conversations between the two men, and audiences at Telluride have come out raving about both performances, as well as Anthony McCarten's witty script. McCarten previously wrote The Theory of Everything, Darkest Hour, and Bohemian Rhapsody, and The Two Popes looks like it should fit nicely into his string of crowd-pleasing biopics. —N.J.
Knives Out
No, it's not a Radiohead biopic. (Though when that happens, please cast Barry Keoghan as Thom Yorke.) Instead, it's the latest effort from Rian Johnson, shaking off the bad vibes that crept up around Last Jedi with a star-studded Agatha Christie pastiche. Daniel Craig is the Poirot stand-in investigating a wealthy family (Chris Evans, Jamie Lee Curtis, Michael Shannon, Toni Collette, Don Johnson, and more) for the murder of their patriarch (Christopher Plummer, of course). It's been a while since we've had a really solid mystery movie — we shall not speak of the recent CGI-addled version Murder on the Orient Express — and my Gosford Park–loving ass could not be any more excited to find out whodunit. —N.J.
Judy
Have you heard? Renée Zellweger is back! The actress is getting major Oscar buzz for veritably becoming Judy Garland for this biopic set in the waning days of the singer's life. (She even did her own singing.) She's so good in it, in fact, that every review casually mentions that the movie is only okay, then goes back to praising Zellweger anyway. That's star power! —N.J.
Parasite
If you missed the eventual Palme d'Or winner when it played at Cannes — don't worry, we did, too — you're in luck: Bong Joon-ho's delicious satire is touring the fall festival circuit before its Stateside release in October. Parasite is the kind of film that plays best the less you know going in, but if you simply must hear the basics, the movie follows a downwardly mobile Korean family who slowly entwine themselves into the life of some vapid poshies. Those who've seen any of Bong's previous films know how much pleasure he takes in situations spiraling desperately out of control, and much of this movie's anxious fun comes from never knowing precisely when or how the house of cards will crumble. —N.J.