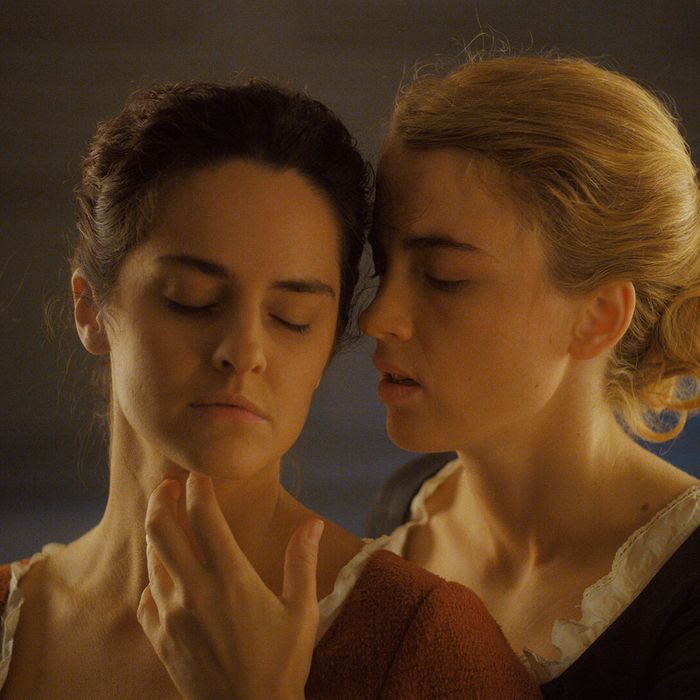 Noémie Merlant and Adèle Haenel in
Portrait of a Lady on Fire
.
Photo: Courtesy of TIFF
"Talk about the female gaze," a woman coming out of the first Toronto screening of Portrait of a Lady on Fire told her companion as the crowd shuffled toward the escalators. "That movie's nothing but the female gaze."
She was right. Céline Sciamma's film, which won both the Best Screenplay prize and the Queer Palm at Cannes earlier this year, is a movie about the pleasures of observing, and being observed. It takes place at a remote chateau in Brittany in the waning days of the ancien régime, as the painter Marianne (Noémie Merlant) arrives with a peculiar mission: create a portrait of young noblewoman Héloïse (Adèle Haenel) without her noticing. The reason why verges on Gothic tragedy. Héloïse's sister has tumbled to her death off a seaside cliff — the question lingers whether she fell or jumped — and now the younger woman is about to be shipped off to a suitor in Milan in her place. Unhappy with her fate, Héloïse refuses to sit for a portrait that will be sent to her fiancé, thus the subterfuge. By day, Marianne will pretend to be Héloïse's walking companion; by night, she'll paint the portrait from memory.
As the women embark on their first outing, Sciamma holds off on our first glimpse of Héloïse: We see her from behind, in Marianne's POV, a shot that obscures her face for so long it's almost painful. But once they start looking at each other, they find it hard to stop. This is a film about women watching women, shot by two women. (The cinematographer is Claire Mathon, who does for bright sunlight what Roger Deakins does for shadows.) Marianne's gaze is furtive and inquisitive: She wants to know how Héloïse holds her hands, what her mouth does when she smiles, how the light plays off her ear. Héloïse's gaze is something else. In films like Deerskin, Haenel has had a distinctly modern air to her, and here she seems almost out of time — amid this lush period setting, her look is hard and impassive, like she's staring down a tiger.
To fall in love is to feel truly seen, and Portrait suggests the reverse is true, too — to see someone as they really are is to fall for them as well. Eventually Marianne's guilt gets the better of her, and she reveals the portrait to Héloïse, who's disappointed, not only because of the ruse, but also because the painting captures nothing of her spirit. She decides to sit for a second portrait, and as the women are finally able to stare at each other freely, their friendship gradually turns into a bittersweet love story. The painting they're collaborating on is the very object that will end their relationship. A parallel is drawn to the story of Orpheus and Eurydice — for Marianne to see Héloïse is to lose her, but in another sense, it's also a way to have her forever.
Based on their forbidden queer romances, sensuous love scenes, and striking European locations — you'll want to book a trip to Brittany immediately after leaving the theater — it's tempting to call Portrait of a Lady on Fire this year's Call Me by Your Name. But while CMBYN played out the fantasy of two people becoming one, Portrait is more attuned to the fascination of difference, how a lover's gestures and mannerisms can come to encapsulate an entire world. To watch it is to fall into your own particular trance — Sciamma fills her frames with imagery designed to inspire private obsession, from the titular shot of an unflappable Héloïse with her dress aflame, to the most lovingly photographed post-makeout spit-trails I've ever seen, and culminating in a final shot that rivals CMBYN in its majesty. Other journalists I've spoken to at TIFF have come away enthralled, and I would not be surprised if, like another romance that played Toronto last year, this is a movie viewers can't help taking another look at.