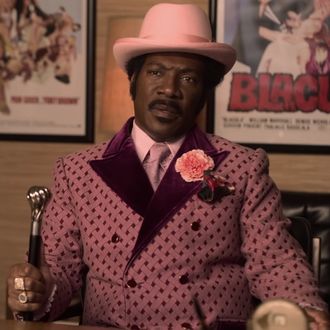 Eddie Murphy in Netflix's
Dolemite Is My Name
Photo: Netflix
Attendees at this year's Toronto International Film Festival might not have noticed an odd discrepancy as they sprinted from film to film, but in a festival lineup packed with Netflix and Amazon offerings, eventually moviegoers were bound to notice: One of TIFF's official screening venues is refusing to show movies released by streaming platforms. Even movies that have or will have brief in-theater runs do not make the cut for Cineplex, which owns Toronto's Scotiabank Theatre, currently playing movies for the festival.
"There are hundreds of fantastic films screening as part of this year's festival, and with all those options, we asked that our screens feature titles from studios who understand and appreciate the importance of the theatrical release model," Cineplex spokesperson Sarah Van Lange explained to The Hollywood Reporter. "We have a strong and longstanding partnership with TIFF and are proud of our role in creating memorable theatrical experiences for festivalgoers, now and for years to come." Ellis Jacob, CEO of Cineplex, is on the board of the Toronto International Film Festival, and his company is one of the festival sponsors.
Festival organizers also confirmed the policy, which is new this year. "Cineplex has been a great partner of TIFF's for many years," they acknowledged in a statement. "This year, new restrictions were put in place on our use of their Scotiabank Theatres during the festival. As a result, TIFF scheduled films that do not comply with their traditional theatrical windows in other venues." Among the Netflix films premiering at TIFF are Dolemite Is My Name, Marriage Story, The Two Popes, and The Laundromat, while Amazon is debuting Les Miserables, Honey Boy, The Report, and The Aeronauts, among others.