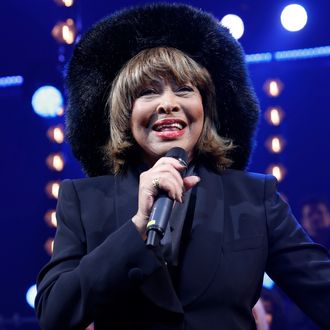 Tina Turner.
Photo: Franziska Krug/Getty Images
We all have guilty pleasure music we listen to when no one else is around. For many, it's the TikTok songs we can't get out of our heads, and for Tina Turner, it's Coldplay. The legendary singer opened up to the New York Times about her retirement, her new musical, and how she only wants to sing along to her white boy of the month, Chris Martin … despite the fact that she doesn't know who Chris Martin is. "Darling? What's his name?" she asked her husband, Erwin Bach, before sampling a song. "I want something just liiiike this!" Not only is her favorite song at the moment a Coldplay song, it's a Coldplay and the Chainsmokers collaboration called "Something Just Like This." This one revelation prompts so many follow-ups (Does she Goop? What's her take on Dakota Johnson's gap tooth? Has she seen A Bigger Splash?), but the answer is probably something like "I don't know her."
Even though she's a fan, Turner has some shade to throw at Coldplay, too. "You know what I like?" she began to explain Chris Martin's appeal before getting cut off. "He doesn't have that really good black voice, like Motown —" He simply doesn't have it! To her, that's a good thing in a world where every pop diva is trying to be Tina. "She'll make a good Tina" is her simple response to any singer coming up or even those who have already made names for themselves. Beyoncé, for example, will make a wonderful Tina. Meanwhile, there are some pretty stunning Tinas onstage, including Adrienne Warren, who is set to don the wig in Tina: The Tina Turner Musical on Broadway next month. Somewhere in a Swiss chalet, the real Tina Turner will be jamming to Coldplay.