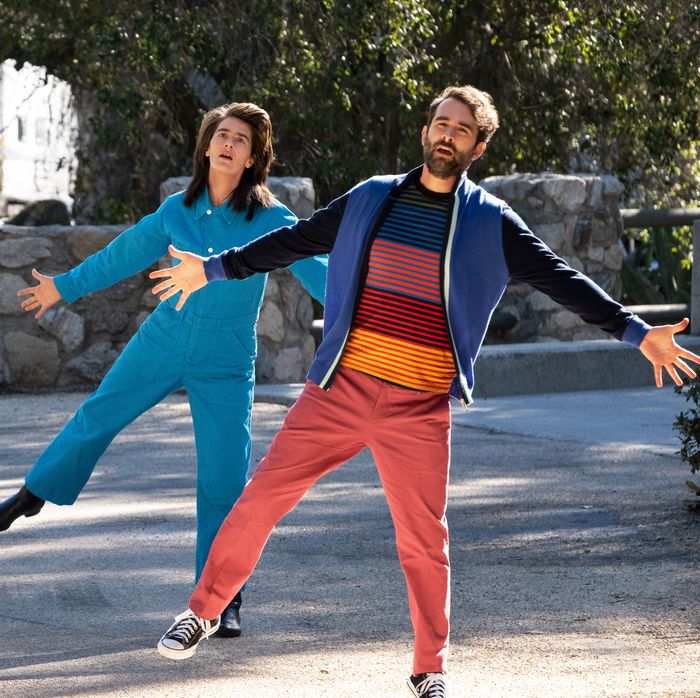 Amy Landecker, Gaby Hoffmann, and Jay Duplass, singing and dancing their way through the
Transparent
finale.
Photo: Erin Simkin/Amazon Studios
When Jeffrey Tambor, the star of Amazon's Transparent, was dismissed from the series last year following an investigation into sexual-harassment claims against him, the show decided to go on anyway. Well, sort of.
Rather than try to wade through an entire season without Tambor's Maura Pfefferman, the "trans parent" who inspired the dramedy's title, series creator Jill Soloway opted for one last send-off: a movie musical, with songs written by Faith Soloway, Jill's sister and a fellow writer on the series. The result is the Transparent Musicale Finale, a 100-minute attempt to make lemonade out of lemons. Or maybe, to borrow the name of its most memorable and splashy number, it's trying to make a joyocaust out of a holocaust?
If the word joyocaust — which really is the name of a song in the Transparent finale, I am not making that up — made you cringe so hard you pulled a muscle in your neck, the Transparent Musicale Finale may not be for you. There is a lot about it that doesn't quite work, specifically pretty much the entire first half of it. But the fact that it doesn't all work is part of what makes this an appropriate farewell. The Musicale Finale takes what can be frustrating about Transparent and what's also so sublime and lovely about it, then distills all of that into a single song-and-dance-filled curtain call — a curtain call that's also a funeral. Under daunting and difficult circumstances, the show deserves credit for refusing to go quietly into that good night.
With Tambor absent from the production, there was one obvious direction to take with the last "episode" of Transparent, and Soloway & Co. take it: They center it on a funeral for Maura, referred to as Moppa by her three grown children, Sarah (Amy Landecker), Josh (Jay Duplass), and Ali (Gaby Hoffmann), who now wants to be called Ari, a reflection of their now nonbinary identity. Early in the finale, Maura is found dead of a sudden heart attack — her body is never shown onscreen — by her friend and roommate Davina (Alexandra Billings). News of her death travels to the kids and also to Shelly (Judith Light), Maura's ex-wife and the mother of their children. Funeral plans start being made. Songs about feelings start being sung.
Shelly initially responds to the news by retreating from the family and trying to write and stage a play about her life and relationship to the family, a story line that provided the foundation for the early live versions of a Transparent musical staged at Joe's Pub in 2018. Plot-wise and theme-wise, Shelly's play ties in with a number of things that happen later in the finale, but tonally, it's an odd fit with the rest of what the musical is trying to do. It also produces one of the most extra songs in the show, a bombastic battle over Shelly's play between her and her kids, who are offended that she's mining their lives for the sake of theater. The song is called "Your Boundary Is My Trigger," and it's a word cloud of contemporary psychological terms turned into a climactic Broadway-style number that's too buried in jargon and self-involvement to fully land emotionally.
The finale fares much, much better once it turns its attention more directly toward grief and death. When the three Pfefferman children gather to bid good-bye to Maura's ashes as they are placed into a crematorium furnace, Ari, who has become more religious after an extended visit to Israel, convinces their siblings to sing the Kaddish, which segues into an Ari solo, "Run From Your Father's House," that is the most beautiful song in the movie. In that scene, things snap into clear focus: of course the last episode of Transparent should be a musical. In the Jewish faith, every prayer is a song.
There are moments that also speak to the real-life subtext of this whole project, particularly "Let Her Be Okay," a heartbreaker that Davina and other LGBTQ friends of Maura's sing during her funeral. The song is about letting go of a person who has passed, but when Billings croons, "We will be okay," it's as though she's talking about everyone who worked on Transparent, as well as the entire trans community. The reactions from the actors, especially a sobbing Hoffmann, speak to the transcendence of that moment.
Transparent is a very personal show, especially to Jill Soloway, who based the series on their father's gender transition and family's own process of embracing their Moppa. (Soloway is nonbinary and identifies using third-person pronouns.) The finale continues to mine from Soloway's life, through Ari's declaration of being nonbinary and even a number that pays homage to The Real Live Brady Bunch, the theatrical subversion of The Brady Bunch that Jill and Faith Soloway created and staged back in the '90s. In its second half, during the funeral and an unexpected twist in the middle of that funeral, the musical becomes something not just personal but also delicate and moving.
That the whole thing concludes with "Joyocaust," a song about reclaiming the inherent sadness of being Jewish and attempting to turn it into something more hopeful, is Transparent walking a very thin tightrope between self-parody and daring, infectious celebration. It teeters the whole time, but never fully falls on either side. Ultimately, you have to take your hat off to this finale for what it's trying to do and sometimes succeeds at doing: putting a happy exclamation point at the end of a sentence that very easily could have ended with dangling ellipses.