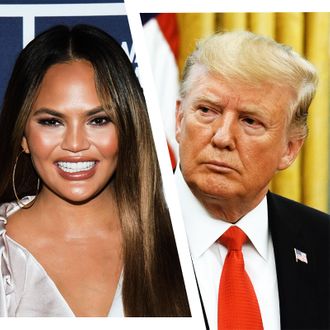 Chrissy Teigen and her Twitter nemesis.
Photo: Getty Images
Fresh off of fighting with Debra Messing, Donald Trump just can't control his Twitter fingers. His feud with Chrissy Teigen has reached a comical new height, that is, if it's funny that the president of the United States is tweeting mean things about a prominent citizen. Maybe in a dark way. Furious about an NBC special on criminal justice reform featuring John Legend and probably just after watching the promo video for it, Donald Trump tweeted a thread insulting John Legend, NBC, Lester Holt, and innocent bystander Chrissy Teigen, who had nothing to do with the special. Trump began the thread by praising his own work on criminal justice reform for having "signed it into law," referring to the First Step Act, which reduced mandatory sentences for some offenses. "Guys like boring musician @johnlegend, and his filthy mouthed wife, are talking now about how great it is - but I didn't see them around when we needed help getting it passed," Trump wrote in two tweets. Naturally, Teigen, who is blocked by the president, wasn't settling for subtweets.
"The absolute best part of his tweet is I literally didn't speak in the special, nor was I mentioned," she said in a second tweet. "I'm cackling at the pointless addition of me because he cannot not be a bitch." And because this is the internet #PresidentPussyAssBitch began to take over the timeline. The only problem is: Twitter refused to let the dirty words trend. According to The Independent, "tracking data by social media firm Keyhole showed the hashtag was seen by far more US users than the hashtag in top place," which was Trump's "#filthymouthedwife." So, it looks like once again, Trump lost the popular vote, but the system erred in his favor.