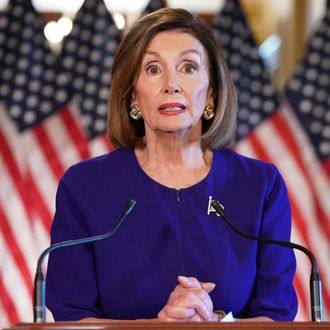 The messenger.
Photo: Mandel Ngan/AFP/Getty Images
The House's decision to move forward with a formal impeachment inquiry into President Trump resulted in a significant cable news ratings spike Tuesday. Nielsen numbers for all the cable news networks spiked throughout the day as a flurry of events unfolded, culminating with Speaker of the House Nancy Pelosi's 5 p.m. EDT speech to the nation. But the biggest gains, not surprisingly, came in prime time, with polar opposites Rachel Maddow and Sean Hannity among the biggest beneficiaries.
Maddow's 9 p.m. MSNBC hour surged about 40 percent from her Monday numbers, enough to make it the top cable news broadcast for the night in the key sales demographic of adults 25 to 54 (0.58 rating). Its overall audience of 3.3 million viewers also up sharply from its recent average of around 2.5 million viewers. Meanwhile, Fox News Channel's Hannity also benefited from impeachment interest, drawing an impressive 3.9 million viewers, well above its 2.8 million on Monday (and 3.3 million last Tuesday), while notching a 0.53 rating in the key demo. Tucker Carlson Tonight (3.4 million) was the night's No. 2 cable news show, while an explosive interview with former New York City mayor Rudy Giuliani helped The Ingraham Angle jump from 2.3 million viewers Monday to 3.2 million on Tuesday. And while CNN's overall audience was well below that of its chief rivals, it still made huge gains vs. recent numbers: At 5 p.m., The Situation Room With Wolf Blitzer drew 1.6 million viewers, more than doubling its day earlier audience of 779,000 viewers. CNN's Anderson Cooper and Cuomo Prime Time both notched 1.4 million viewers in primetime, about 40 percent above recent broadcasts.
One cable news insider tells Vulture there's a good chance that, good as these Tuesday numbers are, ratings could go up even more tonight and later this week as the impeachment process heats up and more details of Trump's handling of a phone call with the president of Ukraine emerge. There will also be congressional hearings and, on the Fox News side, the likelihood of Trump himself doing an interview with one of the network's many friendly anchors. MSNBC and CNN, however, may stand the most to gain: Since the end of the Mueller investigation, both networks have seen their numbers come back down to Earth a bit vs. year-ago record highs.