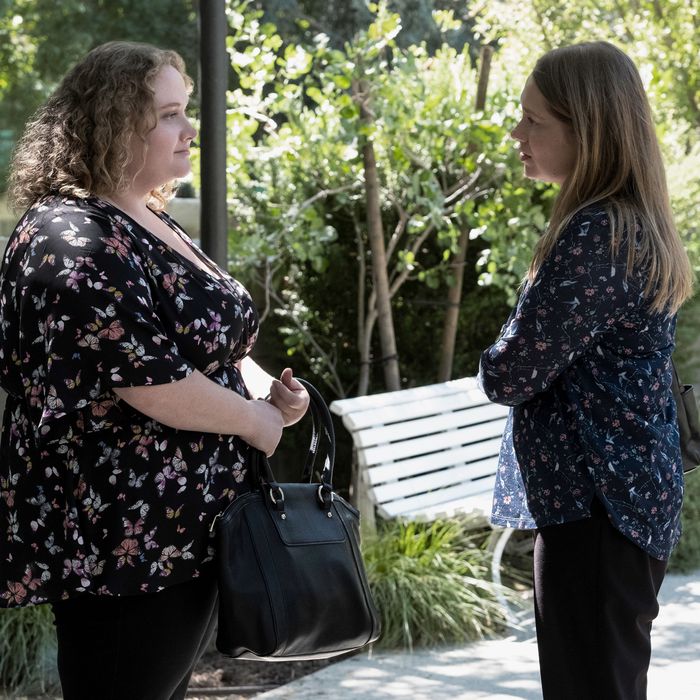 Photo: Beth Dubber/Netflix
At first, it seemed it was just the two old male cops who shut Marie down. They weren't cruel — not really. More oafish and unnuanced and completely incurious about the world from anyone else's perspective. But then we saw the stats on police officers abusing their domestic partners (40 percent, wtf). And the utter breakdown in communication between police departments. And a court that just plumb doesn't care if it's actually sending court dates to the right addresses. (Sorry for that warrant, Marie!) Let's not forget the incredibly charming Scott Parrish, who just rapes college ladies for funzies in his dorm room but walks away from charges because his daddy threatens to sue. Every single system, Unbelievable is saying, is deeply flawed, pockmarked and shredded into a pitted, pulpy mess. It's a rage-watch, something at which to aim all your anger about the brokenness of America and humanity. This is the death of the soul by a thousand bureaucratic cuts. And in this episode, we get a few more cuts courtesy of Lilly's story.
"I don't know what I can tell you that I didn't already tell Head Up His Ass Harkness a million times, but come on in," Lilly (Annaleigh Ashford, Tony Award winner and future Paula Jones in American Crime Story) says while welcoming Rasmussen into her house. Looking at her story is like trying to isolate a single color in a prism. She depicts it all so clearly. A masked intruder with a knife broke into her home. She dove off a second-floor balcony and onto a brick patio below to get away. She dragged her broken body (pelvis cracked, femur destroyed, ribs in bits) to get help, but really, not much help has been forthcoming.
The detective assigned to her case — real shocker here, another old dude — suddenly casts a whole new light on Lilly's perspective. He isn't some cartoon villain snickering with his face behind his hand and calling her a loon. Instead, he's the less explicit but still dangerous version of that, explaining to Duvall, "I might have written her off entirely if not for her injuries." Why write off a woman who claims she was attacked? Well, because he thinks she's a little weird, which has been a smear against women since Salem officials locked up Tituba for making a "witch cake." It's an insidious thing, really, to think women are silly. To snicker to a fellow (female) cop that "since the attack, her cat had been scratching people wearing black boots. She thought that was an important lead." To question if her assault was imagined, since she partakes of an herbal sedative. The subtext is so clear it practically showed up on the closed captioning: LADIES BE DOING SILLY SHIT.
Coincidentally, Lilly's theory of who might have attacked her lines up with Rasmussen's. "They'd do it if it was one of them," she says, meaning the cops might be protecting their own. It's titillating, right? This woman who claims to speak to friends through the ether, who worships a Spirit most of us find mystical, is also saying Rasmussen and Duvall are on the right track, as if she were divining the truth in this whole mess. "Nothing is unknowable," she reminds Rasmussen — which is either a philosophical treatise or a swift kick in the ass. Perhaps both.
The physical evidence from Lilly's house bolsters the team members' work too, since they can confirm the shoe prints and glove prints match those found at Amber's house. There is now definitive proof that these cases are linked.
More investigating commences. (And there is a case to be made here that Unbelievable is not ideal for bingeing — in isolation, these paperwork scavenger hunts are fascinating, but happening in episode after episode may dull that pleasure.) But the glorious intern whose name I absolutely can't recall ever being told really steps in it by mentioning that perhaps everyone should tailor their ViCAP targets to include members of law enforcement. (Sidenote: You can be an intern for these types of detectives? Yes, please.) Taggert must be reading my recaps, because he wisely notes that citizens, not just cops, would know how to wipe down a room and wash away DNA evidence. "CSI has turned a generation of American TV viewers into crime-scene experts," he explains. The textbook (Rape Investigation Handbook) Duvall is later given by the Kansas detective only cements this theory. It sounds likely that a cop committed these rapes, but it's also possible one of those dark-web parasites got his mitts on a copy of this book and put it to disturbingly good use.
Of course, Rasmussen's breakdown isn't entirely due to Taggert's (understandable) counterpoints. She has been reading the literature, and holy hell, it isn't good. And nobody is matching her outrage on this. Duvall demonstrates her dismay in a much lower key with more sadness than anger. But they're up against a serial rapist and their FBI contact once called him "garden-variety horrible" and nobody is screaming or yelling and male cops are essentially getting away with both shoddy work and beating their wives and everyone is just casually sitting around a table, passing notes and digging into Chinese food like this is an ordinary job. I get her rage, and most of you probably do too. All these system breakdowns and small failures add up to a colossal miscarriage of justice for the thousands of women raped each year. The conversation Duvall and Rasmussen have outside that conference room is one a lot of us have had over the past few years. We're pissed and ready to smash up this shitty system, but we don't know exactly how to do it — or why everyone else isn't onboard. If a study came out saying 30 percent of female cops hit their kids, then yes, they'd all lose their jobs. The scales of Justice are so lopsided it's a wonder she can stand. But as Duvall points out, "You sitting out here, screaming into the wind, does nothing to unfuck it."
And lo and behold, they get a ViCAP hit that sends Duvall on a trip to Kansas to dig up any info she can on a rape that sounds indubitably like their own. All around the kitchen cock-a-doodle-doodle-doo! She turns up eight years of files and uses her badge to scare the bejesus out of one of those "garden variety" pervs who make women uncomfortable for merely operating in a public space. I hope he goes home that night and shits himself in terror.
(I also hope the intern's panty-theft idea goes somewhere. If I noticed my window ajar and some underwear gone, I would sure as hell call the police. But I do love the flummoxed stares from Rosemarie and Rasmussen when the only dude in the room chimes in with "I had a thought!")
If Marie has been managing to keep most of her feelings bottled up since her attack, that calm visage is now slipping. Those thousand paper cuts are coming for her, too — she has been moved to the loading dock at work with nary a kind word from her boss, intimidated by yet another creep who uses his looming height and innuendo to suggest he just might have a little fun raping her, and then given a sensible talk by Connor when the last thing Marie wants is to be sensible.
The loneliness of her situation is compounded by the conversation between Duvall and Amber outside the detective's church. Marie hasn't just been abandoned and disbelieved; she's now being actively pursued for criminal charges. Even with support and love from friends, Amber is, as she puts it, "losing [her] mind," suddenly acting entirely out of character, buying a gun and sleeping with strange men. All the support in the world won't suddenly heal a trauma like hers, but Duvall's reassurance is a start. (It's an especially nice touch that the women are dressed so similarly — both have on black pants, a dark floral shirt, a black purse slung over their shoulder — like a visual sign of their kinship.) So try to imagine what Marie, now jobless, friendless, broke, and emotionally kneecapped, is keeping under that steely expression.
We, of course, know the case is inching along. That Colleen believes Marie's account enough to tip off a detective. That Rasmussen has a lead on James Massey, a tall, strong, blue-eyed cop who sounds an awful lot like a good fit for these rapes. But Marie is years in the past, quite alone, and entirely unknown to the only two women who care enough to do all the legwork.