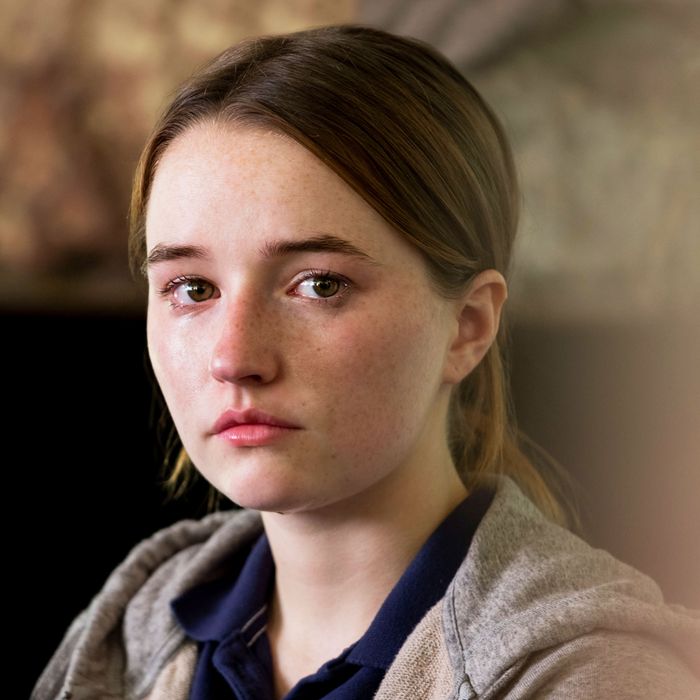 Kaitlyn Dever in
Unbelievable
.
Photo: Beth Dubber/Netflix
Unbelievable, one of the best crime dramas in recent memory and one of the best shows of 2019, takes an approach that is rare for the genre. Yes, it contains a central mystery, and yes, a key question coursing beneath the Netflix limited series' eight episodes is what would motivate a man to potentially become a serial rapist. But more than anything else, Unbelievable — overseen by showrunner Susannah Grant and based on Pulitzer-winning investigative reporting by ProPublica and The Marshall Project, as well as an episode of This American Life — is concerned with the victims of that rapist, how they are treated by an inconsistent criminal justice system, and what a difference it makes when a woman who says she's been assaulted is not only heard, but treated with compassion. This should not qualify as a radical approach to crime storytelling. But it indeed feels radical.
The first episode places us in 2008 in Lynnwood, Washington, where Marie (Kaitlyn Dever of Booksmart), a young woman living in a community for at-risk youth, tells police that she was raped by a masked intruder who entered her apartment while she was sleeping. The cops start investigating, and the members of her community who (like Marie) wound their way to adulthood through the foster-care system are empathetic. But the more that the police question Marie and those around her — including her most recent foster mom, played by Elizabeth Marvel — the more likely it seems that she made up the whole story.
Beginning in the second episode, Unbelievable begins to unfold on two tracks. While still tracing the fallout of Marie's rape accusation in Washington, the narrative shifts forward to 2011 and southeast to Colorado, where Detective Karen Duvall (Merritt Wever) is working a rape case with circumstances that sound very similar to Marie's, though Duvall has no way of knowing that. A woman named Amber (Danielle Macdonald of Dumplin'), who lives alone, was raped by an intruder who broke into her apartment and made sure to leave the scene absolutely clean of all DNA traces. What's different about the two situations is the way the victims are treated. When an officer back in Lynwood first speaks to Marie, he is aloof and instantly starts prying for every detail about her rape. Duvall, on the other hand, is kind and soft-spoken. When she asks if Amber is injured and Amber says "no," Karen notes that if she changes her mind, there are paramedics ready to treat her. "They're right there," she says gently, "and they're here for you." From the get-go, Amber feels supported, while Marie feels expendable. (Side note: If there is a God in heaven and God is the first entity to greet you when you arrive, I sincerely hope that she looks and sounds like Merritt Wever.)
As additional rapes take place, Duvall eventually joins forces with Grace Rasmussen (Toni Collette), a Colorado detective who works in another nearby jurisdiction and is also starting to see similar cases. One of the most sublime pleasures of Unbelievable is watching these two fine actresses, neither strangers to inhabiting strong female characters, develop a shorthand with each other as they work to find the guy who's responsible for raping all of these women. In a lot of ways, Unbelievable feels like the True Detective that we never got, that we always deserved, and that we didn't know how much we needed until it landed in our Netflix queues.
Some of that feeling is due to the performances, which are grounded and lived-in across the board. Wever and Collette both create fully authentic women who ooze integrity but also have enough insecurities and make enough mistakes to seem like actual human beings instead of stock "good cops." Dever does beautiful work as the damaged, achingly vulnerable Marie. Honestly, I could watch all three of them act all day today, tomorrow, and throughout a long weekend.
But much, much credit also goes to those behind the scenes. Grant, Lisa Cholodenko (The Kids Are Alright), and Emmy-winning TV veteran Michael Dinner handle directing duties and set the humanist, low-key feminist tone for the series, which eschews flashiness at every turn. That style works in lockstep with the writing by, among others, Grant and Michael Chabon and Ayelet Waldman. Unbelievable is brimming with a strong sense of detail, but again, not the kind we're accustomed to seeing in the typical primetime procedural or streaming true-crime series. While there are flashbacks to the rapes and vivid descriptions of what happened to each woman, the series never gets overly gratuitous. It shows its victims and women the same respect that Duvall does. It's much more interested in the minutiae involved in serious detective work, like the late nights spent sifting through hours of traffic-camera footage, or the flicker of fear in Marie's eyes that the detectives interrogating her are too oblivious to see. Unbelievable is a superb example of what show-don't-tell storytelling looks like.
If you've never read the ProPublica piece or heard the This American Life story that inspired this series, I'd advise that you wait until after watching to check them out, simply because it does add some suspense to not know exactly where this lengthy investigation will lead. But the mystery element is secondary and beside the point. Unbelievable is not about finding the bad guy so much as it about the value of genuinely hearing and understanding the victims. And it's not so much about justice being served as it is about the possibility that, with the right people listening and fighting for her, a young, abused woman might have the chance to find some measure of peace.