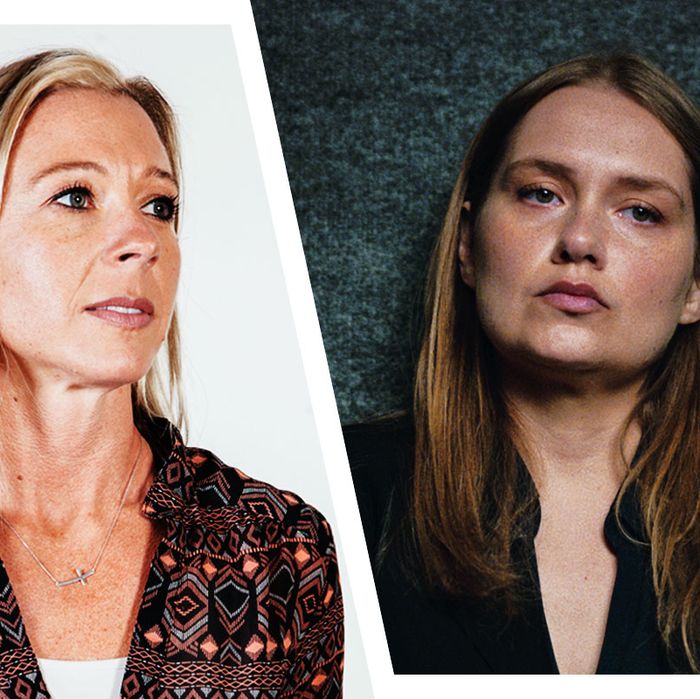 Stacy Galbraith (left) has been lightly fictionalized as Karen Duvall, played by Merritt Wever (right), in
Unbelievable.
Photo: Vulture, Benjamin Rasmussen/Getty Images and Netflix
When you're watching Unbelievable, it's hard not to wonder about the accuracy of the Netflix true-crime drama. Based on the story of a teenager whose rape was discounted by the male detectives investigating her case, the show also concentrates on the female detectives who, years later, connected her assault to a serial rapist they had caught. Though the series hews closely to a true story that may at times seem stranger than fiction, showrunner Susannah Grant decided early on to fictionalize the real-life sources because, she says, "we didn't think there was any value in the actual names being broadcast as widely as Netflix has the capacity to do." Nevertheless, it's natural to want to know more about the people on whom the characters are based. We used the 2015 Pulitzer Prize–winning ProPublica/Marshall Project story (and its follow-up reporting) that inspired Unbelievable as a road map to make this character-by-character guide to the facts behind the Unbelievable fictionalizations.
Stacy Galbraith/Karen Duvall (Merritt Wever)
As with Merritt Wever's compassionate detective, it was a fluke that Galbraith's police-officer husband, David — not the karaoke-singing "Max the Knife" — remembered that his Colorado department had seen a similar rape in which the attacker had made his victim shower and scrupulously cleaned her. Galbraith had admired her new partner, Edna Hendershot, from a distance ever since their paths crossed at a police briefing for a big drug bust Hendershot had taken part in. As for how she felt arresting O'Leary after discovering the birthmark on his leg that her victim had remembered, Galbraith said, "I wanted to see the look on his face. And for him to know that we figured you out." Galbraith is now a Colorado Bureau of Investigation agent.
Edna Hendershot/Grace Rasmussen (Toni Collette)
Toni Collette's intensity as Detective Grace Rasmussen doesn't line up with Edna Hendershot's reportedly easygoing demeanor. But like her fictional counterpart, the real officer was more seasoned than Galbraith, having investigated more than 100 rapes by the time the two partnered up. While Hendershot never suspected or chatted up an off-duty police officer in a bar to get his DNA, as Grace does in episode six, she did stay behind so Galbraith could arrest O'Leary solo, as seen in episode seven. Hendershot is now a sergeant in the Westminster Police Department.
Marie Adler (Kaitlyn Dever)
Like her fictional counterpart, played with heartbreaking vulnerability by Kaitlyn Dever, Adler was a product of the foster-care system and had been abused. Unlike her avatar, she left her Costco job handing out food samples days after her 2008 rape. After the Lynnwood, Washington, police coerced her recantation and charged her with a "gross misdemeanor," Adler took a plea deal and paid a $500 fine.
In January 2011, rapist Marc O'Leary was apprehended, and the head of the criminal-investigations division showed up at Adler's door to tell her that her photo had been found among his things. She requested and received a personal apology from lead detective Jeffrey Mason. In 2014, she sued and settled with the city for $150,000.
Now a married mother of two who turns 29 this year, she's a long-haul trucker, driving an 18-wheeler cross-country. She recently watched the series, according to ProPublica reporter Ken Armstrong; with Adler's permission, he tweeted some of her thoughts about the show. Though she found it hard to watch, she said the series was "excellent" and even encouraged both of her foster moms, with whom she's still in touch, to watch it.
The Other Survivors
While the other survivors of Marc O'Leary's crimes have been anonymized in Unbelievable, their experiences also reflect the true stories that allowed the detectives to connect their cases. Like the real college student whose rape brought Galbraith to Hendershot's door, Danielle Macdonald's Amber Stevenson remembers important details: the rapist using a pink Sony camera that had been stolen from Hendershot's 59-year-old victim (Vanessa Bell Calloway's Sarah) and an egg-shaped birthmark on the attacker's calf. Jayne Taini's Doris Laird is based on the 65-year-old fraternity housemother whose teddy bear, like her fictional counterpart's, yielded some DNA. And while we don't know if she was really a Druid like Annaleigh Ashford's Lilly Darrow, a 46-year-old artist did distract O'Leary long enough to escape by jumping out of her bedroom window, breaking several ribs and puncturing a lung in the process.
Peggy Cunningham/Judith (Elizabeth Marvel)
The parallels between Elizabeth Marvel's well-meaning foster mom Judith and Adler's real-life foster parent Peggy Cunningham are undeniable. Adler was 16 when she became Cunningham's first foster kid. As in the series, Cunningham and Marie's transitional housing case manager were with Marie when police arrived after the rape, and she later shared her doubts about it with them. In 2016, she told "This American Life" that she regretted talking to the cops but still believed Marie "need[ed] to take responsibility" for her actions. "Some of the way that she was acting was part of the reason why it had the outcome that it did," she said. "And I am not the only person that didn't believe her."
Shannon McQuery/Colleen (Bridget Everett)
Bridget Everett's amiable Colleen is a stand-in for Adler's real-life foster mother Shannon McQuery. She and her husband took in the high-schooler for a short time when her previous foster family's plans to adopt her fell through. Because of Adler's calm demeanor, McQuery also had doubts about the rape and, as portrayed in episode one, was confounded when Adler wanted to replicate her bedding. Two months after Adler was charged with false reporting, McQuery told the police investigating a new, similar rape nearby about her case. They told her the Lynnwood case was closed. After O'Leary was caught, McQuery apologized to Adler and later told "This American Life" she was "shocked" that Adler was willing to forgive her for "such a huge thing."
FBI Special Agent Jonny Grusing/Billy Taggart (Scott Lawrence)
Like Scott Lawrence's effective Fed, FBI special agent Jonny Grusing was a crucial part of the task force that aided the detectives' work. Grusing's search for similar rape cases turned up an old unsolved burglary (Lilly's story) with evidence — the honeycomb glove pattern, the Adidas shoe print, and the white Mazda pickup truck — that connected all the known rapes. The truck's license plate led to O'Leary. Grusing was the only officer to interview the serial rapist, perhaps because, as Taggart says to Karen and Grace about Chris in episode eight, "women make him uncomfortable."
Detective Jeffrey Mason/Robert Parker (Eric Lange)
Eric Lange's detached Detective Parker is a surrogate for Sergeant Jeffrey Mason, who spent the bulk of his career on patrol and in narcotics and had little rape-investigation experience when he became the lead on Adler's case. Years later, an external review characterized the police interrogations of her as "bullying and coercive" with "minor inconsistencies" in her statements misjudged and strong evidence ignored. Mason wasn't fired and now leads a narcotics task force. "It wasn't her job to try to convince me," he said in 2015. "In hindsight, it was my job to get to the bottom of it — and I didn't."
Detective Jerry Rittgarn/Pruitt (Bill Fagerbakke)
The real-life counterpart of Bill Fagerbakke's hard-hearted Detective Pruitt, Jerry Rittgarn threatened Adler with jail if she failed a polygraph. Rittgard left the police force before O'Leary's arrest, but the case review found that threatening her with imprisonment and the possible loss of her housing was "coercive, cruel, and unbelievably unprofessional." In the book-length follow-up to their original reporting, journalists T. Christian Miller and Ken Armstrong said Rittgarn had objected to his work being labeled as bullying and wanted money to talk to them.
Michael O'Leary/Curtis McCarthy (Aaron Staton)
As in the series, Michael O'Leary was mistaken for his similar-looking older brother because the cops didn't know they lived together. Michael was tailed by members of Grusing's team to get his DNA. None of the evidence police collected linked him to his brother's rapes.
Marc O'Leary/Christopher McCarthy (Blake Ellis)
Like Blake Ellis's fictional fiend, Marc O'Leary knew that police departments didn't talk to one another and that the Army had his DNA, so he meticulously cleaned his crime scenes and made his victims wash away any genetic material. He told police that he'd fantasized about rape since he was a kid and that his assaults were a type of "rape theater" inspired by the Star Wars scene in which Jabba the Hutt chains up Princess Leia. As Chris says in the finale, had Adler's case been better investigated, police would likely have caught the rapist sooner. O'Leary was 33 when he was sentenced to 327 and a half years for the Colorado attacks and an additional 68 and a half years for the two Washington rapes, including Adler's. Some of his computer files remain encrypted. "It went to the FBI lab [in Quantico]," Galbraith told 48 Hours in 2017. "Nobody can get into it. And I was told that probably no one ever will."