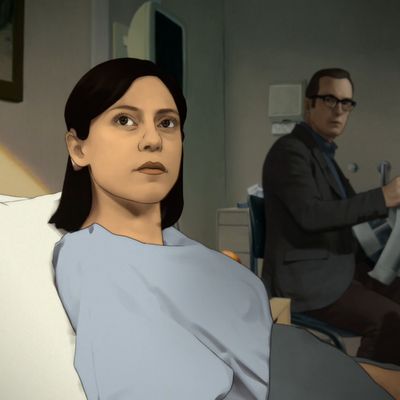 There's nothing like a near-death experience to make you take stock of your life. When Alma wakes up in the hospital following her car crash in the Undone series premiere, she's greeted by her immediate family. There's her mother, Camila, lecturing Alma for not wearing a seatbelt before she says a word about being happy Alma is alive. There's her sister, Becca, bubbly and somehow endearingly self-centered as she talks about Alma zipping through physical therapy in time to be maid of honor at her wedding.
And then there's her father, Jacob, sitting in the corner, quietly reading a newspaper. He's dead.
If the Undone premiere was a chance for us to learn about Alma's dissatisfying life, "The Hospital" is our chance to see what happens when it all blows up. The result is an absolute dazzler of an episode that embraces the full potential of Undone's rotoscope animation while deepening the mystery of what happened to Alma's father — and why now, at such a strange crossroads in her own life, she can suddenly see him.
Let's start with Jacob, Alma's father. An early flashback gives us a window into the kind of father he was: loving, doting, and quick to defuse a potential conflict with an improvised joke. As Jacob makes socks out of newspapers and takes Alma for a second round of trick-or-treating, you can see the vital role he played in balancing out the dynamics of this family, and the hole it left when he was suddenly gone.
Then again: He's also the guy who left his adolescent daughter waiting on the sidewalk when he dashed off to solve some unexplained problem. And now he's the guy who deliberately engineered a car accident so his daughter could help him by going back in time and reversing the mysterious incident that led to his death in the first place.
"The Hospital" is a kind of orientation: For the viewer, who might need time to get used to Undone's rapid-fire visual and geographical leaps this show will take, and for Alma, who is understandably overwhelmed by her new superpower. For much of the episode, Alma is caught in a time loop, returning again and again to the moment she wakes up in the hospital bed.
But this isn't just a Russian Doll situation. Alma is still learning the boundaries of her superpowers, but they seem to puncture reality itself. In one loop, her bed appears in a real-life version of the forest that appears on the front of a greeting card she gets from Sam. In another particularly horrifying loop, centuries seem to pass in an instant, as her mother grows old, turns into a skeleton, and melts. In another, more panicked loop, Alma sprints through the hospital, discovering indecipherable buttons in the elevator and briefly blipping into the reality show playing on the TV in her hospital room. And in yet another loop, Alma sees herself in that same elevator.
It's a lot to process, which is why Jacob is quick to warn Alma that she needs to control her mind. "You're letting the whole ocean in at once," he says. "If you do that, you will go mad." He also alludes to Alma's late grandmother, Geraldine, who was treated as a schizophrenic but, according to Jacob, went through something very much like this.
And while we have plenty of reason to distrust Jacob's role in Alma's current predicament — at the very least, his interest in using Alma's superpower is utterly selfish — he does make a fairly compelling pitch. As a child, when Alma dressed up as Dorothy from The Wizard of Oz, Jacob wondered aloud why anyone would enter a world as magical as Oz and spend all her time trying to get back to her boring home.
Now — opposite a breathtaking montage that includes flowers blooming in space, fish turning into birds, and young and old Alma dancing together under the moon — Jacob argues that Alma, like Dorothy, has to make a similar choice: "Try something different. A life that doesn't follow a paint-by-numbers timeline. Or any timeline at all. A life where anything can happen at any time. A life without limitations."
It's worth noting that this speech about a life without limitations ends with a very specific image: Jacob, returning to the young Alma on the sidewalk where he left her behind, and sweeping her up in his arms. In a world of infinite possibilities, this long-delayed family reunion might be Alma's greatest dream of all.
Pieces of Mind
• Even with the extremely limited information we've been given, let's speculate: What, exactly, was Jacob doing on the night of his death? While trick-or-treating with Alma, he gets a brief phone call, and urges the frantic caller not to dial 911 before he takes off to fix … well, whatever he's fixing.
• After a series of loops, Alma does seem to grow a little bit. Instead of snarking back at her mom for the seatbelt lecture, she apologizes for not always recognizing that other people care about her, and she patiently indulges Becca's self-centered monologue about the wedding,
• Apparently independent of her new superpower, Alma has some memory loss from the car accident, which means she doesn't remember breaking up with Sam. As a result, he just pretends they're still together. Honestly, dude: Pretty weird!
• Young Alma wonders how the Wicked Witch of the West manages to pee without melting, and honestly: great question.
• Alma watches (and then takes a brief trip into) The Cake Off, an apparent knockoff of The Great British Bake Off that Amazon is probably green-lighting right this second.
• What is a Hospital Cactus Garden? Exactly what it sounds like.