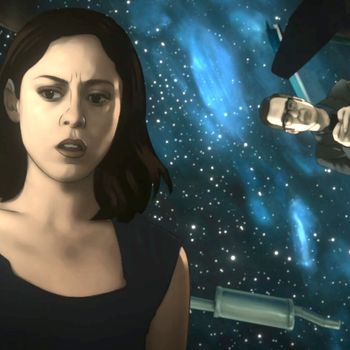 We've spent the past two episodes watching Alma try to put a lid her superpower before it drives her insane, with a reasonable degree of success. Now, Jacob argues, it's not just time to contain it; it's time to control it.
Alma and Jacob spend much of "Moving the Keys" on the challenge that gives the episode its title: If Alma can move the keys on the counter with her mind, she passes. Or, more accurately: Alma needs to "willfully break free of linear time, and then move in time to a time when the keys aren't there."
It looks like a boring and unpleasant process — but by the end of the episode, Alma's grip on her superpower has improved. When she cuts herself while chopping vegetables, she discovers she can rewind time so it never happened. And when she tests the limit of her rewind ability, she ends up in the car on the way home from Becca's engagement dinner (and finally realizes that she broke up with Sam before the accident).
Let's talk about Sam, because "Moving the Keys" is the first time Jacob seems to give his daughter's live-in boyfriend any thought at all. When he sneers at Sam's pet name for Alma, it's a strange enough little blip that it made me start to think about the questions Alma hasn't really been contemplating about Jacob. It's easy enough to understand why Jacob is so fascinated in the circumstances surrounding his own death, and why he's so desperate to have that death reversed. But isn't it a little weird that, since his sudden reemergence, he hasn't expressed any interest whatsoever in Alma's life? Or asked any questions about Becca's upcoming wedding? Or checked in, even for a moment, on the widowed wife he keeps saying he loved so much?
We're halfway through the season, and that's as good a time as any to put some cards on the table. So here's my take: Whatever the truth about his death, Jacob is a seriously bad dude, manipulating his daughter in any way that might suit his purpose. (Kudos to Undone for casting Bob Odenkirk, with all his innate charm and likability, and weaponizing it against the audience.)
So what does that mean for the show? Jacob believes his death was a grand conspiracy — maybe orchestrated by Charlie Vanderhorn of the sinister American Freedom Corporation, or by someone seeking revenge for Jacob's potentially world-altering ideas. Alma suspects it might have been the boyfriend of Farnaz, the graduate student on whom Jacob had an obvious (and potentially requited) crush. If I had to guess, I'd say Alma's answer is closer to the truth.
And in a different category entirely, there's the problem that Jacob's advice for how Alma should navigate her superpower — while practical, perhaps, for someone who needs to figure out how to hop around in time — is also terrible advice for living a fulfilling human life. "Let your feelings pass through you like weather," he suggests. Which is another way of saying that Jacob believes Alma shouldn't take any time to process her feelings, or to dissect why she might be having them, or what to do about it. He even suggests that she needs to let her good feelings go.
Does that sound like a loving parent to you? Camila has her flaws, but at the very least, she's actually concerned about Alma's well-being. And it's her prodding that finally gets Alma into a psychiatrist's office. When Alma sits down with the psychiatrist, she doesn't talk about zipping through different realities or times. She talks about the parts of the human condition in 2019 that anybody, but particularly adults of her generation, can understand. "Every part of our natural lives have been commodified, taken from us and then sold right back to us," she fumes.
In other words: Alma's problems are a lot more complicated now that she has a secret superpower, but she had plenty of problems before the accident, too — and if she's ever going to move forward, she needs to figure out how to deal with all of them.
Pieces of Mind
• Sam and Becca, who are each armed with compromising information on the other, cut a devil's bargain: If Sam won't tell anyone Becca had a one-night stand with the bartender at the Alexander Street Bar, Becca won't tell Alma that she broke up with Sam and then forgot about it after the accident. Those certainly sound like the kind of secrets that will come back to haunt both of them before the season comes to an end.
• Alma discovers an obituary for Farnaz that reveals, among other things, that she was survived by three brothers. I wonder if any of them will come into play.
• During Alma's training, there's a brief flash of her grandmother, Geraldine, who allegedly possessed the same powers. Alma even traces the timeline back to Geraldine, as a young immigrant, disembarking from the ship that brought her to the United States.
• Stumbling across a dumb-looking reenactment of the Battle of the Alamo is enough to spark a long (and essentially accurate) rant from Alma about how the "heroes" of the Alamo were fighting for their right to keep slaves.
• In an unsuccessful attempt to bond with Alma, Becca's fiancé, Reed Hollingsworth, offers a goofy, oddly touching anecdote about how he likes to Google pictures of birds when he's at work and think about how their strong hearts are what enable them to life.
• Is it just a coincidence that Alma's attempt to move the keys goes hand-in-hand with Sam tapping the keys of their piano?
• Camila also thinks that the pictures in the hallway are out of order. Hmmm …