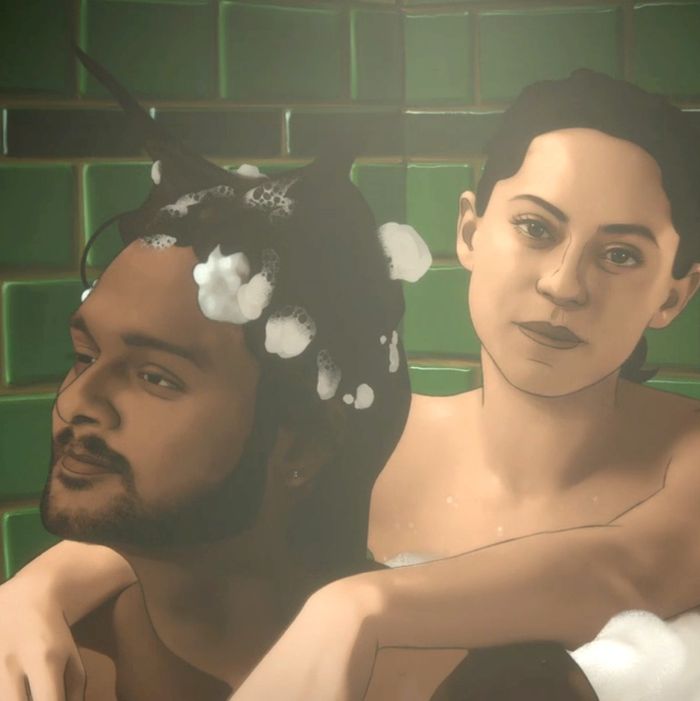 Undone
Alone in This (You Have Me)
Undone's most obvious strengths — the stunning rotoscoped animation and the wild leaps through space and time — can make it easy to forget the show's less apparent accomplishments. Over the first half of the season, Undone has done stellar character work, building out a small world of fascinating, complicated people in Alma's orbit.
And in the show's fifth episode, much of that carefully laid groundwork finally pays off. What I love most about "Alone in This (You Have Me)" is the way it allows viewers to empathize with Alma as clearly and directly as her powers eventually enable her to empathize with Sam. Take the flashback scene where the young Alma sits, observing as her parents argue about her future. Jacob and Camila leap rapidly from topic to topic: The importance of American Sign Language vs. the importance of Spanish, the weirdness of Jacob's family, the debate over which holidays they should celebrate in December. And as Alma struggles to read lips fast enough to keep up with them, the episode's subtitles also get choppier, leaving the audience just as lost as Alma is.
Undone plays another version of the same trick in the subsequent scene, after Alma gets her cochlear implant. In a previous episode, Jacob reminded Alma that people's voices initially sounded like "ducks and bells and robots" after her procedure. But it's one thing to imagine that, and another thing to experience it like we do in this episode: Just as the young Alma experienced it, when she hated the harsh, metallic sound of her mother's voice so much that she tried to remove the implant.
Back in the present, Undone gives one last vital opportunity to experience life from Alma's singular perspective, in the scene that gives this episode its title. When she says, "I don't want to be alone in this," both Jacob and Sam simultaneously respond, "You're not. You have me." But Jacob has far too much tunnel vision to appreciate where Sam is coming from, and Sam doesn't even know Jacob is there. For Alma alone — and by extension, for us — the stress of being pulled in opposite directions by these two men is painfully clear.
So: What should Alma do? The connective tissue in this episode is the way people have made decisions that they say are in Alma's best interest — without, you know, actually asking Alma what she wants. Jacob, for his part, spends much of the episode trying to get Alma to care about the origin story for all his research, which began on a family vacation to El Baño del Rey (The Bath of the King). But while plenty of Undone binge-watchers will be eager for Jacob to flesh out the show's mythology, Alma keeps getting distracted by her need to confront Sam, who she just learned has been pretending they never broke up since she came out of the coma.
Their subsequent confrontation certainly seems like it's headed toward another breakup. But then something interesting happens: Alma's ability kicks in, but she's transported to Sam's past instead of her own. She watches as the adolescent Sam — then called by his given name, Sanjeev — hugs his friends in India goodbye as his family leaves for the United States. She watches as his classmates mock him for his accent, and how he practiced an American accent with an old tape recorder until any trace of his old accent was gone.
She relives her own meet-cute with Sam, which took place over a bag of old dinner rolls from the restaurant where he works. She zips through a highlight reel of the best moments in their relationship: screaming happily on a roller coaster, kissing in a movie theater, hooking up in bed, taking a bath together.
And then, crucially, Alma relives a memory with Sam that she doesn't share. She watches as he sits next to her comatose body in the hospital after the accident, holding her hand as he begs her not to die. And then she becomes him, marveling at the difference of perspective: "My hands feel so small to you."
When Alma returns to the present again, she has a very simple message for Sam: "I love you, I'm sorry, it's okay." And when Sam is understandably surprised at this sudden flip in her attitude toward him, she offers this as an explanation: "I just didn't understand why you didn't tell me."
What Undone is implicitly arguing here is that truly understanding a difference in perspective is a fast-track to forgiveness. She doesn't need Sam to explain why he didn't tell her, because she's lived it from his point of view, and the reasons that made sense to him now make sense to her. It's yet another wrinkle in the development of Alma's ability, which can now break down the barriers between her and other people as easily as it can break down the barriers of reality and time.
But with Sam's secret out in the open, Alma decides it's her turn to come clean. So as the episode ends, she lays all the cards on the table at once: "I'm seeing my dead father because of my big ventricles, and he's training me to travel in time so I can save him from being murdered."
Sam's initial reaction — "Uhhhhhhhhhh" — is understandable. The real question is whether or not he'll move past it. We've already seen how much Alma can learn to understand about Sam with the benefit of her special ability. By the next episode, we'll see just how much Sam can understand Alma without it.
Pieces of mind
• The solution to Alma's nagging questions about why the photos and the couch in the apartment had been moved around: While she was in the hospital, Sam moved his stuff back in, but didn't get the old placement quite right.
• Another episode, another piece of highly questionable fatherly advice from Jacob: "Relationships are hard, and they're always going to be hard, and it's better not to have them if you want to do what you want to do."
• So Sam's big secret is out in the open. What's the over-under on when Reed Hollingsworth will find out Becca cheated on him with the bartender?
• Sam says Alma is the only person, living or dead, who understands him — except Maya Angelou.
• Jacob's mother Geraldine used to hum the same melody Jacob later hears from a person carrying an armadillo-shell guitar at El Baño del Rey, in yet another nod to how Alma's grandmother might have shared some version of her superpower. We've heard a lot about Geraldine throughout Undone, but we've rarely seen her. I hope she's due for a spotlight episode soon.