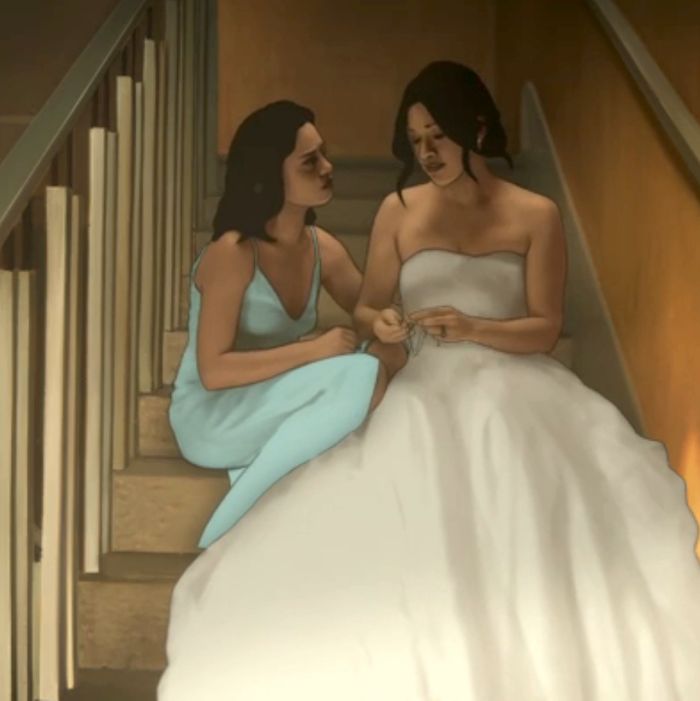 Throughout Undone, Alma has been caught in a tug-of-war between the demands of her dead father and the demands of her normal, day-to-day life. It was probably inevitable that this season-long battle would come to a head at her sister Becca's wedding. The really surprising thing is that Alma actually manages to juggle both without anyone being wholly neglected.
At first, it looks like Alma is going to prioritize her investigation of Jacob's murder, to the detriment of the rest of her family. For reasons I'm not totally clear on, she scheduled her interview with Charlie Banderhorn — who Jacob has identified as a prime suspect in his death — on the same day as Becca's wedding.
Alma meets Banderhorn at the hotel bar, pretending to be a prospective employee while fishing around to see if he'll reveal anything about his interest in Jacob's research. Banderhorn is a bore, and Alma gets drunk, and when she accepts an invitation to go back to his hotel room, it seems like this subplot might be headed in a particularly dark direction. If even Jacob is telling her not to pursue a thread, you know it's a bad idea.
But once they're actually in Banderhorn's hotel room, Alma's questions are a little too transparently direct, and a frantic phone call from Becca fills in the rest of the story. Banderhorn is a creep, but like Darrold Harris, he's firm in his conviction that Jacob's "research" was actually just pure nonsense. "Stop looking," he says, as he puts an uncomfortably familiar hand on her bare shoulder.
Alma gets out of there and races down to Becca's first-look photo shoot, which has already been delayed to account for her absence. And when Alma arrives and Becca, quite understandably, is annoyed with her, Alma explodes in response, mocking her sister for marrying a man whose touch she hates just weeks after her one-night stand with a bartender.
Reed, of course, arrives just in time to hear all of it. And just like that, it looks like the wedding is off. And then Alma uses her ability to rewind time, changing her own actions to be an apologetic and supportive sister, and giving Becca the picture-perfect first-look she wanted.
This is, needless to say, a much more dramatic use of Alma's ability than moving a set of car keys, and it's worth thinking through the implications of it. It is undeniably shitty to show up late to your sister's wedding and yell about her cheating on her soon-to-be-husband for both of their families to hear. But Undone has also gone out of its way to show us that Becca is not particularly into Reed Hollingsworth, and probably shouldn't be marrying him.
In the end, that's Becca's call and not Alma's, so the ultimate outcome here is probably the right one. But if Alma's ability enables her to go back in time and change things, over and over again — well, what is the limit? How many times should she re-roll a bad choice or an awkward conversation before she lets the actual, natural consequences of her impulses push her life forward? Is it even possible to live an authentic life if you're hell-bent on undoing everything you don't like about your life?
For a cautionary example of what Alma could become, look no further than Jacob, who has spent the entire season ignoring Becca's upcoming wedding and is not particularly interested in it now that its here. Looking around the wedding, Jacob sighs: "This is all temporary."
This strikes me as a particularly tragic aspect of time travel: If everything is reversible, nothing really matters. But if Alma actually manages to reverse Jacob's death, I guess it's also kind of true. There will be a massive, seismic shift in the Winograd-Diaz family, which will never suffer the trauma of losing Jacob in that car wreck. Maybe Jacob won't be at the wedding. Or maybe there won't be a wedding at all. Maybe Alma will never meet Sam. Maybe anything. If you rewind the clock that far and take a different path, the ripple effects will be incalculably massive.
Whatever the truth of Jacob's death — and whether or not it's actually reversible — we'll find out shortly. In a bit of a deus ex machina, Alma meets a woman who specializes in Mesoamerican tribal dance. Their conversation is enough to make Alma realize that Jacob may have been onto something with his research on indigenous cultures. Through dancing, she eventually sees a mirror leading her to the fateful Halloween night when Jacob died, and propels herself into it.
Both dancing and indigenous culture have been recurring motifs throughout Undone — most notably in the stunning montage at the end of episode two — but I have to admit, I'm a little disappointed the solution Alma was looking for came from a nameless character we've never seen before and are unlikely to see again. But however she got there, Alma is finally nearing the end of her journey. I'm very eager to see the destination.
Pieces of Mind
• I tried to freeze-frame the brief shot of Jacob's car going over the cliff on Halloween night, but it was too quick and too blurry to make anything out. Any last-minute theories before the season finale? If so, lay them out in the comments below.
• I like the recurring gag of the battery on Alma's cracked phone almost being dead, which is wildly in character for her.
• Reed Hollingsworth's dad, Layton — played by Sex and the City's John Corbett — is wearing a big dumb black cowboy hat at the rehearsal dinner, which he swaps for a big dumb white cowboy hot on the day of the wedding.
• Charlie Banderhorn is played by Brad Hall, a former Weekend Update host on SNL who you might also know as Mr. Julia Louis-Dreyfus.
• Alma, improvising a last-second tribute to Reed during her maid of honor toast: "Solid dude, firm handshake. L'Chaim!"
• If you had to sum up Undone's overarching ethos, it would probably sound something like Alma's pep talk to Becca: "You're human and you're not perfect, which is totally perfect and wonderfully human."
• What time is golf o'clock, anyway?