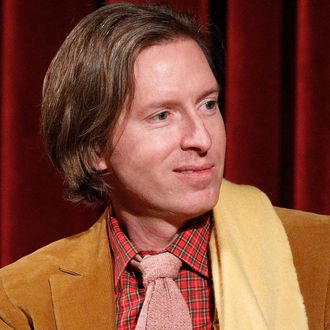 Wes Anderson.
Photo: Lars Niki/Getty Images
Extra, extra! Read all about it! Wes Anderson's upcoming film, The French Dispatch, stars Frances McDormand and Timothée Chalamet among many, many other names, but until now, hardly anything was known about the auteur's follow-up to Isle of Dogs. Now that The French Dispatch has been acquired for worldwide distribution by Fox Searchlight, we have questions! And only a few of the questions are different ways of asking, "Did Greta Gerwig, who was in Isle, introduce Anderson to Timothée Chalamet?"
The French Dispatch is more than the title of the film. It's the magazine American journalists have set up in a fictional French town during the 20th century. The film "brings to life a collection of stories published in 'The French Dispatch' magazine," according to a press release. Benicio Del Toro, Jeffrey Wright, Adrien Brody, Léa Seydoux, Tilda Swinton, Mathieu Amalric, Lyna Khoudri, Stephen Park, Owen Wilson, and Bill Murray will join McDormand and Chalamet as they weave together three stories, flitting around Anderson's undoubtedly breathtaking rendition of a French city. Also, according to fan photos of the production, Timothée Chalamet has a mustache! Watch for that comedy alone when The French Dispatch premieres in 2020.