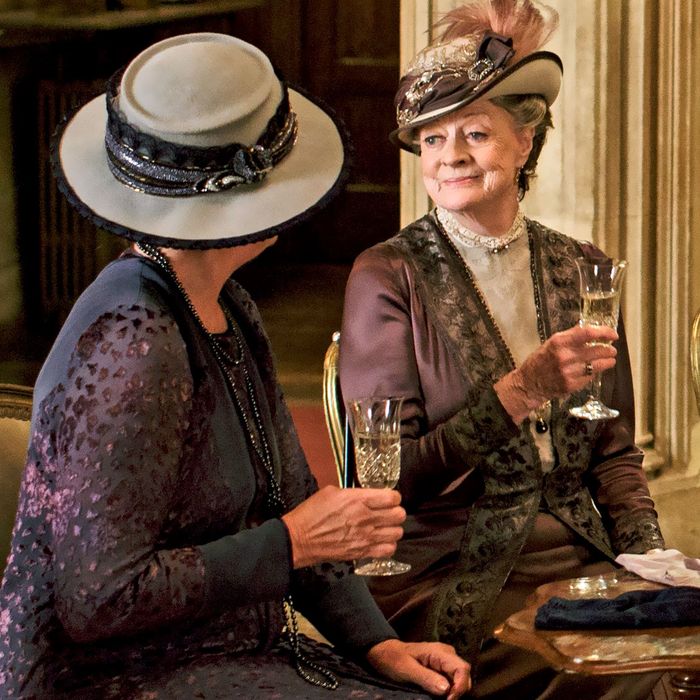 Sooner than you can say "the Dowager Countess better survive this damn film," Downton Abbey will return in cinematic form on Friday, September 20, to feed us yet another upstairs-downstairs tale of refined British civility. (White gloves required, coattails optional.) This time around, the main action will be dominated by the impending arrival of King George V and Queen Mary at the estate, which has left its halcyon days behind in favor of a small staff and even simpler way of living. It's not exactly a Grey Gardens situation, but if the Granthams want to impress their monarchs, they're going to need to whip the place into shape — and fast. Cue the music!
It's been almost four years since Downton Abbey ended its television reign, so we wouldn't blame you if you needed a refresher to recap where all of the lead characters left off. (Vulture sure did.) Set the clock for 90 seconds, read what you need to know below, and then go about your day.
After a small marriage ceremony at a local church, Lady Mary (Michelle Dockery) revealed to her husband Henry (Matthew Goode) that she's pregnant with their first child. She also insists to her father, Lord Grantham (Hugh Bonneville), that she become more involved in running Downton's day-to-day operations, which he accepts.
Lady Edith (Laura Carmichael) and Bertie (Harry Hadden-Paton) are married, with everyone finally in-the-know about her illegitimate child, Marigold, from a previous relationship. With her marriage, Edith becomes a marchioness by title, making her the highest-ranking member of the extended Grantham family.
Carson (Jim Carter) resigned from his position as the Grantham's head butler due to a cerebral palsy diagnosis, as his shaky hands prevented him from properly doing his job. The family grieves his departure, but ultimately accepts it, and insists he stay on in an advisory role. He and Mrs. Hughes (Phyllis Logan) settle down into a quiet, domestic life in the nearby village.
Isobel (Penelope Wilton), with the help of her pal the Dowager Countess (Maggie Smith), realized that she indeed wanted to marry her on-again-off-again love interest, Lord "Dickie" Merton (Douglas Reith). She proposes to him, which he happily accepts — much to the chagrin of his stuffy sons and daughter-in-law. (Also, Dickie was misdiagnosed with severe anaemia, and his good health was celebrated.) Isobel and the Dowager Countess continue to be low-key BFFs.
Love is in the air for Tom (Allen Leech), who, after doing a great deal of flirting with Edith's newspaper editor, catches the bouquet at her wedding. He and Henry also go in business together selling used cars.
Daisy (Sophie McShera) gave herself a chic makeover and accepted a date from Andy (Michael C. Fox), who's flirting with the idea of leaving Downton in favor of a farming career. She also moves to the farm of Mr. Mason (Paul Copley), her ex-father-in-law, to experience a new living space. Meanwhile, love is potentially in the air between Mr. Mason and Mrs. Patmore (Lesley Nicol), who happily remains put as the estate's cook.
With her volunteer work at the regional hospital recognized as exemplary, Cora (Elisabeth McGovern) becomes its new president. While the Dowager Countess was consistently skeptical that Cora could be a good familial leader upon her death, she changes her mind, and the women share a rare moment of affection.
Following Carson's departure as head butler, Thomas (Rob James-Collier) is appointed his replacement. The staff contentedly accept him as their new leader.
Anna Bates (Joanne Froggatt) gave birth to a healthy baby boy, much to the delight of her husband, John Bates (Brendan Coyle).
Molesley (Kevin Doyle) leaves Downton to fulfill a life-long dream of his: Teaching! He and Baxter (Raquel Cassidy) also do a bit of flirting.