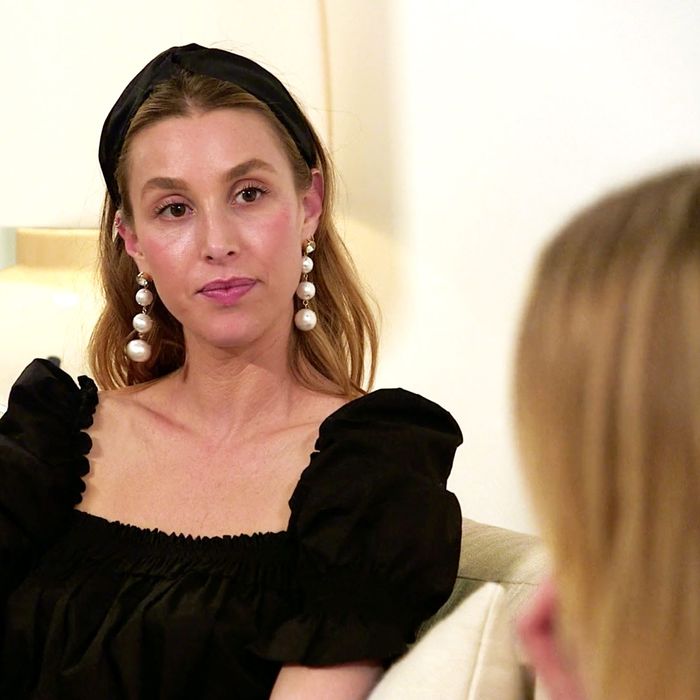 As the first season of The Hills: New Beginnings winds down, I feel confident that I am caught up on the lives of most of the cast members from the original series. Audrina Patridge is still sort of directionless and sad-eyed, Justin Bobby makes even less sense than he used to, and Heidi and Spencer Pratt are, against all odds, still married and seemingly happy. Watching the revival, I have even learned about the whereabouts of people I forgot existed, like Frankie Delgado. (He's a nightlife impresario now, or at least that's what he definitely wants us to think.)
But watching these people interact over the last two months or so, I can't help but wonder: Where is Whitney Port?
Port, 34, was one of the anchor characters in the original show, starting out as Lauren "L.C." Conrad's intern friend at Teen Vogue and later fronting her own New York–centric spinoff, The City. She was never the most dynamic personality, but she was a reliable presence on both shows. When MTV announced New Beginnings earlier this year, she was promoted as one of the main returning cast members, appearing on the cover of Cosmo with Patridge, Pratt, and surprise newcomer Mischa Barton. In an interview with Vogue last March, she explained her desire to return to the series: "Even though we didn't all necessarily keep in touch every day, like, we went through something so crazy together that I just thought it would be cool to reconnect."
Watching the show, it's hard to believe Port has reconnected with anyone. Whole episodes pass without an appearance from the intern turned fashion designer turned full-time mom influencer. She does not seem to be friends with anyone else in the cast and has not gotten involved in any of their story lines. Even Jason Wahler's wife, who did not appear on the original series and has no real reason to be in this one, has gotten more screen time than Whitney.
To be fair, it's obvious that no one in the current cast is particularly close anymore. But most of them are trying, at least, to create a shared narrative. Patridge is pretending to be mad at Stephanie Pratt for spending time with her ex-boyfriend Justin Bobby; Spencer Pratt is pretending to be mad at Brody Jenner for not visiting his baby; Brody Jenner is pretending to be married. Port, meanwhile, is living with her husband (whom she met when he was — get this — a producer on The City) and her young son doing, well … I'm not sure. In episode six, "I Don't Think We Can Be Friends," she identified herself as a content creator for an organic-baby-food company. Later in the episode, she FaceTimed Patridge for 20 seconds and then walked into her bedroom to do an extended advertisement for Crest Whitestrips. That was it. (It should be noted that every incidence of product placement this season has been truly jarring, from Patridge's wordless two-minute application of L'Oréal mascara in episode two to Spencer and Heidi Pratt's constant faux-casual enjoyment of Sonic milkshakes in their home.)
Beyond these little cameos, Port's not doing much on the show. Why? She doesn't seem to be worried about protecting her personal life. Off camera, she has a robust social media presence and frequently shares intimate details about her life with her 1.5 million Instagram followers. In the run-up to the premiere of The Hills: New Beginnings, she launched a podcast, With Whit, where she has discussed everything from her skin-care routine to her recent miscarriage in unflinching detail. Last month, she even revealed that she carried on a BBM-relationship with Leo DiCaprio in the late 2000s and ultimately turned down an invitation to go home with him from a club. "I was way too nervous to do it and then I lost my chance and it's really one of my bigger regrets in life," she said.
That story should have been on The Hills! Instead we have been forced to watch Patridge rekindle her relationship with Ryan Cabrera and his acoustic guitar. It's simply not right.
It does seem that Port is aware of her disappearance from the show. In recent weeks, she has launched a new, surreal series on her YouTube channel where she watches and reacts to the episodes, à la The Peoples' Couch. "I think I'll be on next week," she wrote in the description box for her watch of episode seven, in which she did not appear.
And on a recent episode of her podcast, she addressed the issue directly. "A lot of people are asking why I haven't really been on this season of The Hills: New Beginnings," she said seriously. "I feel like there's a couple reasons. One, I feel like there is so much drama in everybody else's lives that I am not part of that it just didn't make sense for me to naturally show up in these places or have these conversations. Two, my husband, Timmy, didn't really want to be on it, so I think the producers thought it was kind of like, Hands off Whitney."
Hmm, well, yes, that would explain it. She assured listeners, however, that she wants to be on the show more in the future. Filming the early episodes, "I was a little bit scared … because I just didn't know what everybody was like, and I didn't know the drama people were going to cause," she said. "I had heard rumblings to just be careful, that people could come after me, so I was really timid at first."
Oh, Whitney. It's hard to argue with her strategy, which is the kind of plan a chemically balanced, family-oriented person would make to approach reality TV. But it has not succeeded in getting her screen time. Perhaps it is time to accept that our mid-2000s Teen Vogue queen is not cut out for MTV's modern demands.
"I think I'm normal," she concluded on the podcast. "And I feel like people on reality TV are usually not the most normal."