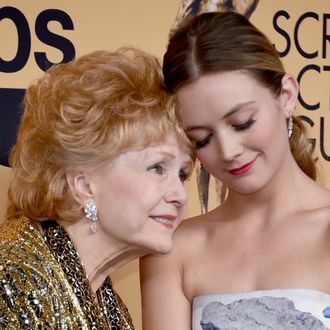 Debbie Reynolds and her granddaughter, Billie Lourd.
Photo: Ethan Miller/Getty Images
Long ago, in a galaxy far, far away, Debbie Reynolds guest-starred on Will & Grace, earning her an Emmy nomination in 2000. 19 years and one trend cycle that feeds on nostalgia later, her granddaughter, Billie Lourd, will play that character's granddaughter, according to Deadline. So, let's pull out our Adler family tree. Debbie Reynolds played Bobbie Adler, Grace Adler's mother, who has another older daughter played by Mary McCormack. She has a daughter herself, Fiona, and that's who Billie Lourd will portray, eager to reunite with her Aunt Grace. The Will & Grace revival has already honored the late Debbie Reynolds with an episode where Grace must revisit her family home on her late mother's birthday. Adding Billie Lourd to the family is another touching tribute, both to Reynolds and to the inseparable mother-daughter trio she, the late Carrie Fisher, and Billie Lourd comprise.