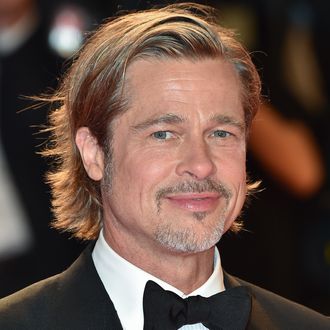 Brad Pitt.
Photo: Dominique Charriau/WireImage
Brad Pitt is to the Oscars as Beyoncé is to the Grammys. We all know they don't need award shows anymore, but we also love watching them stride up the red carpet and chuckle at the host's jokes. Which is why it was so weird when Brad Pitt — executive producer for Moonlight through his production company, Plan B — didn't show up to the 2017 Oscars. Rumors spread that he was focused on a sculpture. He had allegedly already spent ten days holed up in British artist Thomas Houseago's studio working on the art piece and simply couldn't get away. But the New York Times got the real scoop, settling a mystery that has haunted probably, like, four people.
Okay, so, where was he? At Ad Astra director James Gray's house, just a few miles away from the site of the Academy Awards in Los Angeles. According to the Times, Pitt, Gray, and others had a spaghetti dinner, while Gray's wife watched the Oscars alone in another room. So, Brad Pitt, like the many of us who shut off our TV before Faye Dunaway could even say "Land," only heard about #Envelopegate secondhand. Unlike many of us, who immediately started tweeting, James Gray said Pitt just went, "Oh, wow, that's cool." Yes, to understate it, it was cool. "He wasn't unappreciative, obviously, but Brad won't get caught up in pomp and circumstance," Gray continued. "I think he knows to stay centered." Can't relate.