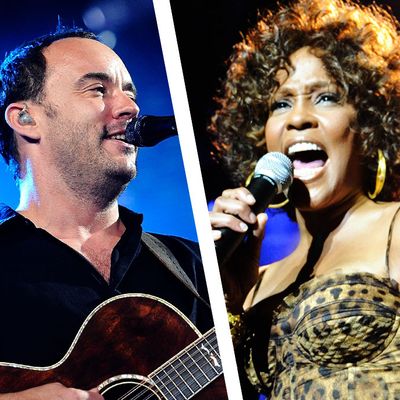 Who deserves to make it in?
Photo: Getty Images
The Rock and Roll Hall of Fame released its long list of 2020 inductions this week. It's a spectacularly diverse lineup of 16 acts put forward by the organization's New York–based nomination committee.
The names of those potential inductees now get sent out to the so-called voting committee, which will narrow the list down to six or seven. With more than 1,000 members, the voting committee includes critics, publicists, industry weasels, former nominating-committee members, and all the hall's previous inductees, from Cat Stevens to Madonna, from Jerry Lee Lewis to N.W.A, and from all the various inducted members of the Red Hot Chili Peppers to all the various inducted members of the Grateful Dead.
Here's a look at this year's slate of nominees, ranked in order from most to least deserving of induction, with some of the latest rock-hall news discussed along the way.
(For a complete rundown of every act inducted into the hall thus far, with an accompanying history and accounts of its inner workings based on interviews with more than a dozen nominating-committee members and founder Jann Wenner, click here.)
Todd Rundgren
Rundgren was a 1960s garage rocker (he had a minor hit with "Open Your Eyes" before he was 20) who carved out a niche for himself in the 1970s with irresistible, winsome pop ("Hello It's Me," "I Saw the Light") even as he wrote, performed, and produced his own (very good) albums just like Prince and Stevie Wonder. He also did outlandish space music, sorta for fun, in an aggregation called Utopia. He's one of rock's most successful producers, too (Bat Out of Hell, Skylarking, New York Dolls, We're an American Band, Forever Now, and Wave, among many other albums). Back in the day, he dressed weird and wore a lot of makeup; the men in the nominating committee had issues about such things for a long time. He was finally given a long-overdue nomination for the first time last year but was not voted in.
Kraftwerk
The omission of Kraftwerk has become a glaring oversight mentioned again and again in coverage of the hall after six nominations. A big problem at this point is the voting committee, which contains hundreds of mainstream music players from previous inductions: the Moodies, Chicago, Journey, Yes, Bon Jovi. These guys are now the gauntlet that any act whose claim to fame is influence and innovation, rather than big hits, will have to get through. For the record, Kraftwerk's eerie, undeniable records laid the groundwork for the conceptual synthesized music that would rise in the late '70s and inspire New Order, Depeche Mode, and many other bands, even earning tips o' the hat from underground outfits like Steve Albini's Big Black, which covered Kraftwerk's "The Model" on an early Touch and Go single.
T. Rex
T. Rex is essentially Marc Bolan, a killer glam progenitor and true rocker. His stop-and-start story through the latter half of the 1960s parallels Bowie's, with the admixture of an almost Spinal Tap–like odyssey of changing musical approaches, intermittent penury, and aesthetic belly flops, all of which should have centrifuged him out of the culture. But if Bolan was one thing, he was a star: Fey, intelligent, gritty, and seemingly without self-consciousness, he finally found himself, inserted that new persona into the rock landscape, and became a sensation, in England at least. After a few albums of insane folk rock under the name Tyrannosaurus Rex (one of the least appropriate rock names ever, given the music), he finally went electric, changed his band's name to T. Rex, and ascended with a deranged rant called "Bang a Gong." That was basically it in America, but in the U.K. he catalyzed glam and had lots of hits before a car accident killed him in 1977. Here he is in full, ah, flower.
The Doobie Brothers
These guys started out tough. Tom Johnston spit out the stories in songs like "Long Train Running" and "China Grove" in a gruff, pained way. It wasn't clear why he was so exercised about "Miss Lucy," but that's the way things went back then. He was a great riff-maker, and the other guitarist, Pat Simmons, played well too. All in all, the Doobies were a pretty decent band despite the dumb name and the fact that they had two drummers. Then gentle, smoky-voiced Michael McDonald, who'd had a small side career on the L.A. scene, joined. He was a little less tough. (An early signature song of his was "Taking It to the Streets." Oooh — watch out, streets!) Flash-forward five years: Johnston's gone, McDonald is ascendant. Check out this video of an anodyne and spayed band rocking oh so carefully to McDonald's "What a Fool Believes." You can almost see Jeff Baxter nodding off in his chair. It's a great rock 'n' roll story, and it belongs in the Rock and Roll Hall of Fame.
Motörhead
Led by the great ghost of punk metal, Lemmy Kilmister, this is as primal as rock gets. The band unaccountably kept playing for decades, never losing its bruising commitment to sonic and rhythmic extremity. Underappreciated: Kilmister's strain of a voice, which conveyed complex meanings both bleak and rousing. Kilmister somehow made it to 70 before passing away in 2015.
Rufus featuring Chaka Khan
Khan began a long R&B-funk fusion career with Rufus in the 1970s, and the hall has nominated her by name or with Rufus a total of six times. (I assume the distinction has been made because Khan had a big solo hit, "I Feel for You," in the 1980s.) I have been doubtful in the past about whether her career warrants inclusion, but Khan was a presence, "Tell Me Something Good" is a classic, funk is definitely underrepresented in the hall, and Rufus was as good as any '70s funk outfit.
Let's talk about women and the hall. My friend Evelyn McDonnell wrote a piece in Longreads last year castigating the hall for its history of female nominees. I respectfully disagree with her analysis. The hall is lame and inconsistent; it's hypocritical and woefully insider-y. But there are two separate issues here when it comes to women and the Rock & Roll Hall of Fame.
As far as inductions go, I would say that (a) there is obviously some room for improvement, but (b) all in all, as sort of a backhanded compliment, the nominating committee has done about as poor a job with women as it has with men. That actually means something: For example, Stevie Nicks got in last year as a solo artist and is the first woman to be inducted twice; she deserves to be in as a member of Fleetwood Mac, which she is, but Nicks's solo career is almost incidental.
I hate to compare female nominees with other female nominees; that is itself a sexist construct. But for the record, people like Diana Ross and Tina Turner blossomed out of the restricted realms in which they first came to notice. They reinvented themselves, defied expectations, and went large. They should be in the hall as solo artists. By contrast, in her solo career, Nicks just buttressed her own image, didn't even do that well on her own (half her hits were duets with guys), and did little of interest after the early 1980s. But of course, she was an associate of producer Jimmy Iovine, who has been a key part of the hall's nominating committee for years, and I don't think it's sexist to say she was helped in by that association, just as any number of male acts have gotten in through the same methods.
To be clear, this is a good thing. Women deserve to get in on bogus credentials just as men do.
You can point to a few omissions of female artists that I would call pressing at this point — Ross, Turner, Carole King, perhaps the Go-Go's — but it's not as though the hall has ignored female artists, and it has sometimes inducted relatively minor figures beyond Nicks, like Laura Nyro and Joan Jett. This year, Pat Benatar is nominated.
The real problem involving women and the Rock and Roll Hall of Fame — the central, intrinsic, original sin part of the hall, worse even than its insider-y nature and inconsistency — is the lack of women on the nominating committee. In recent years, there have been five or six on a committee that ranges from 30 to 45 members, and that's a high mark for the hall.
It is appalling, sexist, unforgivable, and fucking ridiculous. All the men on the committee — particularly critics like Anthony DeCurtis, David Fricke, Bill Flanagan, and others who would be expected to note such nonsense in other institutions — should be called out for not having the guts to stand up and say they won't participate in such a preposterously sexist organization. But of course, this timidity is no doubt what has made them, from the perspective of organization leaders like Jann Wenner, ideal nominating-committee members.
I don't know what effect a balanced gender representation on the nomination committee might have. It might make for more women nominees, it might lead to a more sophisticated appreciation of dance music, or it might keep the hall just as insider-y and in-clubby as it is now, only with more women involved. Any of those outcomes is acceptable; that's not the point. The makeup of the committee is the hall's major scandal.
Soundgarden
The hall seems to have given up on Rage Against the Machine following two nominations immediately after its eligibility, which was nuts. Tom Morello is a talented guitarist, but the band's corner of the music world wasn't all that interesting and felt like more of a niche than an innovation. The soi-disant revolutionary Morello has been rubbing elbows with industry swells in the nominating room for a while, though, where his presence obviously looms a lot larger than it does on the outside. As a nominating-committee member, he has been said to be a strong voice for getting lumpen metal bands from the past into the hall, and the Soundgarden nomination, the band's first, may be due to that. Many weirder bands had their commercial life made a lot easier after Nirvana, but Soundgarden was smarter than most and earned the respect of metal fans slowly and steadily with a decent balance of songs and sound, plus Kim Thayil's guitar work. Chris Cornell, one of the better metal singers, killed himself in 2017.
Depeche Mode
This early if not seminal synth-pop outfit separated itself over time from a slew of Human League–style aggregations and was one of the first to show you could rock without any guitars in the band. (This was an issue back then.) It had an odd structure, too: After Vince Clarke left to form Erasure (now there's a Hall of Fame band), Martin Gore wrote all the songs, Dave Gahan sang them, and the two other guys took care of production and management. Depeche Mode kept busy during the '80s and, truth be told, got somewhat better, culminating in Music for the Masses and Violator (though I think its best song, "Everything Counts," came early). England embraced the band fully; in the U.S., the relationship was a bit more uneasy — it went almost unnoticed when it scaled up and played a stadium or two. The case for hall inclusion is that Depeche Mode was a fairly popular synth-rock band in the '80s and '90s, a plain cut above the Thompson Twins and the like; the case against is that Gahan has a tedious, stentorian voice and Gore was nothing other than a serviceable songwriter. New Order's work was dark and complex during this period; Gore's, by contrast, felt a bit sophomoric, in the literal sense — like the work of a talented college sophomore who liked New Order. Beyond that, New Order has close to half a dozen timeless top-tier dance-rock classics. Depeche Mode doesn't have one. The nomination feels like the product of an organization that doesn't quite understand the music it thinks it's honoring.
Nine Inch Nails
Trent Reznor broke through in 1989, pre-Nirvana, with the ferocious and bleak industrial attack of Pretty Hate Machine. His work wasn't entirely non-facile, but it was quite extreme for the time. He soon showed he had bigger things in mind, scaling up to producing oceans of punishing sound. He was a strong concert presence, too; he's had a big career and has done great soundtrack work in the years since. He has been nominated twice before and has gone out of his way to say what a joke he felt the hall is. But he showed up to induct the Cure at the 2019 ceremony, which might bring some of the voting-committee members around this year.
Notorious B.I.G.
Under hall rules, you're eligible for nomination 25 years after your first record. A nomination on your first year of eligibility means something — that your stature is such that you should be in the hall immediately. Does Biggie Smalls qualify?
Smalls has a critical cohort, but I think this nomination is premature. He is unquestionably a heralded rapper from a certain time, but this has to be seen in the context of that time — which is that the music became highly commercialized and ever more crudely articulated psychotic tropes about sex and violence, and Smalls bought into it big-time. All sorts of arguments can be made in support of such material, although it should be noted that they change; they're a joke one minute, real-life missives from the streets the next (and yes, I know Johnny Cash once shot a man in Reno just to watch him die). Of course, gangsta rap is a valid form and, again of course, Smalls is a master, but he's still a guy who wrote an awful lot of songs about getting blow jobs from "bitches." And let's remember that the main argument to be made that he and his producer buddy Puffy didn't have anything to do with the murder of Tupac is, "Well, nothing's been proven."
Smalls's albums, overseen by Puffy, sound fine and of course sold well, but Sean Combs was always a highly derivative, superficial producer who borrowed myriad ideas from better (often West Coast) people. The pair's sampling was particularly artless: "Mo Money Mo Problems," Smalls's biggest song, is a great track, but that's because it's basically just a cover of Diana Ross's "I'm Coming Out." There's nothing decontextualized about the Rogers 'n' Edwards riff at all. If the argument is that Smalls was hugely successful, I say he can wait a few years, and for those who say he's a word machine, I say let's get Rakim in first.
MC5
The Detroit outfit, proto punks, are now on their fifth nomination. There has always been a contingent, in the critical world and at the hall, that thinks the band's rockin' attack and revolutionary politics put it in the pantheon. It's hard to imagine the voting membership rallying around MC5 at this point, particularly with so many much more commercial acts on the ballot.
Judas Priest
This has been a longtime oversight from the point of view of classic metal fans. Priest rocked hard but, in my experience, fairly indifferently during the 1970s, but over the years its focus — leather, spikes, motorbikes — has garnered more respect. Singer Rob Halford came out in the 1990s, which took some guts.
(The other big hall news of late is that the 2020 induction ceremony will be streamed live on HBO around May. It's unclear at this point if the show, which can run for five hours but has traditionally been edited down to about three, will be sped up for the new presentation or just allowed to run on and on. I hope they just let the freak flag fly and continue to allow inductees to talk as long as they want.)
Thin Lizzy
This is the left-field choice for this year. Much beloved by fans of tough '70s rock, the band is known in the U.S. for a couple of semi-novelty hits from the middle part of that decade: "Jailbreak" and "The Boys Are Back in Town," the latter a pop-rock confection for the ages. Leader Phil Lynott, who played bass, also wrote a goofy thing called "The Cowboy Song," which on a good night makes you think it might be the greatest rock song ever written. He produced some interesting stuff as a solo act after disbanding Thin Lizzy but died a few years later after becoming debilitated from heroin addiction. Like most critics, I like Lynott's stuff and carefully collected his more obscure work back in the day, but now it feels like another pet act whose nomination was brokered by someone in the nomination room, like the Zombies' last year, rather than part of an effort to capture the history of the music fairly. I don't really think Thin Lizzy is Hall of Fame material.
Whitney Houston
Should the Rock and Roll Hall of Fame draw lines? There's space there for the most contentious artists in rap, country, and jazz. Richard Pryor should be in, on general principles. The Carpenters, too — they were a legitimate soft rock band. But pop is something different. Historically, it's based on a pretty narrow set of sentimental lyrical tropes, it's ingratiating not challenging, and authenticity is typically not part of the mix, though it has evolved remarkably. Houston came out of soul and R&B traditions, but she's a pop singer and not much else. Like Streisand, Houston had a great voice, and she made a lot of money off of it; like Julio Iglesias, she became a pop icon, and made a lot of money off of that as well. The most strident fans of pop artists always want them to get all the awards as well. That's what the Grammys are for. Her fans can take solace in the upcoming "Whitney Houston Hologram Tour."
That said, Houston's decline was sad, and her personal story in some sense was very rock and roll, though it should be noted that it included the tawdriest reality-TV show of them all. If she gets voted in, maybe they can play the clip from Being Bobby Brown in which Brown, sitting on the toilet, reminisces with Houston about the time he extracted constipated feces out of her colon with his finger.
Houston was also on Arista, run by Clive Davis, who was on the nominating committee for decades, and it's hard not to see his still-powerful hand behind her nomination. Alternative theory: With the rock era now plainly over and the '60s generation in the process of going the way of all flesh, with the '70s survivors right on their heels, the hall may be laying plans for a more pop-based appeal to keep ticket sales going in Cleveland in the future.
Dave Matthews Band
There are definite signs from inside the hall that nominations are becoming more commercial and far less cognizant of critical appreciation, as I predicted after the induction of Bon Jovi two years ago. Matthews is a highly inoffensive, well-meaning, talented person who plays music along the same lines. I've seen him several times and can't remember anything about the shows, though his fan base is large and fervent in a nice, polite way.
Rolling Stone publisher Jann Wenner, while unquestionably participating in some hall hijinks over the years, was a voice against using popularity as a criterion — and commerciality was not plainly mentioned in the original hall charter. Last month, he made headlines by stepping down as chairman of the group's foundation.
Wenner didn't attend the 2018 ceremony because of health issues, and of course his power and influence evaporated with the sale of Rolling Stone. From the outside, it felt as if the hall were drifting a bit. There was an embarrassing screwup in the induction of Dire Straits two years ago, when the hall couldn't find anyone to formally induct the group, so bass player John Illsley, somewhat humiliatingly, ended up doing it himself.
The new head is one John Sykes. All of the stories about this transition have mentioned that Skyes is a top exec at IHeartMedia; what they don't often say is that IHeartMedia is just the remnants of Clear Channel, the terrestrial radio-owning creepshow of a company that so blackened its own name it had to be rebranded. The private-equity firm Bain Capital eventually took the company over in a leveraged buyout and brought in Sykes, who was one of the folks in charge … as the company descended into bankruptcy last year. If your local radio station no longer has any local staff around, you can thank Clear Channel, Bain, and IHeartMedia.
Given the grimy nature of the radio industry, anything could happen with a vet like Sykes now in at least nominal charge of the hall. Stay tuned.
Pat Benatar
Benatar has had her adherents from her first success in the early 1980s, but she was always something of a cartoon: One minute, she was singing "Hit me with your best shot," the next she was posturing as a tough feminist, but in either case, she was just mouthing words her producers had written for her. She was good at it, just as she was good at acting in her videos. There's nothing wrong with any of that intrinsically, and again I don't think it's right even to cast the issue in terms of there being other more deserving women artists. Hard to imagine her in a Rock Hall of Fame before Warren Zevon or New Order, Dolly Parton or War, the Go-Go's or KC and the Sunshine Band, Eric B. & Rakim or the Smiths or the Replacements, and the list goes on.