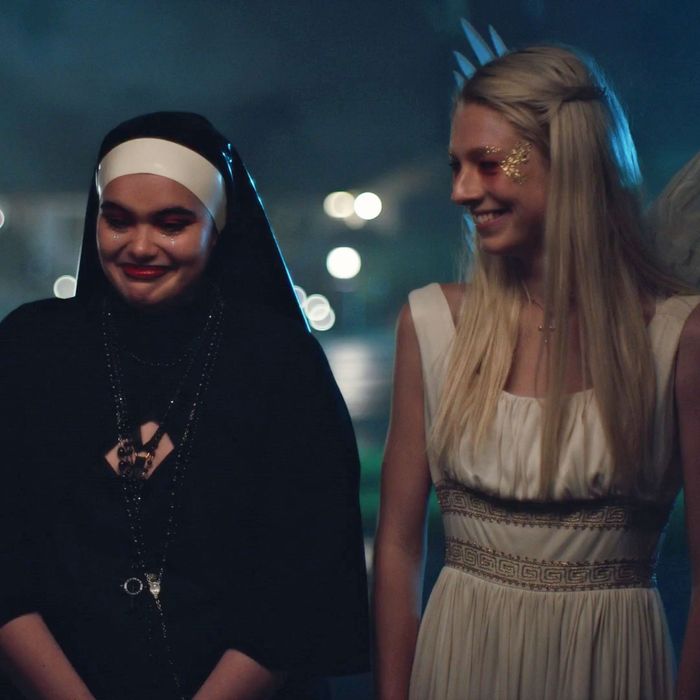 Oh, those
Euphoria
teens and their cultural references!
Photo: HBO
On TV, as in real life, Halloween is a time for candy, scares, and, most importantly, dressing up. But there comes a point when costumes evolve from a candy-grabbing incentive to a provocative statement — or, in the words of Mean Girls' spot-on summation of this annual event, "Halloween is the one day a year when a girl can dress up like a total slut and no other girls can say anything else about it."
Television youths have long reckoned with the dilemma of how to celebrate a holiday that underscores the tension between childhood and adulthood, a time when one overindulging ritual is replaced by another kind of socialized excess. Twenty years have passed since Freaks and Geeks delivered what is still the best depiction of this conflict between the warm fantasy of childhood Halloween and the rush to grow up; nothing is purer than Bill Haverchuck going through his mom's closet, trying to figure out what the Bionic Woman would wear. More recently, in the second season of Stranger Things, our preteen heroes turning up to middle school on October 31 dressed as the Ghostbusters when none of the other kids are in costume turns what might once have been a social slam dunk into an embarrassment. For teens, on TV or otherwise, ghosts aren't the scariest thing about Halloween — being a laughingstock is.
Explorations of identity are at their most potent during adolescence, and Halloween is the perfect excuse to experiment with the person you long to be. Halloween episodes present a unique opportunity for our favorite fictional adolescents to indulge in costume fun while also addressing these kinds of wider themes. So, in honor of this annual rite of costumed passage, here are the five types of costumes you will find the TV youths wearing.
Provocative
Buffy Summers referred to this night as "come as you aren't" in a bid to unleash Willow's inner wild child on Buffy the Vampire Slayer, but the horny teens of Elite and Euphoria need no such encouragement. But even if they don't require Halloween to booze up a storm, they still make a special effort with their choice of eyebrow-raising attire, taking the Mean Girls slutty mandate to new and inappropriate heights. Though Euphoria's Maddy idolizes Sharon Stone in Casino, she ends up opting for a more disturbing choice of Scorsese character; her outfit seems cute until you realize she is imitating Jodie Foster as an underage prostitute in Taxi Driver. Meanwhile, Daniel's take on Ted Bundy is indicative of a teen boy wishing his peers thought he was edgy, when he is anything but.
The rich murder teens on Elite also indulge in the "make it sexy" aesthetic. However, it is Polo and Cayetana who enter bad-taste territory with their blood-splattered depiction of the JFK assassination. (Maybe Cayetana is a big fan of Natalie Portman's best work?) Sexy costumes, particularly those rooted in a real-life pop-cultural figure or moment, have a way of aging badly (or were never a good idea to begin with), as further evidenced by Haley's "Sexy Mother Theresa" in season two of Modern Family. Just like Fred Rogers and Handmaids, Mother Theresa should probably be exempt from the Girl World "total slut" rule.
Pop-Culture Nostalgia
On the other hand, Euphoria's Halloween outing also illustrated that pop-culture nostalgia, sexy or otherwise, can make for an easy costume win, showcasing iconic looks from '90s movie classics like Romeo + Juliet and True Romance. References like these aren't a huge stretch for Gen Z, but they do have a strong whiff of what was cool when Millennial creator Sam Levinson was growing up. Nonetheless, picking timeless characters ensures an episode cannot be instantly dated. Hanna from Pretty Little Liars ticks this box, leaning into iconic moments in pop music (Britney Spears) and movies (Marilyn Monroe's The Seven Year Itch), while Emily pulls off cult classic Barbarella. On Glee, Halloween is an excuse to indulge in the Rocky Horror Picture Show, while Speechless turned back the clock with a Back to the Future group theme, transforming J.J's wheelchair into the DeLorean. The DiMeo family had previously dressed in Titanic, Star Wars, and Aladdin group costumes, but this episode marks the first year in which J.J. doesn't want to indulge in tradition; he wants to go to an actual high-school party instead. The conflict here, as on Freaks and Geeks, is parents clinging to the kid version of Halloween, and what represents that tension more succinctly than a throwback costume?
Current Affairs
As with pop culture, there is nothing quite like the news to turn a costume into a timestamp. The Huangs on Fresh Off the Boat have nailed movie and TV references from the '90s period in which the show is set — including an incredible Silence of the Lambs team-up costume — but young Evan and Emery up their game the following year with their interpretation of the trial of the decade. Dressing up as Judge Ito and Kato Kaelin (complete with a McDonald's bag) cements their status as bona fide Halloween-costume experts. The teens of Euphoria could only dream of a '90s reference like this.
For a family costume that isn't mired in controversy, the Black-ish First Family group effort — which includes Miles as First Dog Bo — will make you wistful for the recent past. Halloween is meant to be scary, but there is nothing more terrifying than the current political climate.
Basic
Considering the number of extravagant parties Gossip Girl hosted over the years, the series' one and only Halloween episode is a bit of a letdown. Instead of a regular "come as you aren't" affair, the party's 1920s flapper theme results in a costume snoozefest consisting of otherwise beautiful frocks that Serena and Blair would probably wear in any other episode. Teens of the aughts also let us down on One Tree Hill, which saw Peyton dressed as a sexy Angel of Death and Brooke as a sexy Devil — in case you were doubting the Mean Girls Halloween observation.
Minimal Effort
There's always one person who turns up in their regular attire with just a hint of something festive. Oz took the "What If God Was One Of Us" approach in season four of Buffy by wearing a "Hello, My Name Is" sticker bearing the name of the almighty. Meanwhile, Ethan added a dash of fake blood to his face on Euphoria as part of his "street vampire" look. Is this approach inherently charming or incredibly lazy? It helps that both Ethan and Oz are unassuming (and cute) so it doesn't read as obnoxious.
Noel Crane on Felicity also falls into the nerdy/cute column, acquiring Subway uniforms for last-minute costumes that save him from Elena's wrath. Despite the anti-sexy vibes, Elena still manages to hookup with a Tin Man at the party, so it isn't a total bust. Noel, meanwhile, finds a use for his Sandwich-Artist plastic gloves when a drunk Felicity throws up in his lap. Who said Halloween would be easier in college?