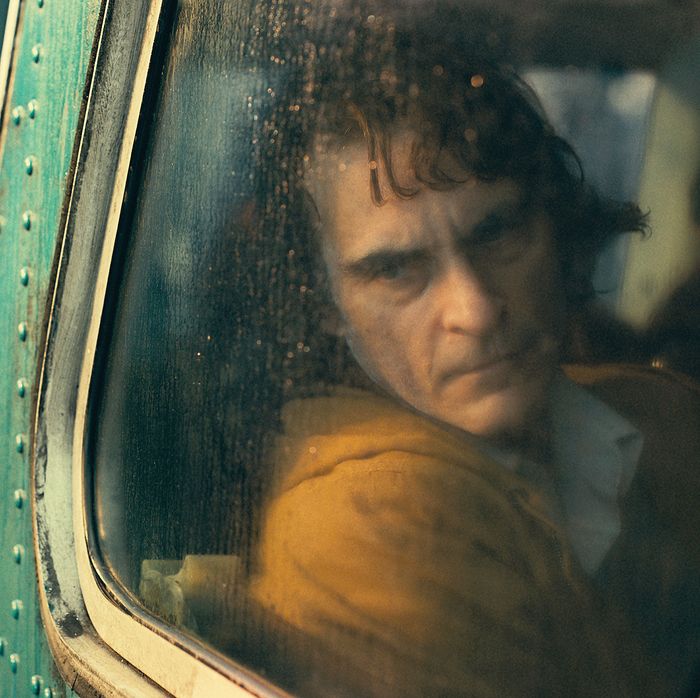 "It's been a leading, trending story for about six weeks now, and that's a lot more spotlight and attention than a normal film could count on getting."
Photo: Warner Bros.
When Joker hits 4,300 theater screens across North America on Friday, it will arrive cloaked in the kind of buzz that a studio distributor like Warner Bros. would surely prefer to avoid: concern that the gritty drama will inspire people who perpetrate gun violence in America. The Todd Phillips–directed, R-rated Batman spin-off provides an elaborate origin story for the Dark Knight's most famous antagonist, with Oscar nominee Joaquin Phoenix portraying the titular Gotham-menacing clown. The movie — which is, yes, violent — has been broadly described as "incel-friendly" and "dangerous." But it's the film's tenuous association with the 2012 shooting massacre in Aurora, Colorado — when James E. Holmes shot into the audience of the Century 16 movie theater, killing 12 and injuring 70 during a midnight screening of writer-director Christopher Nolan's The Dark Knight Rises — that's posing a more specific disquiet for some. In a later-debunked report, Holmes was said to have told law-enforcement officers he "was the Joker." Now, three national theater chains as well as authorities in several American cities have gone on high alert, lest Joker prompt similar bloodshed.
For their part, the filmmakers maintain their movie has nothing to do with the national debate surrounding gun violence and hope viewers will evaluate Joker accordingly. "The thing is to be daring and bold and different — anything you can make that is unique coming out of the comic-book space into films and TV is important," Joker producer Michael Uslan told Vulture earlier this year. "The Joker movie, Todd Phillips's vision for it, is so different. Nobody's ever seen a comic-book movie like this before. I'm sure there will be people who love it and people that hate it. But it's like watching a Martin Scorsese, lower-budget crime drama. It is going to be a very unique experience."
Meanwhile, prerelease tracking estimates indicate the movie could pull in $155 million over its opening weekend in theaters — with a surprisingly strong $80 million projected in North America alone. "The whole film has this edgy profile that breaks through the clutter and gets your attention in a way that another superhero movie might not," says Richard Rushfield, editor of the entertainment-industry newsletter The Ankler. "Between the real-life warnings and the intensity of the way the promotional stuff has come out, it grabs you by the neck."
So how did the film become something audiences seem to be simultaneously scared of and clamoring to see? Herewith, a timeline of Joker, fall movie season's most controversial movie:
August 2017
Warner Bros. reveals its intention to mount a movie detailing the origins of Joker — not the Joker, thank you very much — hoping to enlist Martin Scorsese as an executive producer and to entice Leonardo DiCaprio to slather on grease for the titular role. But when Jared Leto, who portrays the Joker in 2016's Suicide Squad and is contractually obliged to reprise the character in another DC Universe spin-off sequel, learns of the rival Joker project, he's caught off guard. The Academy Award–winning Dallas Buyers Club actor reportedly makes his unhappiness with the idea of multiple Jokers abundantly clear to his agents at the Hollywood powerhouse Creative Artists Agency and weaponizes that concern to take meetings with rival agents at William Morris Endeavor.
Also during that month, producer Emma Tillinger Koskoff admits the production hit some turbulence in its attempts to convince the studio to take an edgy gamble with valuable IP. "This is a very gutsy move for Warner Bros. and I commend them," Koskoff told the Los Angeles Times. "There were some hiccups trying to get the green light, and there were some concerns about the content. But once we locked and loaded our budget, they really gave us a tremendous amount of space to do what we do."
September — December 2018
According to a New York Times interview with Phillips that picked up significant traction on Movie Twitter last month, Phoenix consistently baffles his co-stars during principal photography, losing his composure on set and bailing out mid-performance without a word of explanation. "In the middle of the scene, he'll just walk away and walk out," the director said. "And the poor other actor thinks it's them and it was never them — it was always him and he just wasn't feeling it."
August 11, 2019
A draft of Phillips and co-writer Scott Silver's shooting script leaks online, causing widespread hand-wringing. Dated April 13, 2018, the screenplay sparks outrage for its sympathetic take on the Arthur Fleck backstory — portraying the villainous character as a victim worthy of compassion, a victim of a society gone mad. (In the comics, the Joker's behavior has been historically linked to criminal insanity and, across the decades, the character has offered scant justification for his evildoing.) Later, Phillips confirms the draft's authenticity but also refutes that it characterizes the finished film, explaining Joker's plotting has gone through numerous changes since spring 2018.
Note: One day before the script leaked, Universal announced that The Hunt, a movie about a group of Americans who are kidnapped and dropped off in a rural area in Europe to be hunted for sport by rich people, would be indefinitely shelved following its own cycle of controversy.
August 28
The final trailer for Joker drops, depicting a pitiable man suffering with mental illness who is ostracized by a corrupt society and forced to fend for himself in poverty. Compared to its Marvel superhero-movie brethren, it's clear Joker will substitute action and special effects for pathos — and a lot of it.
August 31
Joker's premiere at the 76th Venice International Film Festival draws an eight-minute standing ovation for Phillips and Phoenix, along with a critical outpouring of praise for the actor's performance as Fleck, a mentally ill sad sack and aspiring comedian who remakes himself as an icon of violent societal overthrow. Initial shock that Warner Bros. would deem the film worthy of placing it in competition at such a prestigious awards season subsiding, the conversation around the film quickly turned to its prospects for Academy gold. "Absolutely. It will be in the running," Venice director Alberto Barbera told Deadline.
Joker goes on to claim the Golden Lion, the festival's top prize.
Amid the Venice praise, however, comes full-fledged, pointed criticism, too. "In America, there's a mass shooting or attempted act of violence by a guy like Arthur practically every other week," Stephanie Zacharek wrote for Time. "And yet we're supposed to feel some sympathy for Arthur, the troubled lamb; he just hasn't had enough love … the movie lionizes and glamorizes Arthur even as it shakes its head, faux-sorrowfully, over his violent behavior."
September 9
Making its North American touchdown at the Toronto International Film Festival, the film triggers fresh rounds of dissection and discussion in stark contrast to its rapturous reception in Venice. Reviews out of the Canadian metropolis are decidedly mixed, with many critics pondering Joker's potential to inspire acts of domestic terrorism.
September 20
A visibly agitated Phoenix storms out of an interview with U.K.'s The Telegraph after being asked if he was worried Joker "might perversely end up inspiring exactly the kind of people it's about, with potentially tragic results."
"Why? Why, would you …? No, no," the actor reportedly stammered before exiting.
September 23
Five family members and friends of the 12 people killed during the Aurora shooting send a letter to Warner Bros. chief executive Ann Sarnoff reminding that a "tragic event, perpetrated by a socially isolated individual who felt 'wronged' by society has changed the course of our lives," adding, "When we learned that Warner Bros. was releasing a movie called Joker that presented the character as a protagonist with a sympathetic origin story, it gave us pause." The letter goes on to urge the studio to withhold campaign contributions to political candidates who accept money from the NRA, to use its political clout to lobby for gun reform, and to help fund gun-victim charities and gun-violence intervention programs.
Also that day, the U.S. Army Base at Fort Sill, Oklahoma, sends a memo to commanding officers, warning of a "credible potential mass shooting to occur at an unknown movie theater" screening Joker. Citing an intelligence bulletin posted by the sheriff's office in Travis County, Texas, working in conjunction with local FBI operatives, the intelligence bulletin does not say where the violent attack by "incels" is set to occur. Only that the discovery is based on "disturbing and very specific chatter on the dark web."
"Commanders need to be aware of this threat for Soldier and family safety and to increase situational awareness should they choose to attend the release of this movie," the memo says.
September 24
The theater chain Cinemark and Warner Bros. announce that Joker will not be screened at the Century Aurora theater — formerly the Century 16, where the gun rampage occurred — or the Century XD.
Later that afternoon, the studio — which donated $2 million to victims and survivors of the Aurora shooting massacre in 2012 — responds to the family members' and friends' letter with a cordial but firmly worded statement. "Gun violence in our society is a critical issue, and we extend our deepest sympathy to all victims and families impacted by these tragedies," it reads. "At the same time, Warner Bros. believes that one of the functions of storytelling is to provoke difficult conversations around difficult issues. Make no mistake: Neither the fictional character Joker, nor the film, is an endorsement of real-world violence of any kind. It is not the intention of the film, the filmmakers, or the studio to hold this character up as a hero."
September 25
On the heels of recent mass shootings in Dayton, Ohio; El Paso, Texas; and Gilroy, California, the country's largest theater chain, AMC, issues a statement reiterating the enforcement of its policy forbidding masks, face paint, or objects that conceal a person's face. "AMC does not permit weapons or items that would make other guests uncomfortable or detract from the movie experience."
September 26
Landmark, the country's largest independent-theater chain, announces it will extend its usual ban on masks and toy guns to prohibit all costumes during Joker's theatrical run.
As evening descends on Hollywood, the Los Angeles Police Department issues a statement that there are "no credible threats" associated with the Sept. 29 Joker American premiere at the TLC Chinese Theatre in Hollywood. Nonetheless "the Department will maintain high visibility around movie theaters when it opens."
September 28
Texas-based Alamo Drafthouse Cinemas, a 40-location theater chain, announces it will beef up security specifically for Joker screenings over the movie's theatrical debut. "[We] will have additional security personnel present at each location for the comfort of our staff and guests," Alamo says in a statement.
In an effort to thwart the rising din of questions from the press, Warner Bros. decides to scotch all broadcast and print interviews on the "green" carpet at the film's premiere at the TLC Chinese Theatre in Hollywood. The studio limits the appearances of Phillips, Phoenix, and co-stars including Zazie Beetz and Marc Maron to what basically becomes a glorified photo op.
Inside the theater, Phillips skips the usual drill of introducing his cast and producers, telling the audience: "If you like the movie, tell a friend. We haven't gotten enough press."
September 30
Not to be outdone by their L.A. counterparts, New York Police Department chief of patrol Rodney Harrison orders all the city's precincts to provide police coverage at New York City theaters showing Joker. Coverage by uniformed officers is "until further notice, so every showing time at each theater will be covered until we are directed to stop," a high-ranking police source told the New York Post. Officers "should be standing in high visibility at the main entrances."
October 1
Warner Bros. announces it is also restricting access to Joker's stars and filmmakers at its New York Film Festival premiere on Oct. 2, repeating the Hollywood premiere M.O. of photographs only. "A lot has been said about Joker and we just feel it's time for people to see the film," a studio spokesperson told Variety.
Appearing on Jimmy Kimmel Live! on Oct. 1, Phoenix is seemingly ambushed when Kimmel confronts him on-air with a behind-the-scenes Joker clip featuring Joaquin in the midst of an expletive-laden rant. Done up in his character's signature green hair and grease paint, an aggrieved Phoenix tells cinematographer Lawrence Sher to "shut the fuck up" and finds fault with the "constant whispering" on set. In response, Sher refers to the actor as "Cher" apropos his divalike behavior.
"This is so embarrassing," Phoenix says on the show. "That was supposed to be private … I'm sorry you guys had to see that!"
News outlets deliver rat-pack coverage of the outtake, jumping at this latest opportunity to characterize the actor as a mercurial and thin-skinned artiste. The next day, however, Phoenix's publicist tells EW the reel "was a joke outtake" and his stunned reaction to its reveal was all staged.
In other news, in an interview with IndieWire, Phoenix draws pro-ana criticism for describing the process of shedding 52 pounds for the role — which left him with protruding ribs and jutting shoulder blades — in effusive terms, characterizing the extreme caloric depravation as "empowering," "because you're able to control yourself in that way."
In another interview with the Associated Press the actor added: "And you really develop like a disorder. I mean, it's wild."
Then, speaking with Vanity Fair about the state of modern comedy, Phillips draws condemnation from one of Joker's supporting actors, Marc Maron. "Go try to be funny nowadays with this woke culture," Phillips told the magazine. "There were articles written about why comedies don't work anymore — I'll tell you why, because all the fucking funny guys are like, 'Fuck this shit, because I don't want to offend you.' It's hard to argue with 30 million people on Twitter. You just can't do it, right? So you just go, 'I'm out.'"
On Maron's long-running WTF podcast, the comedian calls Phillips's stance on the matter "tired" and repudiates his assertion about the futility of making meaningful jokes in an era of outspoken political correctness. "There's plenty of people being funny right now," Maron said. "Not only being funny but being really fucking funny. There are lines to be rode … If you want to take chances, you can still take chances. Really, the only thing that's off the table, culturally, at this juncture — and not even entirely — is shameless punching down for the sheer joy of hurting people."
October 2
Notified of numerous threatening posts on social media that call for "unspecific mass shootings" connected to Joker, the FBI breaks with the standard practice of keeping quiet about its operations to announce that it is now coordinating with other branches of law enforcement and private-sector partners to deal with potential violence surrounding the film. Furthermore, an intelligence bulletin obtained by ABC News details an apparently new subset of the involuntary-celibate community who've found solace in Joker's angry-loner-clown plotline: "clowncels." "While many Incels do not engage in violence, some within the community encourage or commit violent acts as retribution for perceived societal wrongdoing against them," the bulletin says, according to ABC. "Some Incel attackers have claimed inspiration from previous mass shooters."
In the end, neither cascading security threats, myriad controversies, nor the $55 million film's hard-R rating manage to squelch enthusiasm for Joker, with Deadline reporting tracking estimates of earnings around $155 million globally. At the domestic box office, the film could pull in more than $80 million over its first three days to potentially surpass Sony's Venom ($80.25 million) as the top opening October movie of all time.
"It's been a leading, trending story for about six weeks now, and that's a lot more spotlight and attention than a normal film could count on getting," says The Ankler's Rushfield. "It barely even looks like a superhero movie. In the marketing, it looks like an urban revenge drama. You see a little bit of the makeup, but you don't see any capes or super powers or using X-ray vision. They're playing it as an intense drama with a superhero world backdrop. It's been pretty effective."