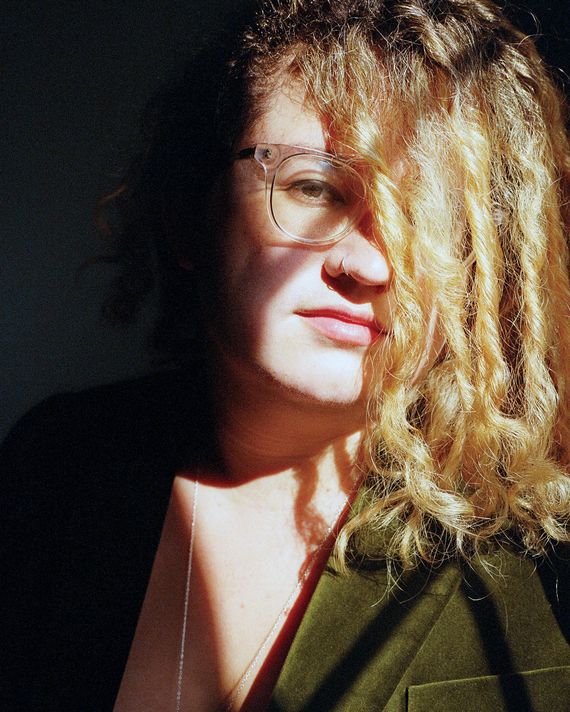 Photo: Marie Tomanova. Styling by Indya Brown. Blazer by Veronica Beard. Necklace by Agmes.
On an early fall afternoon at a dry-pot restaurant in the East Village, the critic Andrea Long Chu is talking about herself, which is, by her account, one of her favorite things to do. So is numbing her notoriously sharp tongue with Sichuan peppercorns, and, as she raises a quail egg to her lips, it seems she may even be feeling something akin to happiness — not a sensation she experiences very often, as her following on Twitter is well aware. Her feed is a font of grotesque self-loathing. She writes about her suicidal tendencies and her desperation to be hot in the same irreverent style she used to ridicule Jill Soloway ("a rich Los Angeles creative type with a child's knack for exploiting the sympathies of others") and Bret Easton Ellis ("an angry, uninteresting man who has just written a very needy book") in a recent pair of devastating book reviews. "I cannot stress to you how humiliating it is to be literally incapable of keeping my pants up bc my belly is too fat and my ass is too flat," she tweeted recently. "It's like getting misgendered every second of the day."
But her sadness isn't just a bit. A little less than a year ago, in a New York Times op-ed about her plans to undergo surgery to "get a vagina," Chu made a provocative claim that angered some trans advocates: She did not expect the painful, expensive procedure to make her happy. Still, Chu insisted, she had the right to get it whether it cured her dysphoria or not. Nearly a year after the surgery, she says she's feeling more miserable than she'd expected. "It's perversely vindicating," she adds with a wry smile. Dressed in a jumpsuit patterned with blue-and-white flowers, she brushes a curtain of curls away from her face with a flip of her wrist, revealing a tattoo of a geometric vulva on the underside of her forearm. "It's very dangerous to get what you want."
This is the sort of statement — darkly funny, intensely personal, daringly poised between profundity and trolling — that has made Chu one of the most exciting critics working today. A 26-year-old Ph.D. student in the comp-lit department at NYU, she entered the mainstream in the fall of 2017 with an essay for n+1, "On Liking Women," in which she challenged the central tenet of trans discourse on the left. "I am trying to tell you something that few of us dare to talk about, especially in public, especially when we are trying to feel political: not the fact, boringly obvious to those of us living it, that many trans women wish they were cis women, but the darker, more difficult fact that many trans women wish they were women, period." The piece had its critics, but many hailed it as a revelation. Sandy Stone, the artist and academic credited with establishing the field of trans studies, praised Chu for launching the discipline's more forthright second wave, a breakthrough she never dreamed she'd live to see. "Maybe I've died and gone to trans heaven," she wrote on Facebook. As Chu sees it, the first wave of trans studies was largely a defense against those who claimed real women are those born with a vagina. "My work begins with a frustration about how that defensiveness has calcified into a trope," she explains.
In her first book, Females, out later this month, she posits a new theory about gender and sexuality, starting with the contention that "everyone is female." ("I get criticized for projecting a lot," she says dryly.) In Chu's usage, female is a "universal existential condition," defined by submitting to someone else's desires. For example, even if you conceive of yourself as an alpha male who likes to top in bed, the desire to dominate is ultimately its own form of submission. "A top," says Chu, "is just a bottom folded into another shape." So why does she insist on calling a universal condition "female"? "Because everyone already does," she writes. Women are the "select delegates" of this state of being.
Growing up in Asheville, North Carolina, Chu was "well trained in repression." Her parents were conservative Presbyterians. "Lots of praying in public," she recalls. Her father, a doctor, is half-Chinese, but his ethnic identity, as Chu sees it, was repressed as well. "I don't think he would even refer to himself as a person of color," she says. One of the few places she felt free was onstage. She played villains and fools in high-school musicals ("Never the romantic lead") and studied theater and theory at Duke; she decided to apply to grad school when a professor in a cultural-studies class told her to. (She still loves performing: Once, while giving a talk, she put a remote-controlled vibrator in her pants and asked one of the audience members to press the button as many times as the person liked.)
Chu was 23, a couple of years into her Ph.D. studies and in the midst of a breakup with a girlfriend, when she felt compelled to transition. Within a week, she'd bought her first bra. She wasn't "coming out of the closet" after years of consciously (or unconsciously) hiding; the desire to be a woman descended upon her suddenly, like "a tongue of fire or an infection," as she writes in Females, and she acted on it with uncharacteristic speed. It was "easily the most impulsive thing I've ever done," she says.
For Chu, the East Village is saturated with warm memories of that time, the kind you get when you fall in love. She takes me by the Buffalo Exchange where she sold off her men's clothes. We linger in front of her old apartment where she first emerged into the world dressed in women's clothing. She was headed to dinner with a friend that night, wearing a red mesh skirt and sleeveless cream turtleneck with vertical stripes. A group of people was sitting on the steps, and she braced herself for a reaction, but everyone just shifted slightly to let her pass. "It was the happiest I've ever been," she says of the weeks after she transitioned. "It was like having a crush on myself."
Snapping out of her reverie, she sighs and adds, "Now I'm just in a sexless marriage with myself." As she describes it, the root of all her unhappiness — the reason she believes there's no "cure" for gender ­dysphoria — is that she will never be able to fulfill her deepest desire, which is not just to be a woman but to have always been one. "If I were to unleash the full force of dysphoria onto a conversation partner, it would be Lovecraftian in the scale of horror," she explains. "It would be like an indescribable, tentacular nightmare." And yet she's almost amused by the tragedy of it. After all, our endless striving in the face of certain failure is an essential part of what it means not to be trans but to be human. "We tell ourselves the object compels us. This person will give me what I wanted, this job, this belief, this breakup," she says. "But it's desire itself that compels us. It is by nature gratuitous and without purpose. The infinite desire to desire."
*A version of this article appears in the October 14, 2019, issue of New York Magazine. Subscribe Now!
*An earlier version of this piece misstated the publication date of the "On Liking Women."