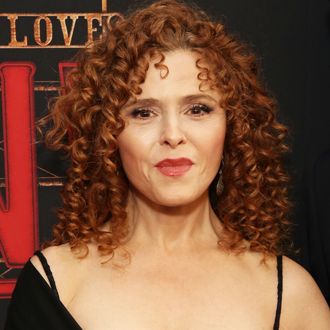 Bernadette please tell us your thoughts on Hot Archie.
Photo: Walter McBride/WireImage
At this point, we can only assume that Katy Keene, the CW's New York–set spinoff of Riverdale, is an elaborate prank being played specifically on people who love theater and trashy TV (a.k.a. the audience of NBC's Smash. RIP Smash). Some evidence: Deadline reports that two-time Tony winner (plus an honorary award!) and Smash alum Bernadette Peters herself will appear on the show as Ms. Freesia, a name doubtless inspired by Peters's love of tweeting random photos of flowers. Ms. Freesia is "a wealthy Upper East Sider who secured her luxurious lifestyle through cunning means"; is a surrogate mother figure and mentor to the main character, Pepper Smith, played by Julia Chan; and is "actively forming Pepper in her fabulous image." In addition to Peters, Katy Keene's cast will include Rent's own Daphne Rubin-Vega as a former Rockette and doting mother of one of Katy's roommates, as well as beloved stage and Dawson's Creek star Mary Beth Peil (at least according to her Road Show Playbill). In short, I personally am feeling deeply targeted and attacked by these choices. Katy Keene takes place in New York several years after the current Riverdale timeline and stars Lucy Hale, an actor the CW will continue to try to make happen until the end of time or the end of broadcast TV, which will definitely come first.