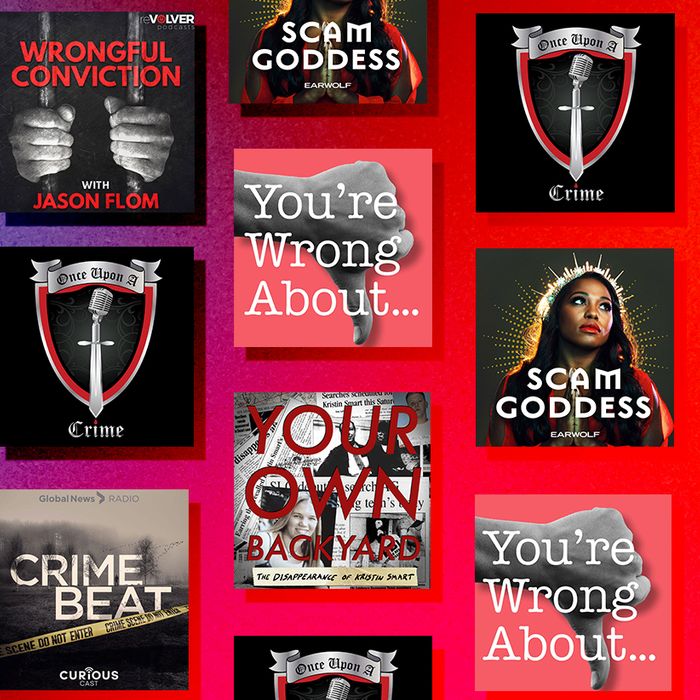 The true-crime-podcast universe is ever expanding. We're here to make it a bit smaller and a bit more manageable. There are a lot of great shows, and each has a lot of great episodes, so we want to highlight the noteworthy and the exceptional. Each week, our crack team of podcast enthusiasts and specialists will pick their favorites.
Scam Goddess, "The Career Conman Jeremy Wilson With Nicole Byer"
The Summer of Scam may be long behind us, but it truly is the grift that keeps on giving. The evidence: this delightful new "true-con" podcast from actress and comedian Laci Mosley. Forget murder, kidnap, and rape — this one's all about the flimflam. Each week Mosley (a.k.a. Scam Goddess) welcomes a new comedian to help her examine current cons and dive deep into historic hoodwinks. Last week's hilarious premiere featured Paul F. Tompkins, while this week's episode welcomes the equally funny Nicole Byer, who helps Mosley look into online-dating scammer Jeremy Wilson. If you're looking for a jolt of light and levity among the dark and deadly in your crime queue, I definitely recommend giving this one an add. —Amy Wilkinson
Wrongful Conviction, "Un-Making a Murder"
Anyone who has watched Making a Murderer is familiar with the heartbreaking injustice surrounding the conviction of Brendan Dassey. While some remain divided on the guilt or innocence of Brendan's uncle Steven Avery in the murder of Teresa Halbach, public sentiment toward Brendan is overwhelmingly sympathetic. Still in high school, and living with intellectual disabilities, Brendan was interrogated without an attorney or his parents present, resulting in what two lower courts agreed was a coerced confession. A third court disagreed, leaving Brendan's attorneys from the Center on Wrongful Convictions of Youth without a clear path forward. Their latest move on behalf of Brendan, a campaign to persuade Wisconsin's governor to grant him clemency launched on October 2, the same day a bonus episode of Wrongful Conviction with Jason Flom was released. Flom, a board member with the Innocence Project, features Brendan's attorney Laura Nirider, and an exclusive recorded interview with Brendan himself. The interview with Brendan is by far the most poignant part of the episode, especially as he talks about playing video games and his love of Pokémon. Listening to his earnest manner, unchanged after so long in prison, really drives home the reason Brendan's case has led to so much public outcry. —Lara Bricker
Once Upon a Crime, "Rocktober: Altamont, the Rolling Stones and the Hells Angels"
The Altamont Free Concert, which featured the Rolling Stones as its centerpiece, was a harbinger of the hippie peace 'n' love era, along with the Manson murders. What was supposed to be a live music festival infused by the spirit of Woodstock became increasingly chaotic and violent until it erupted during the Stones' performance. In the end, Meredith "Murdock" Hunter was beaten so severely by one of the Hells Angels hired to provide security that he died waiting for medical treatment. Meanwhile, acclaimed filmmakers Albert and David Maysles captured it all on film for what would become the hair-raising documentary Gimme Shelter.
There's something particularly uncanny about the whole thing, beyond the tragedy of Hunter's murder — maybe it's the idea of people tripping balls on LSD while the Angels doled out beatings, or that the general vibe of rock and roll at the time was getting particularly witchy (see Season of the Witch: How the Occult Saved Rock and Roll by Peter Bebergal), or just the idea of an increasingly panicked crowd swallowing people up like a roiling ocean. As always, Ludlow's research is meticulous, and I especially appreciated the way she went into detail about Hunter's life and his relationship with Patty Bredehoft; there's no question that the Angels were irked at seeing a young interracial couple. Ludlow also gave great context about the era and elucidated how basic greed over broadcasting rights, of all things, led to the tragedy. Hopefully, this episode will also encourage listeners to check out the Maysles' work if they're not already familiar. —Jenni Miller
You're Wrong About, "Nicole Brown Simpson Part 1"
True crime has, historically, not been kind to its victims. In the retelling of these tales of murder and mayhem, the killers often emerge as psychopathic geniuses, while the departed are all but silenced. Thankfully, however, a growing number of creators are turning their — and our — attention to those previously overlooked stories (see: Amy Berg's HBO documentary The Case Against Adnan Syed, which gave murdered high schooler Hae Min Lee much more due than Serial ever did). In that vein comes this new two-part episode of You're Wrong About focusing on Nicole Brown Simpson — the woman at the heart of the trial of the century, in which former footballer O.J. Simpson was tried (and acquitted) for her murder, along with that of Ronald Goldman. Even if you're experiencing some low-grade O.J. fatigue, this one is worth a listen, as it adds even more layers to an already messy, messy case. Hosts Sarah Marshall and Michael Hobbes paint Brown Simpson neither as a saint nor as a sinner, but as a very real three-dimensional woman who lived a life of note. It's the careful, clear-eyed way we would all hope to be remembered. —Amy Wilkinson
Your Own Backyard, "The Only Suspect"
A good documentary podcast is hard to find, and a good true-crime documentary podcast even harder. Fortunately, there's Your Own Backyard, a podcast about the disappearance of Cal Poly student Kristin Smart in May 1996. Host and creator Chris Lambert heard about Kristin's disappearance as he grew up in the same area of California's central coast. Kristin vanished from the Cal Poly campus at the end of her first year of college, and it took a month for campus authorities to turn the case over to law enforcement. In his research, Lambert found that much of the information in the early reports about Kristin was wrong, and so in this podcast, he's interviewing the people who knew Kristin best, as well as those who saw her the night she disappeared, when she attended a party and then made her way back to her dorm.
In the second episode, Lambert looks at the only suspect in the case, a fellow Cal Poly student named Paul Flores. Women reported being groped, followed, and otherwise tormented by Flores, who, coincidentally, was the last person Kristin was seen with the night she disappeared. Add that to a black eye that seems to have no good explanation, and an errand involving concrete, and it seems like it's going to be hard to oust him from the position of prime suspect. Kristin's been missing for 23 years, longer than she had been alive at the time she vanished. Your Own Backyard reconstructs her case with exactly the kind of care and introspection we would hope for. —Chanel Dubofsky
Crime Beat, "Across the Street"
Early in the first episode of the Southern California News Group's second season of Crime Beat, host Keith Sharon relates a vision that he has while parked in front of a certain house. The vision is of a woman standing at the window of this house as years pass by, staring at the property across the street, letting the man who lives there know that she is watching him. The woman is Mary Bennett. The man across the street is a suspect in the brutal 1994 murder of Mary's daughter, Cathy Torrez. Cathy was stabbed 74 times in the assault, but died later, in the trunk of a car, having fought to escape until the end. This episode, "Across the Street," describes Mary's unflinching quest to learn everything she can about her daughter's murder in the hope of bringing her killer to justice. It also looks at Cathy's life — her strict upbringing, her success in school and as an employee, and her preference for boys with a dark side. This season appears to be a departure from season one's fast-paced look at a bank heist tailor-made for the movies. Instead, this is more traditional true-crime-podcast fare with a murdered woman and a quest for justice. But the writing and Sharon's no-nonsense narrative style promise a fascinating season. —Toby Ball