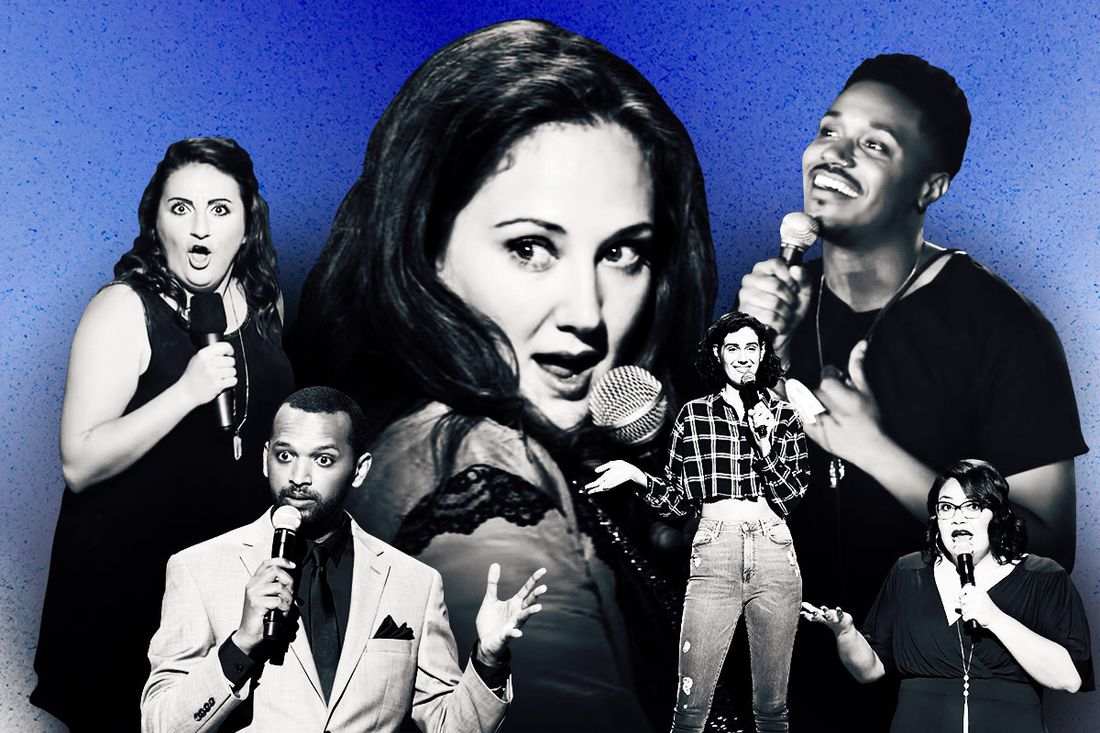 Photo: Vulture and Photos by Youtube and Getty
Since 2013, we've been surveying the comedy world to highlight the up-and-coming names that we think represent the future crop of comic stars — performers including Bo Burnham (2013), Michelle Wolf (2015), Julio Torres (2017), and Jaboukie Young-White (2017). As in years past, we compiled this list by polling dozens of in-the-know industry sources: bookers and producers of live comedy shows, festivals, and late-night TV; execs at networks like Comedy Central, HBO, IFC, and TBS; heads of comedy-record labels like A Special Thing; and reps at comedy-podcast networks like Earwolf, Headgum, and Forever Dog.
We took their suggestions and, based on which names came up most often, pared the list down to a tight 23 writers and performers whose stars are rising fastest. It didn't take long for names from 2018's list such as SNL's Bowen Yang, sketch group Astronomy Club, forthcoming Adult Swim stars Three Busy Debras, and co-star/co-creator of HBO's Los Espookys Ana Fabrega to break out. It won't take long for some of these comics, either.
For those living in L.A., six of the comics from the list will be participating at a special showcase at Vulture Festival on Sunday, November 10. Click here for more details.
Carmen Christopher
Twitter: @CarmChristopher
Location: New York
You've probably already seen some of Carmen Christopher's work. He's a regular on Chris Gethard Presents and has appeared on High Maintenance, At Home With Amy Sedaris, and Late Night With Seth Meyers. He can often be found on Twitter spoiling Joker to his fellow subway passengers or taking a Sex and the City bus tour. He also has a YouTube channel that — not to be hyperbolic — will almost certainly fill the unnameable void you've been carrying within you all these years. A frequent collaborator of Joe Pera and Conner O'Malley, Christopher is the kind of performer who gives his audiences something they had no idea they wanted until they get it, and we predict you'll be wanting a lot more of him soon.
Anna Drezen, Fran Gillespie, Sudi Green, and Streeter Seidell
"A Kanye Place," written by Fran Gillespie and Sudi Green
"Romano Tours," written by Anna Drezen and Alison Gates
"Grouch," written by Mikey Day and Streeter Seidell
Twitter: @annadrezen, @FranGillespie, @Sudi_Green, @streetseidell
Location: New York
Okay, so, you're probably thinking, Four SNL supervising writers? Don't I already Should and Will Know them? And while the answer may be yes, the dynamics of the SNL writers' room is something of a sport for those of us who, uh, stay in on Saturday nights for reasons that are cool, actually. And while you might not recognize every name scrolling past the good-night hugs at the end of the show, you should remember these four, because they are responsible for some of our favorite sketches of the past few years, like the recent Joker parody about Oscar the Grouch (Seidell co-wrote it with Mikey Day), Kate McKinnon's Debette Goldry sketches (co-written by Drezen and Green), and the Quiet Place parody "A Kanye Place" (co-written by Green and Gillespie), to name a few. SNL writers who reach this level of influence are often destined for success elsewhere — see Chris Kelly and Sarah Schneider — and we're looking forward to a lot more from these four.
Ayo Edebiri
Twitter: @ayoedebiri
Location: New York
Help! We've been infected by Ayo Edebiri's youthful energy and boundless enthusiasm for the humiliating grind of life as a 20-something in New York City. Take, for instance, the above set about everything from her 48-year-old roommate to dating, in which Edebiri shows off her flair for self-deprecation and ability to invite the audience in on every punch line. Edebiri has quickly made her name for herself in only a few short years, writing for the New Yorker, BET's The Rundown, and NBC's Sunnyside and performing with her sketch group Lo-Fi, not to mention co-hosting her podcast Iconography with Olivia Craighead. So, we expect to see so much more from Edebiri and her wonderful, compartmentalized Twitter account soon.
Hannah Einbinder
Twitter: @hannaheinbinder
Location: Los Angeles
Hannah Einbinder and her penchant for restrained silliness (like ingratiating herself to the crowd like she's in a classic noir) has quickly managed to capture the attention of indie comedy taste-makers and network suits alike, becoming one of the fastest-rising stars to come from the stand-up-comedy world in quite some time. Of course, Einbinder has put the work in, hitting as many open mics and dive bars as she possibly could over the last few years, honing her refreshingly absurdist charm (with a bit of a Billie Eilish–ish flair). Sometimes, that will involve dancing with audience members or reciting a Hebrew chant as part of a bit. Taking such chances has taken her to the heights of the Just for Laughs festival's New Faces showcase and opening for Reggie Watts.
David Gborie
Twitter: @thegissilent
Location: Los Angeles
The gig of being the voice of Comedy Central has recently gone from one great comedian to another, Kyle Kinane to David Gborie. Gborie has been a favorite of crowds wherever he goes, including comedy fests like High Plains Comedy Festival, clubs across North America, and the indie L.A. show he's part of, Faded, as he possesses a rare, endless charm. In fact, the missing of his mark during the taping of his Conan set is a testament to this bottomless charm reserve. Certainly, his inclusion on the All Fantasy Everything podcast has cemented his wild, fun-loving, and open-minded persona to an ever-growing fan base. That'll undoubtedly get even bigger with his half-hour special on Comedy Central set to premiere soon.
Solomon Georgio
Twitter: @solomongeorgio
Location: Los Angeles
Solomon Georgio's command of the stage undeniable, so it's not surprising to hear that he's has made repeat appearances on Conan and Drunk History, had a debut half-hour special and album through Comedy Central, and has written for the likes of such respected comedy series as Adam Ruins Everything and Shrill. Georgio also has a plethora of stellar, captivating stories about his life as a gay immigrant from Ethiopia raised in the States.
Vanessa Gonzalez
Twitter: @buhnessa
Location: Los Angeles
Vanessa Gonzalez swooped on up from being one of Austin's best comedians (as voted on annually by the Austin Chronicle) to scoring JFL New Faces, a Comedy Central half-hour special, and an HBO Latino special to boot. Her low-key delivery makes her incredibly crafty writing land big laughs, much to the delight of so many audiences she has performed for, whether it be at big crowds at SXSW or in intimate settings like L.A.'s hot new comedy-centric theater, Dynasty Typewriter.
Janelle James
Twitter: @janellejcomic
Location: Los Angeles
A direct recommendation from living comedy legend Chris Rock to the world might be all you need to get onboard with Janelle James. Her unapologetic fearlessness onstage has taken her up the ranks through New York and now L.A. Along the way, she has scored a Netflix special, landed a writing gig on Showtime's Black Monday, and took over the long-running Eugene Mirman Comedy Festival, now called the Janelle James Comedy Festival, which is already going for its second year.
Dan Licata
Twitter: @danlicatasucks
Location: New York
True story: Dan Licata made our list before he was hired to be a writer on SNL this year. It doesn't take a clairvoyant to see that Licata is destined to become a household name, and his appearance at this year's Just for Laughs New Faces simply underscored it. A writer for Joe Pera Talks With You (including everyone's favorite episode, the one that reintroduced us all to the magic of the Who's "Baba O'Riley") and consistently funny presence on Twitter, Licata's approach embraces a chaotic awkwardness that you could say permeates much of our current media landscape, something that will only make him increasingly relevant.
Jacqueline Novak
Twitter: @jacquelinenovak
Location: New York
If you didn't get a chance to see Jacqueline Novak's one-woman show Get on Your Knees, produced by Natasha Lyonne and Mike Birbiglia, the first thing to know is it's about so much more than blow jobs. The comedian who we at Vulture have dubbed "the great conversationalist" is clearly just getting warmed up. Her appearance on Late Night With Seth Meyers gave non-theatergoers a glimpse into her innate charm and intellectual approach to the seemingly mundane: what to wear on TV, how to sit in a chair, etc. Novak has proved herself to be a woman of deeply inventive comedy that suggests we've only just hit the tip of the … iceberg. Get on Your Knees is proof that Novak is destined to be the star of the next viral stand-up special on whichever network is lucky enough to land it.
Rachel Pegram
Twitter: @rachelpegram
Location: New York
We know Rachel Pegram as the comedian who weeps at the existence of cinema, and you might know her from her appearances in Adam Sandler's The Week Of, or Don't Think Twice, or The Chris Gethard Show, or Full Frontal With Samantha Bee, or … well, you get the idea. Pegram's ability to be this prolific is thanks to the fact that she makes being just plain funny look easy, something Just for Laughs clearly realized when it featured her in its New Faces showcase this year. Pegram is a master at delivering monologues that slip in and out of characters, building to punch lines that she seemingly pulls from the ether. Just take a look at her extremely elegant performance on Chris Gethard Presents above.
Dewayne Perkins
Twitter: @dewayneperkins
Location: Los Angeles
Don't let the beautiful smile and charismatic stage presence fool you: Dewayne Perkins is a very sharp writer with Brooklyn Nine-Nine, the last comedy-focused White House Correspondents' Dinner, and more on his résumé. Perkins has managed to come up through all three of America's major comedy capitals, going from Chicago to New York to L.A., and get acclaim as a Comedy Central "Up Next" comedian, JFL New Face, and writer of one of the best jokes of 2018 as named by The New Yorker. Perkins's experience in Second City and ballet and even hip-hop dancing all seemingly combine for his wonderful stand-up, where he's light on his feet and hard-hitting with his punch lines.
Anna Seregina
Twitter: @touchingcheeses
Location: Los Angeles
In everything she does, Anna Seregina combines a bold desire for experimentation, a flourish of grace, and an undeniable sense of play. Through stand-up, postmodern clowning, and acting in indie comedies and short films, she has become one of the L.A. comedy scene's absolute favorites to watch. Often, Seregina will get delightfully meta in her performances by becoming a skittish version of herself with a Russian accent (she emigrated to America from Russia as a teen), doing impressions of herself doing stand-up, making her comedy like a very satisfying charcuterie plate. Recently, Seregina has pushed herself further in this regard (in a perhaps Andy Kaufman–esque way) through elaborate, yet very absurd and fun, staged interruptions during live shows with her frequent accomplice Kyle Mizono.
Shalewa Sharpe
Twitter: @silkyjumbo
Location: New York
There aren't a lot of comedians whose work provides us entirely new dating terminology, but Shalewa Sharpe is one of those comics. Maybe you've seen her on HBO's 2 Dope Queens, Comedy Central's The New Negroes, or The Tonight Show, but if not, you can learn what "T-shirt dick" is in the clip above. Sharpe is a performer whose originality not only expands our lexicon but also makes the conversations happening on the internet much less exhausting. We don't doubt we'll be seeing a lot more of her because, frankly, the world needs this.
Megan Stalter
Twitter: @megstalter
Location: New York
It's hard to define Megan Stalter as anything other than a performer who has figured out life's big secret: You can do anything you want onstage. She credits this revelation with the creation of her brash onstage persona, and it's the pathos The Megan Statler Show is clearly built on. Sure, it's a late-night show, but it's also whatever she wants it to be. Because who needs a format when you're just genuinely funny?
Whitmer Thomas
Twitter: @whitmerthomas
Location: Los Angeles
Formerly the ringleader of the "extreme friendship" comedy collective known as Power Violence, Whitmer Thomas has evolved rather quickly as a solo act. These days, he can go from doing stand-up that recounts his troubled childhood to examining his present self via post-punk-tinged original songs that feature fantasy video-game cut scenes playing in the background. Thomas has also made short films with his Power Violence gang and starred in the FXX animated series Stone Quackers. Perhaps most impressively, no one spoofs emo music as well as he does.
Steph Tolev
Twitter: @stephtolev
Location: Los Angeles
In a very short time, Steph Tolev managed to establish herself in L.A. as one of Toronto's funniest exports (and that's counting her among the likes of Nathan Fielder and Debra DiGiovanni). Her rapid-fire, self-deprecating style of stand-up has killed with audiences all across North America, and her episode of the great Please Understand Me web series showcases her comedic acting chops quite well too. In fact, she's so beloved and has such a signature style that she was able to do an entire "50 First Stephs" night, where 50 or so comedians lovingly did an impression of her.
Irene Tu
Twitter: @irene_tu
Location: Los Angeles
Irene Tu's wry sensibility and Larry David–esque observations saw her move all the way up through the San Francisco and L.A. comedy scene pretty smoothly, then onward to performing at big festivals across the country (as opposed to the rough go that most comedians get when making the jump to L.A.). Tu's act celebrates intersectionality as something to be cherished and enjoyed while also presenting comedy that shows we have more in common than we don't, especially when it comes to the everyday minutiae that annoys us all.
Martin Urbano
Twitter: @MartinUrbano
Location: New York
Any curmudgeons out there bemoaning the rise of PC culture in comedy likely haven't heard the work of Martin Urbano. His work combines edgy, almost-over-the-line humor with — get this — really good jokes. His mastery of the punch line has earned him spots on Jimmy Kimmel Live, Howie Mandel's Comedy Gala, and Comedy Central Stand-up, plus two of his very own episodes of Chris Gethard Presents. And his ability to execute strong comedic fundamentals with a little bit of signature flair ensures we'll be seeing lots more of him in the future.
Eva Victor
Twitter: @evaandheriud
Location: New York
If something is trending on Twitter, but Eva Victor doesn't make a video about it, did it really happen? In addition to her work as a stand-up and writer for Reductress, Victor has made a name for herself by going extremely viral in the front-facing Twitter video genre, with her take on "Straight Pride" earlier this year racking up over 10 million views and counting. And now that she's making videos over at Comedy Central, we suspect there's only more to come from this, shall we say, social-media phenom, if you will.