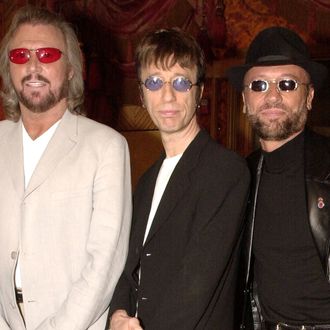 Photo: Spencer Platt/Getty Images
Graham King, the producer of the Oscar-winning and timeline-muddling Bohemian Rhapsody, is working on a movie about the Bee Gees. According to Deadline, King is doing the project with Paramount and producer-financier Sister. Paramount bought the life rights to the Gibb brothers for King, and the film will be able to use the immense catalogue of Bee Gee songs. Are little brother Andy's tunes lumped into the deal? One hopes, or else the pic cannot be our everything.
The Bee Gees had decades of hits, beginning their career in the 1950s in Australia. They didn't blow up in America until the 1970s disco revolution, where their falsetto and staccato singing emphasized the four-on-the-floor rhythms of that genre. Anyone who has heard the incredible episode of Slate's Hit Parade podcast about the Bee Gees knows that their story is a sad one, full of disasters both real (sudden death) and imagined (New York Mining). Paramount recently hit '70s musical biopic gold with Rocketman.