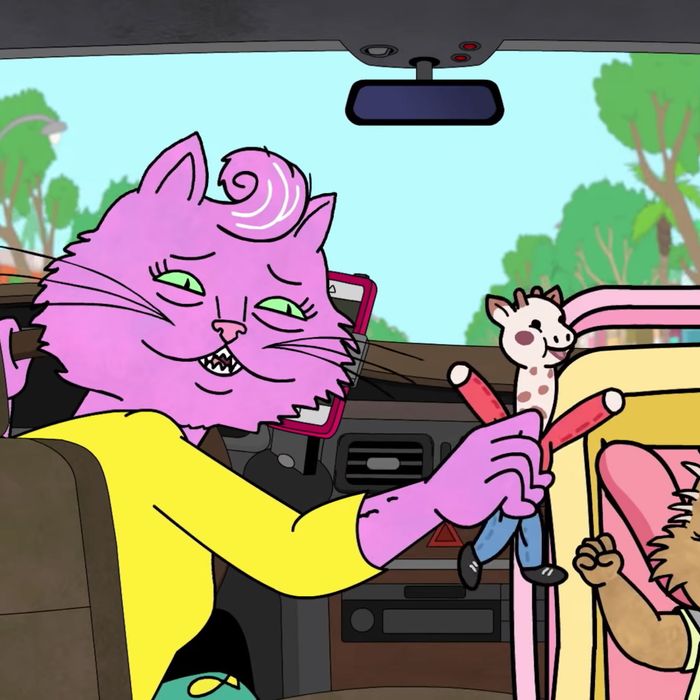 Back in season one, Diane warned BoJack: "Either you know what you want, and you don't get what you want. Or you get what you want, and you don't know what you want."
It's been many years since that speech, and pretty much every major BoJack Horseman character has confronted that problem in one way or another — but none so much as Princess Carolyn, whose talent and tenacity haven't been enough to make her life any easier. In recent seasons, she suffered several traumatic miscarriages. After deciding to adopt — a process that took time, energy, and money she didn't have — she finally ended up with a baby daughter.
So: Happy ending, right? Not quite. Princess Carolyn got what she wanted. Which means it's time for her to deal with realizing she doesn't know what she wants.
"The New Client" is a stressful, frenetic episode of BoJack Horseman, designed to evoke the stressful, frenetic pace of Princess Carolyn's life. She's still living in the Tabbywood apartment complex, though her place is now filled with baby toys. At the start of the episode, her nanny quits, frustrated at Princess Carolyn arriving home late again. Between her busy professional life and her responsibilities as a mother to a baby, it's obvious that Princess Carolyn is, characteristically, being stretched too thin — a problem embodied in the fact that she still hasn't found the energy to choose the right name for her daughter, who is still being called "Untitled Princess Carolyn Project."
Some of Princess Carolyn's problems are very specific to her situation — like, say, the fact that her baby is a porcupine, who needs to be handled with oven mitts so her quills don't get stuck in Princess Carolyn's skin. But others will be universal to any parent of a newborn: The constant crying, the endless diaper changing, and the sense that you've gotten about five seconds of sleep before the baby or the alarm clock drags you right out of bed again.
Princess Carolyn is being honored at a Manatee Fair photo shoot for Hollywood Women Who Have It All, alongside her perennial nemesis Vanessa Gekko. Idle chitchat turns into a plan for a women's event, which turns into a ball and/or gala reuniting the Fugeees, which inevitably falls at Princess Carolyn's feet. All the while, the episode represents how overtaxed Princess Carolyn is by dropping six or more versions of her into every scene: One tapping away on a cell phone, one rocking a baby, one shaking a rattle.
She needs a break — and eventually, if you refuse to take a break, the universe forces one upon you. When Princess Carolyn visits Pastiches to collect Mr. Peanutbutter, who is visiting BoJack in rehab to avoid his own problems, the front desk clerk mistakes her for a drug addict and checks her into the clinic, where she promptly passes out for two straight days.
But the universe doesn't let anybody — but particularly a woman — take two days for herself without consequences. Back in the real world, Princess Carolyn has missed the gala. Her client Flea Daniels is furious about the state of his Mr. Peanutbutter-starring movie Birthday Dad, which has been cut to ribbons against his wishes. Her baby is fine in Todd's care, but Todd has been running around town talking about "Untitled Princess Carolyn Project," which has sparked a ton of Hollywood rumormongering. (Sample dialogue: "Untitled Princess Carolyn Project" has legs, "Untitled Princess Carolyn Project" is making noise, "Untitled Princess Carolyn Project" will live for at least several seasons.)
Of course, Princess Carolyn always lands on her feet, so she finds a way to solve all her problems in one shot. She repackages Birthday Dad as a TV series, restoring the cut content while hyping the clout of Flea Daniels directing the pilot episode. "Untitled Princess Carolyn Project" lives up to the hype, and her reputation remains untarnished. She even shows up for the aftermath of the gala, letting her guard down long enough to confide in Vanessa Gekko.
And when Princess Carolyn confides, with a great deal of self-flagellation, that she thinks she's a better agent than a mother — and that she's terrified she'll never truly love her difficult, demanding child — Vanessa sets her straight. She tells Princess Carolyn to think of the baby as a client: Someone difficult and demanding who Princess Carolyn supports anyway because it's her job to do it.
Returning home, Princess Carolyn discovers that her fast-talking work patter is enough to make her own baby laugh. In a way, she can do both at once. And with the pressure valve released, she also comes up with the perfect name for her daughter: Ruthie.
In case you don't remember: Ruthie is the name of the character voiced by Kristen Bell in season four, who was said to be Princess Carolyn's great-great-great-grandaughter reflecting fondly on her ancestor. In the end, the episode revealed — in a true gut punch — that the whole thing had been an elaborate fantasy Princess Carolyn cooked up to cope with the trauma of an awful day.
By playing with the structure of television, season four's "Ruthie" ended on a heartbreaker: That, despite a lifetime of struggles and disappointments, there was no surefire happy ending waiting for Princess Carolyn. But by revisiting Ruthie — and turning her into an actual, flesh-and-blood character who will carry on Prince Carolyn's legacy — "The New Client" is twisting that old, sad ending into a more positive direction: With confidence and willpower, you can create a version of the future you've always imagined for yourself.
Horsin' Around
• The episode's B-plot centers on Mr. Peanutbutter, stewing in his own guilt after cheating on Pickles with Diane last season. Pickles doesn't know yet, but Mr. Peanutbutter is such an open book — and comes so very, very close to telling a room full of strangers about his affair in this episode — that it feels like this ticking time bomb will explode any minute.
• After the truncated version that debuted in the season premiere, "The New Client" gives us our first look at the show's new opening credits sequence. Now, instead of walking through an average day, the credits offer brief snapshots of BoJack's life, from his time starring on Horsin' Around to the premiere of Philbert, culminating in BoJack falling from the observatory where Sarah Lynn died. It's a clever way to quickly recap the highlights of the series for the final season, and to signal to viewers that the sometimes-superficial BoJack is delving much deeper into his past this time around.
• It's a particularly nice touch that Princess Carolyn — having heard the story of Taran Kotada's Hollywood career drying up after taking three weeks of maternity leave — ends up hiring Kotada as showrunner on Birthday Dad.
• We get a few glimpses of Flea Daniels' The Diary of Anne Frankenstein, which stars Chloë Grace Moretz as Anne Frankenstein and Michael Shannon (not David Strathairn) as Zombie Igor. Moretz has a single line, but per the credits, she still voiced herself.
• Pickles has amassed a slew of stans on social media who call themselves the Pickle Pack, and who eagerly make memes about her storybook romance with Mr. Peanutbutter. I wonder how they'll react if word ever gets out that Mr. Peanutbutter cheated on Pickles …
• The package of Milwaukee-based shows Pinky bought from Dick Wolf — which include Milwaukee Postal and Milwaukee Waste Management — turn out to be a ratings bust. I wonder: In the BoJack Horseman universe, is Dick Wolf a wolf? Or is this a Vanessa Gekko situation?
• Like Mr. Peanutbutter, Dr. Champ's first name is Doctor. He might not even be a doctor.
• The women of the Manatee Fair photo shoot on Mr. Peanutbutter's Birthday Dad: "That sounds awfully masculine." "Dad." Mister." "Nut." "Peen."
• Are my eyes deceiving me, or is Todd eating a meal of spaghetti marinara with Reese's Peanut Butter Cups mixed in at Elefante?
• Todd, being told to name his price: "Uhhhh … Jonathan?"
• Todd cheerfully pronounces "today" as "Todd Day!" Of course he does.