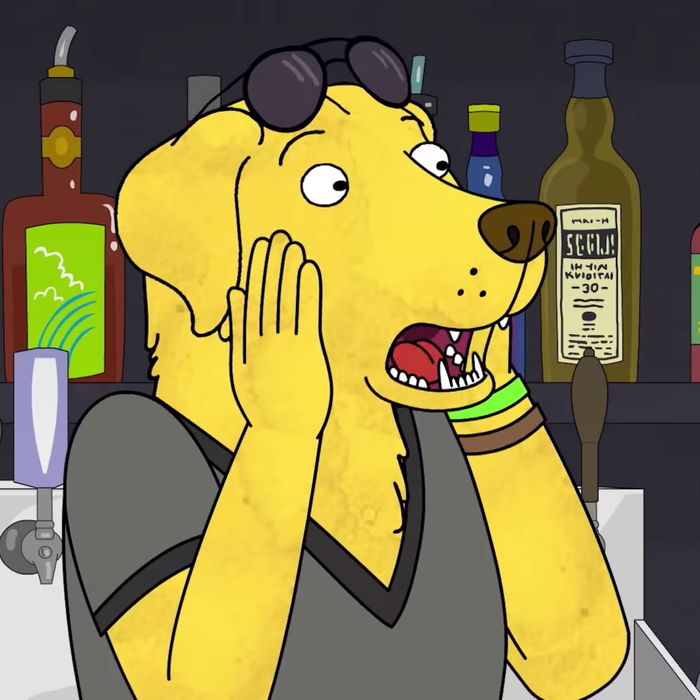 It was bad when Mr. Peanutbutter cheated on Pickles with Diane. It was worse when, rather than telling Pickles about it, he decided to propose marriage instead. The truth was always going to come out eventually — and just as inevitably, it was going to come out at the worst possible time.
So sure, why not at the surprise wedding Todd has organized without the knowledge of Mr. Peanutbutter and Pickles. (Just go with it.) Unfortunately, just as a house full of friends and family are about to jump out and surprise the couple, Mr. Peanutbutter decides to tell Pickles that he cheated on her. The rest of the episode veers between relationship drama and silly farce. As Pickles decides whether she should dump Mr. Peanutbutter, the guests try to avoid an awkward situation by hiding whenever the arguing couple gets close to them.
"Surprise!" is a pretty fun episode, but the stakes are awfully low. The montage that opens the episode, which owes a lot to Eighth Grade, shows Pickles growing up as a wannabe YouTube influencer doing insipid but well-intentioned makeup tutorials. But you can only drum up so much empathy for a character as vapid and cartoonish as Pickles, who happily broadcasts pretty much everything about her life, and relies on her livestream superfans to make every decision for her. Mr. Peanutbutter's decision to cheat is undeniably a shitty thing to do, but I'm not convinced that it wouldn't be the best thing for the character, or the show, if their relationship ended.
As Pickles sobs into her livestream, insisting that the wedding is off, Mr. Peanutbutter does his best to apologize. ("It was the worst mistake of my life, and I once played Twister with Bryan Singer at Kevin Spacey's party for Andy Dick's early parole!") They also manage to insult basically everybody in the room without realizing they're there. But after Pickles makes Mr. Peanutbutter jump through a few hoops, and Mr. Peanutbutter comes clean about exactly what happened with Diane, Pickles decides to forgive him.
So it looks like the Peanutbutter-Pickles wedding is back on, on two conditions: (1) Mr. Peanutbutter never lies again, and (2) Pickles gets to hook up with somebody else so she can even the score. (When the episode ends, she's waffling between her high-school boyfriend Buzzy and Tyler from SoulCycle.) As Shakespeare said, all's well that ends well.
But in the midst of all the drama centered on a relationship BoJack Horseman can't really expect us to care about, an actual drama is unfolding. Near the beginning of the episode, Diane tells BoJack she's moving to Chicago, and whenever they can grab a spare moment they hash out what that means. BoJack confirms that he's not the reason she's leaving town; Diane confirms that BoJack will be okay without her. For a relationship that has often been fraught with tension, it's a mature, openhearted exchange that leads to the happiest of all possible results: a reaffirmation that they truly want what's best for each other.
But I have to admit: I still want more. No show does zany antics better than BoJack Horseman, and after three consecutive episodes that leaned heavily on the show's darker side, we were due for a goofier installment. But at this late stage of the series, I feel like BoJack and Diane's relationship has amassed a richness and complexity that deserves the center stage — something like Mad Men's "The Suitcase," which spent a full hour dissecting the complexity of the relationship between Don and Peggy after four seasons of buildup.
But even if Diane is off to Chicago now, I suspect there will be time for that further down the line. We're only halfway through this half-season of BoJack Horseman, and this show rarely lets its characters get comfortable for long before the rug gets pulled out from under them.
Horsin' Around
• The surprise party is loaded with visual cameos from BoJack Horseman characters we haven't seen in a while, including theater owner Virgil Van Cleef (a moose), Herb Kazzaz's unnamed blind executor (a bat), and J.D. Salinger (an extremely non-reclusive human author and game-show creator).
• For the first time since season three, "Weird Al" Yankovic returns as Mr. Peanutbutter's unexpectedly morbid brother, who keeps cornering BoJack and steering their conversations down grim, existential detours.
• There's also Princess Carolyn's baby daughter, Ruthie, whose Baby's Day Out–style antics culminate in the decision that Todd should be her new nanny.
• An incomplete list of Pickles's favorite musical artists: Justin Timberwolf, Iguana Azalea, Bun Direction.
• In the BoJack Horseman universe, everyone's first Myspace friend Tom appears to be some kind of rodent. Same pose, though!
• Judging by her screen name, Pickles was probably born in 1993, which makes her about 20 years younger than Mr. Peanutbutter.
• Todd, being Todd, distracted Mr. Peanutbutter and Pickles while he set up the party by buying them tickets to Angels in America, which he thought was Angels in the Outfield.
• After everybody endured all the stress of hiding for an entire episode, I love that the sum total of Mr. Peanutbutter's reaction to his unexpected guests is, "Odd."