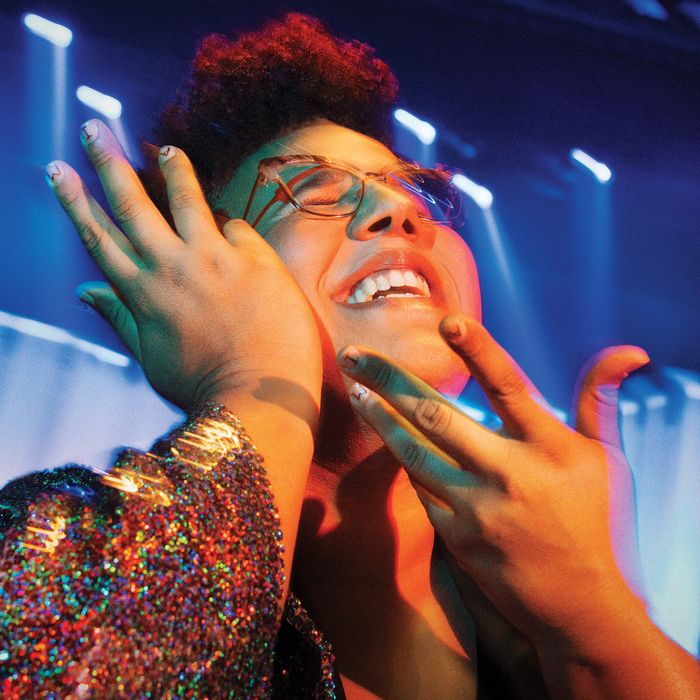 Photo: Pari Dukovic for New York Magazine
The quest to craft a follow-up to the Alabama Shakes' 2015 Grammy-winning opus, Sound & Color, was marred by a lengthy bout of writer's block. The band's second album had transformed them into a chart-topping, must-see festival act, anchored by singer-guitarist Brittany Howard's exquisite voice. They quickly earned the admiration of funk and rock heroes across generations. Paul McCartney asked Howard to join him on guitar during Let It Be's "Get Back" at Lollapalooza, and Prince had the Shakes play Paisley Park, where he stepped in to jam on a 15-minute version of "Gimme All Your Love." All of this was a dream come true for a band that got its start in Athens, a north Alabama town peppered by a constellation of mobile home parks, and played its first show ten years ago in a Decatur rock bar and grill.
But by 2017, years of touring through Europe, Japan, Canada, South America, and the United States had begun to exhaust the front woman. Work on new music stalled. Howard, now 30, called a meeting with her band to suggest a breather. "We'd been trying to work for a whole year," she says, over lemonades and smokes at Brooklyn's Hoxton Hotel, explaining how the hunt for new Shakes songs turned into her debut solo album, on a muggy September afternoon. "Trying to be creative together, it just wasn't happening, and I thought, 'Well, I've got to step away from this.'"
Two months after agreeing to put the band on hiatus, Howard and her wife and bandmate in the folk trio Bermuda Triangle, Jesse Lasfer, left their home in Nashville and set off on a road trip, criss-crossing the United States in search of a new place to settle down. Free from obligations and distractions in Music City, Howard felt renewed. "Once I kind of gave up trying to write," she explains, "then I could write."
The result is Jaime, a short, sweet album that spins further away from straight-up rock and roll than the singer's flagship band would dare by switching up instrumentation, arrangements, and production techniques to fit the story she's telling. The playful approach paid off: the album received glowing coverage at Pitchfork, Rolling Stone, and elsewhere when it came out last month. "Telling my story just kinda happened," Howard says. "It wasn't something that I did on purpose. It's just, that's all I wanted to talk about when I was writing this record."
The palpable feeling of otherness in a small town is one of the sources of Jaime's power. Howard was first inspired looking out at America on the road, faced with our divisive reality. "When you're driving around like that, you really find out who you are, especially being black and in a same-sex relationship in a small town in middle-of-nowhere America," she says. "You gotta watch your own back." "Georgia" depicts a budding same-sex crush from the perspective of a girl yearning for the attention of a classmate. "When I was younger, I wish I had a song like that," says Howard, who grew up in a trailer park in north Alabama. "To be represented by someone who thinks more like me, [rather] than being represented by these giant images in the media, like, 'This is what it looks like to be gay…' I don't look anything like that."
After ping-ponging between Nashville and the West Coast, songwriting commenced in earnest in Topanga Canyon. (The couple currently resides in New Mexico alongside five adorable, excitable pets who occasionally steal the show on Howard's personal Instagram page.) Jaime's other source of strength is its namesake, Howard's older sister, who passed away at 13 after contracting retinoblastoma, a rare children's eye cancer. During her break from the Shakes, Howard began writing a memoir on Lasfer's suggestion. She put it on hold once she started recording music again, but revisiting childhood as an adult lit a spark. Ask Howard about the dedication in her album's title, and she'll tell you Jaime is not a tribute but a collaboration with an essence she still feels close to. "Just because someone's not here in the physical world doesn't mean they're not here," she says. "Every step of the way, my sister's been here. So, to me it's a team effort. I know she sees what I do, for sure."
Howard remembers childhood as both carefree and tumultuous; the loss of her sister was the dividing line. The early years were full of music and discovery. "When we came into the world, we didn't have a lot of money," she recalls. "My sister taught me to have fun without having anything, really. We listened to music. We'd make a song. We'd draw pictures. We'd make art. We'd go play outside. She taught me how to use my imagination." Brittany remembers singing Madonna songs with the family and being turned onto the music of Prince by her father at an early age. As she grew older, Howard began to apply herself to music more seriously, securing the necessary instruments by joining band in middle school. She played her sister's guitar, borrowed drums from her band director, talked the family into a buying a $50 "piece-of-shit bass," scored an amp from a rich kid in the area, and produced herself on a computer the family got from the Make-a-Wish foundation.
Music was an escape as her family struggled to fit into their community. Jaime documents the family's tensions with their neighbors in "Goat's Head." Howard's mother, a white woman, had two daughters with a black man in a southern community not approving of interracial relationships. Her father once awoke to discover the tires of his car slashed, and a decapitated goat's head lying in the backseat. During Jaime's illness, their home burned down, and Howard has often wondered whether it was foul play. After her sister died, Howard's family stopped going to church. Her parents got divorced. Howard found it difficult to reconcile their misfortunes with the message she heard in church: that God was good. "I changed my mind about God when I was, like, 9 years old," she recalls. "I was like, 'He does not exist.' Like, 'Aw man, fuck it. We're all alone.'" As many queer people in communities of faith do, she also soured on Christianity's organizational restrictions, particularly the idea that their way of life exists outside of the natural order: "It was full of shame. It was full of stuff that didn't make no sense to me."
Jaime's "He Loves Me" is about Howard's journey back to faith on her own terms. "My mom had all these spiritual books lying around," she recalls. "I picked up on different religions I had never heard of, Buddhism, Hinduism, ancient Sumerian texts … That's how I got on the road to finding God again, through realizing that, in a very intimate relationship between you and your maker … nobody really comes in between that."
Jaime might not be Howard's most personal album — she similarly wrote about love and lust with the Alabama Shakes — but it is her most autobiographical and the most expressive of her wide-ranging tastes. It reveals another side of the singer musically. Songs like "He Loves Me," which the Shakes might've imagined as explosive hard rock, lean harder into the funk, soul, and gospel music that define Howard's taste. (Her favorite performers of all time are Prince, Nina Simone, Nat King Cole, and Sister Rosetta Tharpe.) Howard is cagey about the future of the Shakes. "It feels really good to not have to secede to anyone else's ideas — which is great, I don't mind doing that," she muses. "But this is a lot more thrilling. Making my own mistakes, not having to drag anybody in it with me." Still, like any great soul artist, she remembers her roots. Later that evening, during a Q&A session at the record store Rough Trade, a fan from down south delivered the news that Egan's, a Tuscaloosa bar the Shakes used to play at the top of the decade, is now a "shitty sports bar." "They didn't pay us," Howard recalls, "but they believed in us."
*A version of this article appears in the September 30, 2019, issue of New York Magazine. Subscribe Now!