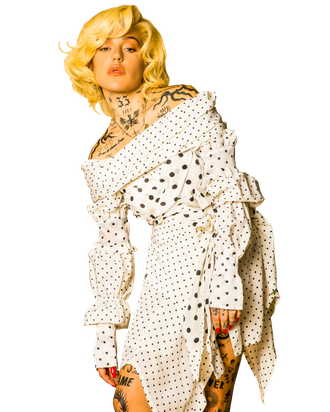 Judging by her music, you'd think little would shock Brooke Candy. Her new album is called Sexorcism, featuring tracks like "Cum" and "Rim." On the cover, she's showing off six tattooed breasts. For her recent verse on Charli XCX's "Shake It," she compares her ass-shaking to the Richter scale and says her "pussy crucify your body," whatever that could mean.
Yet when Candy (her real last name; her father is former Hustler magazine CFO Tom Candy) was in England recently and saw an episode of Naked Attraction, the BBC dating show where a contestant sees their potential suitors naked, she "was fucking shook." "You just see, fucking, a dick on TV," she explains. "I was like, Why am I blushing? Look at the album that I'm about to put out!"
She's had to dodge several obstacles to get here. In 2013 she told New York she had plans for an independent debut at the time, then pushed those plans back to sign with RCA Records the following year. She released an EP called Opulence and got Sia on board to executive-produce her album, set to be called Daddy Issues. But it kept getting delayed until 2017, when Candy left RCA, which she attributes to the label being opposed to her sexual lyrics.
At the beginning of this year, she recorded a whole new album over just four days, on her own terms. That's Sexorcism, her proper debut. "When you stifle me this much, then you get this kind of an album," Candy explains. "Just let me be creative." Trust her, she won't give up — she didn't with Naked Attraction either. "I'm not gonna lie," she admits. "I didn't turn it off."
How does it feel for you to know that your debut album is finally going to be out in the world?
When I announced it, Lizzo left me a comment where she's like, "You're about to give birth." It does [feel like that], like it's been gestating for months. And by the time it's out, you've already really lived through the music, but this one really came quick. It doesn't feel like I made it and then I had to wait five years to put it out. But I don't really think about how it feels. I made a body of work that is beyond just me. And it's just a fun body of work. It's not meant to be taken too seriously, and there's not too much deep meaning. I mean, there's some feminist anthem moments on there, and it's very queer, it's very sexual, but it's fun. And it's cool that I got to make this project that's fun.
I read something a few years ago where the writer was saying that it seems like you're moving toward not rapping about sex as much. Was that ever a thought for you?
Oh, that was a reality for me when I was signed to RCA. I fought, bare-fucking knuckle, to get the fuck out of that, so that I could just make what I wanted. As someone who actually needs to make art to survive, it's a bit stifling to have your identity ripped from you. I was being dictated what I could and couldn't say, what I could and couldn't do. I'm a highly sexually charged person, and I believe in sexual liberation for all human beings, especially for women, and so, no. I made sure that was short-lived. Subconsciously, I just knew that nothing could shut me up. All artists should have creative freedom. Otherwise, they're not artists; they're just vehicles. And I'm not that.
Has it gotten easier to convince people, or the labels, the value of making music about sex?
That's the reason why I started making music. I was shamed for doing something that I didn't know was wrong and isn't wrong. But I was told it was wrong. It lit a fire under my ass and the way that I chose to do something about it was by making a song, to let the person who is shaming me know in the best way I knew how, which was by rapping it, over a beat. I respect and admire and applaud any artist that is owning their sexuality, being true and their highest inter-dimensional self. And if your best self is a highly sexually charged person who loves to rap about rimming like me? Fuck yeah, do your thing.
How did you first learn how to rap?
I remember sitting down in my mom's apartment — we used to share a one-bedroom apartment, we literally shared a bed for a while. I had just moved back from San Francisco. I was young, and this is right when I just started, and I remember playing Lil' Kim, what is it? "If Peter Piper pecked 'em, I betcha Biggie bust 'em / He probably tried to fuck 'em, I told him not to trust 'em / Lyrically I dust 'em off like Pledge / hit hard like sledgehammers." So I sat at home and I just learned "Queen Bitch," and I just tried to imitate that as much as I could. I was young, and I just wanted to get out, and she just made me feel tough.
I want to go through a few of the features on the album, starting with the single with Rico Nasty, "FMU." It seems like your two styles really mesh together well. What was working with her like?
We actually were brought together by [producer] Boys Noize. He was like, "What do you think about a feature?" And then the next thing I know, I got a photo of him and Rico in the studio, and they were both giving me the thumbs-up, and it was like, "Hey!" And I was like, "No, you didn't."
I got invited, a week before I made that song, to go to an all-female biker meet-up in Bend, Oregon. We just meet in the woods, and we camp and dance naked and drink or do whatever you want to do. I hung out with a group of 75-year-old women that were in a biker gang, that was my crew. But that was happening at the same time that this collaboration was happening, so ["FMU"] feels like it's this tough, cool feminist anthem, and I couldn't have asked for a fucking more tough, cool, strong woman to do it with. Rico Nasty is kind of saving rap music in the same way that I think Charli XCX and Lizzo are saving pop music.
That's great. And it was interesting to see Drag Race's Aquaria and Violet Chachki on "Rim." Why the two of them?
Aquaria and Violet are just so chic. They are stunning and they just inspire me to want to be more glamorous. I was like, this song is nasty, who's really fucking glamorous and who's really fucking nasty? And they both came to mind. I'm currently attempting to get a remix together with — I'm just gonna say it, I don't care — Bob the Drag Queen and Detox. Because I started to think, who could be even nastier? Like, Bob is so fucking funny, and Detox performs Nine Inch Nails' "Closer" and sticks a cigarette in her nose, and then exhales out her mouth, and then takes her fucking heel off and licks the heel after walking around on like a dirty club floor. Yes, the two of you are the ones.
That would be so fun. So in the past few years you've gotten sober, you just got married, and you turned 30 as well. Do you think it shocks people to find that out, and then to hear your music?
I think I'm shocked if anyone actually gives a shit about my life at all. I could see how it could be a bizarre twist, but then in reality it's like, the wedding ceremony was done by my gay best friend, and he married us under the Church of Space and Time. And it was time for me to get sober, 'cause I was a crazy human being. And I still have crazy sex.
Regardless, I'll make whatever art I feel like I have to make when I make it, and then whoever likes it likes it, and then whoever doesn't doesn't, and then I've made it, so I've expressed myself and I can move on. That's really it for me.
This interview has been edited and condensed for clarity.