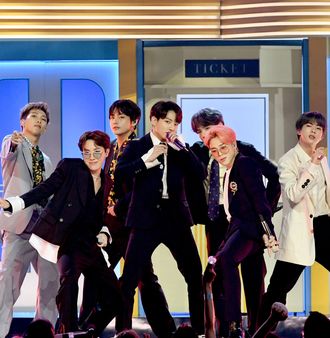 Photo: Kevin Winter/Getty Images for dcp
The BTS Army, fans of the internationally beloved megaband BTS, is full of investigators. They're video and photo editors. They're defense lawyers. And today, they are media-criticism assassins, armed with iPhones and unlimited data. The stans dived deep into Seth Abramovitch's BTS profile for The Hollywood Reporter, exposing inaccuracies, culturally insensitive implications, and generally calling out THR for sending someone who, on top of having little to no prior knowledge about BTS, openly admitted that in the article.
The Army is known for being passionate. They already have beef with The Hollywood Reporter for calling BTS's label, Big Hit Entertainment, a "sausage mill," so the ice was just thinning. Crack! Among other things, they're now taking issue with the suggestion that BTS is competitive with other bands and the implication that SHINee band member Kim Jonghyun's suicide was a result of K-pop's rigorous "Hunger Games" trainee programs. And just because they have the time, they've also taken issue with Abramovitch's old Gawker posts, especially one where he used a slur. Gawker cannot catch a break.
The Army's major problems with the article target aspects of the K-pop industry that are foreign (in some cases, quite literally. Stans aren't happy with Abramovitch's explanation of the word maknae) to the Western music industry and require nuance. Because it's not like K-pop fans are blind to the industry's faults and are raging after THR for no reason. They just want to be taken seriously and treated fairly. So, while it's fun to watch stans host a live roast on your Twitter feed, what they're actually getting at (and what writer Jae-Ha Kim points to in a Twitter thread) is the need for knowledgable, preferably Korean-American writers to be flown to Seoul to drink soju with the boys of BTS so that stans can make fan edits of the photographs instead of writing incredibly sick burns like the ones below.