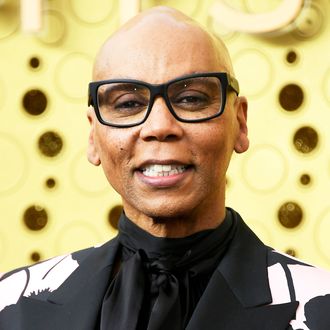 Get ready to see more of this man on your television.
Photo: Frazer Harrison/Getty Images
In the last 12 months, we have seen RuPaul's Drag Race season 11, RuPaul's Drag Race All Stars season five, the RuPaul's Drag Race Holi-Slay Spectacular and, currently, RuPaul's Drag Race U.K. season one. Sans RuPaul, the show has also expanded into Thailand and will soon hit Canada. New seasons of Drag Race and All Stars are in the works. And now, hold onto your wigs, because VH1 will produce RuPaul's Celebrity Drag Race for 2020. Are you satisfied yet? The show will only be four episodes (thankfully), and will feature 12 celebrities competing for charity in drag. There's no list of celebrity competitors yet, but your favorite queens will come back to help, including Alyssa Edwards, Bob the Drag Queen, Monét X Change, Trinity the Tuck, and Trixie Mattel. We now know that in today's ever-changing world, Drag Race will be the one constant us homosexuals can hold onto. And hey, maybe we'll finally get to see Andrew Garfield live out his drag dreams?