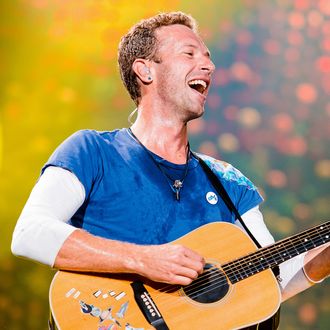 Photo: Mauricio Santana/Getty Images
Over the last four years, you may (or may not) have asked yourself, Whatever happened to Coldplay? Maybe you wondered it when you heard that cover of "Yellow" in Crazy Rich Asians or read that Tina Turner herself is a fan of the band. Well, the band has a perfectly reasonable explanation: Chris Martin & Co. have been working, for the last 100 years in fact, on a project called Everyday Life, they write in a letter to fans. If you thought a title couldn't express an arena-rock band's hope in humanity, just wait — it's actually a double album, with one record called Sunrise and one called Sunset. "It is sort of how we feel about things," the band writes of their first full-length since 2015's A Head Full of Dreams. Coldplay is also teasing the November 22 release with old-timey, 1919-themed art of the band, like a poster fittingly found on the "Yellow" line in São Paulo, Brazil. As if that all wasn't enough, on November 22, 1919, the longest annular solar eclipse in over 250 years occurred, sticking with the sun motif. So if you can't tell by now: Coldplay is back, same as ever.
Update, October 22: Coldplay has confirmed the details of the letters sent to fans by posting one on the band's social media, with just one month of their hundred-year "hibernation" to go.