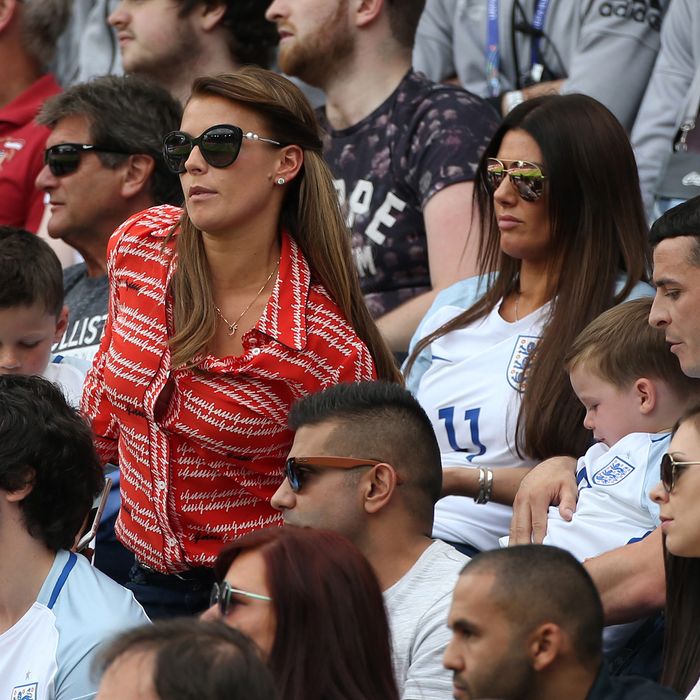 Coleen Rooney and Rebekah Vardy.
Photo: Jean Catuffe/Getty Images
These days, my native land of the U.S.A. and my adopted home of the U.K. are pretty similar. America has Donald Trump; England has Boris Johnson. Americans are woefully divided on impeachment; the English are woefully divided by Brexit. America has a (not as good) Love Island; England has (the best) Love Island. But one thing that the U.S. does not have is the absolutely wild story currently unfolding between WAGs Coleen Rooney and Rebekah Vardy. I'm here to break down this Real Housewives–esque drama so that you can fall in love with it, too.
Coleen and Rebekah are both WAGs, the somewhat derogatory term given to "wives and girlfriends" of famous soccer players. Coleen is the childhood sweetheart and wife of Wayne Rooney, a beloved English soccer icon who for 13 years has played for Manchester United (a.k.a. the New England Patriots of soccer). He has the second-most all-time international appearances on the English national team and currently plays in the States for D.C. United. For the purpose of this exercise, think of Wayne as akin to Michael Jordan.
Rebekah is married to Jamie Vardy, an excellent (but not as good) soccer player for Leicester City (a.k.a. the Pittsburgh Steelers of soccer). Jamie also played with Wayne on the English national team for three years. For the purpose of this exercise, think of Jamie as akin to Scottie Pippen.
Just as Wayne and Jamie were teammates, Coleen and Rebekah were friends, often watching games together when both of their husbands played for England. Still with me? Okay, here's where it gets good: On Wednesday, Coleen dropped a bombshell to her 1.3 million Twitter followers and her 800,000 Instagram followers: "For a few years now someone who I trusted to follow me on my personal Instagram account has been consistently informing the Sun newspaper of my private posts and stories," she wrote. (The Sun is a Rupert Murdoch–owned British tabloid.)
Coleen said she had a good hunch about who was planting the stories, so she set a trap: Five months ago, she blocked all of the accounts that follow her personal Instagram except for one. Then she started to post fake Instagram Stories to see if the details would end up in the Sun. The first was that Coleen, who has four boys, traveled to Mexico and paid £8,000 to have a "gender selection" treatment so she could finally have a girl. The next was that she was going on Strictly Come Dancing, the U.K. version of Dancing With the Stars. The last one was that her basement flooded. Yes, Coleen and Wayne are so famous here that even their basement flooding is news.
In her tweet, Coleen explained why she thought the misinformation campaign was necessary. "Now I know for certain which account / individual it's come from," she wrote. "I have saved and screenshotted all the original stories which clearly show just one person has viewed them. It's … Rebekah Vardy's account."
That's it. That's the end of the tweet. There has not been a social media mic drop like this since Kim Kardashian West put the receipts about Taylor Swift on Snapchat. The rabid English press immediately picked up the story because it is essentially Gossip Girl, Dynasty, and Murder … She Wrote all rolled up into one gossipy mess.
But it wasn't just the tabloids eating it up. Organizations as august as the BBC and The Guardian are covering the story, people on Twitter are calling her WAGatha Christie, and you know the Sun is all over this like Tucker Carlson is all over alt-right dog whistles.
Rebekah, who is currently eight months pregnant and on vacation in Dubai with Jamie, was quick to respond. "As I have just said to you on the phone, I wish you had called me if you thought this," she said in a Notes-app tweet that @-ed Coleen. "I never speak to anyone about you as various journalists who have asked me to over the years can vouch for."
Rebekah, a former nightclub promoter with just over 400,000 Instagram followers, claims that others have had access to her account over the years, so maybe someone else was spying on Coleen and leaking to the press. "I'm not being funny but I don't need the money, what would I gain from selling stories on you?" she wrote in her denial. "I liked you a lot Coleen & I'm so upset that you have chosen to do this, especially when I'm heavily pregnant. I'm disgusted that I'm even having to deny this."
The BBC, doing essential journalism with taxpayer dollars, discovered that Rebekah told her lawyers to do a "forensic investigation" on her Instagram account to prove she is being framed for the leaks, but, come on. It's the "dog ate my homework" of online misbehavior. Also, the Sun took down one of the fake stories that Coleen leaked, which seems like an indictment about where it came from.
You might be thinking, What's the big deal? Imagine if Scottie Pippen's wife was planting stories about Michael Jordan's wife, and Mrs. Jordan concocted a scheme right out of a daytime soap to catch Mrs. Pippen, and then posted everything she discovered on Twitter. Would you not be freaking the hell out? I know I would be, and I haven't touched a basketball since high-school gym class. Or, even better: Imagine if we found out that Taylor Swift had been selling stories about Gigi Hadid for several years while pretending that she was part of her squad. I mean, imagine!
It's also important to understand the place that WAGs hold in English culture. Coleen is not like Victoria Beckham, who was famous and then married a football star. Coleen is famous because she married a football star. She also enjoys a very wholesome reputation as a long-suffering wife, because Wayne keeps getting caught sleeping with other women, including a string of prostitutes. Considering all of this, why have the American press not been following the Rooneys for this entire decade? Get Who Weekly? on the case!
Coleen has parlayed her image into some success, including a line of best-selling books about fashion, a series of best-selling workout tapes, a £3 million endorsement deal with a British supermarket chain, and even a hosting gig on her own reality show, Coleen's Real Women, where women with unconventional body types star in advertising campaigns.
Rebekah is clearly … not that. She's a much more craven self-promoter. She appeared on the shockingly still popular I'm a Celebrity … Get Me Out of Here and is a fixture on chat shows like Loose Women (the U.K. version of The View) and Good Morning Britain. It seems like she would do anything to get famous, including selling the story of her night in the sack with tabloid fixtures Peter Andre (oh, girl, he is a story for a different day!) to a tabloid back in 2001. And still, she's not nearly as popular as Coleen. Maybe she did this out of good, old-fashioned jealousy?
Or maybe it was a vendetta against the Rooney family? In 2016, the Times reported that Wayne warned Jamie about Rebekah, who was ramping up her social presence before the 2016 European championship. Wayne reportedly told Jamie not to get distracted by his then-girlfriend. Maybe that was enough to send Rebekah rogue? I don't know that we'll ever find out, but I do know that this WAG battle won't die down anytime soon.