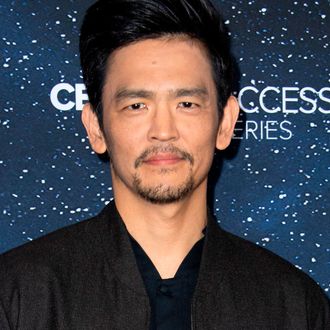 Photo: VALERIE MACON/AFP/Getty Images
Hmmm, could they get him some kind of cybernetic space horse or something? Seems like a logical workaround for John Cho's recent on-set knee injury, which has reportedly forced Netflix to temporarily stop production on their live-action remake of Cowboy Bebop. The actor stars as Spike Spiegel, the intergalactic bounty hunter at the center of the original space Western anime. According to Deadline, Cho was injured in a "freak accident" on "the last take of a routine and well-rehearsed scene" while filming in New Zealand. His injury must have been gnarly, because production will purportedly shut down for seven to nine months while he recovers from surgery in L.A.
"Our thoughts are with John and he has our complete support as he recuperates from this injury," a Netflix spokesperson told Deadline on Friday. To add insult to injury, Cowboy Bebop just went into production earlier this month, a glimpse of which you can see in corgi-vision via the dog actress cast to playing Spike's pet, Ein. Could they maybe use the corgi to disguise John Cho's knee scooter? These are the questions a room full of Netflix employees are hashing out right now.