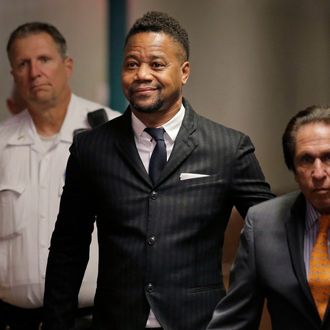 Photo: Seth Wenig/AP/Shutterstock
Cuba Gooding Jr. has now been indicted in relation to another accuser in his ongoing sexual-misconduct case, his lawyer told Vulture on Tuesday.
News of this development comes one week after Gooding pleaded not guilty to a four-count misdemeanor indictment that charged him with inappropriate conduct relating to two women; at that court proceeding, it was also revealed that another 12 women had come forward with allegations against him. Gooding was not charged in relation to those allegations, which date to 2001.
The New York Post's "Page Six" first reported on Gooding's new indictment.
"The new accuser is just one more splinter that comes out of the woodwork when a celebrity is criminally charged but, none of the splinters will form a plank leading to his conviction because he has committed no crime," Gooding's lawyer, Mark Heller, told Vulture. "Cuba Gooding Jr. and I will be appearing in the Supreme Court at 9:30 on the morning of Halloween to enter a not guilty plea to the indictment, which will be unsealed that morning."
Because the indictment remains sealed, additional information is not available. It's also unclear whether the new accuser is among the women who have already come forward. The Manhattan District Attorney's Office declined to comment.
Gooding's legal troubles began in June, after he allegedly grabbed a woman's breast at the Magic Hour Rooftop Bar and Lounge at the Moxy NYC Times Square Hotel.
Last week's new counts alleged that Gooding "pinched the buttocks of a woman without her consent" in October 2018 at Tao Nightclub. This accuser, Tao waitress Natasha Ashworth, filed a lawsuit against Gooding on Monday.
At the end of Ashworth's shift, when she was waiting at the bar, Gooding "approached [her] and pinched her right buttocks," court papers claim.
After she told Gooding not to touch her, he said, "'Aw that's no fun,' proceeding to touch Plaintiff's arm and attempting to touch the rear of Plaintiff's body," she alleges.
Ashworth "deflected" his hand, but Gooding "made a further attempt to touch the rear of [her] body …"
When Ashworth asked Gooding to leave, "yet, again, Defendant attempted to touch the rear of Plaintiff's body."
Gooding ultimately said he'd never come back to Tao and left; the incident was recorded on video, Ashworth's suit claims.
Gooding is due in court on October 31 for his arraignment on the new allegation.