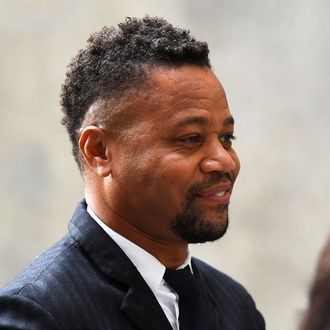 Cuba Gooding Jr.
Photo: Johannes Eisele/AFP via Getty Images
The groping case against Cuba Gooding Jr. has just gotten more serious, with Manhattan prosecutors revealing in court this morning that he was indicted and that the allegations now include an "additional incident."
The actor ran into legal trouble this June, after he allegedly grabbed a woman's breast at the Magic Hour Rooftop Bar. Prosecutors subsequently hit Gooding with two misdemeanor counts in this alleged incident: forcible touching and sexual abuse in the third degree. He had pleaded not guilty to these initial charges.
Details about the indictment are minimal, with prosecutor Jenna Long saying in court, "The defendant has been indicted on the charges in this docket, as well as an additional incident previously uncharged."
News of the indictment came as a shock. While Gooding was scheduled to appear in court, the newsworthiness of his appearance was initially unclear. It was possible his case would have gone to trial, but it was also possible that it would have been put off again. An additional indictment was unexpected.
Gooding entered the courtroom just shy of 10:10 a.m., looking as he had at prior appearances: worse for wear. Gooding is due back in court on October 15 for his arraignment.